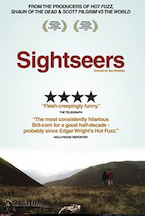 (Sightseers world premiered at the 2012 Cannes Film Festival and was picked up for distribution by IFC Films. Visit the film's official website to learn more. NOTE: This review was first posted in conjunction with the film's screening at the 2012 Toronto International Film Festival.)
Sightseers is the third feature by British director Ben Wheatley, and the follow-up to his festival and cult hit Kill List, a horror film about two contract killers who get in over their heads. Though I found the ending of Kill List disappointing and overwrought, the film showcases Wheatley's many talents as a director, among them a keen visual style and swift, elegant pacing. Wheatley works in, and around, genre conventions by allowing his characters time for the mundane – this teases us into relaxing, which only makes the bursts of sharp, realistic violence more cutting. Sightseers retains the style and pacing of Kill List but benefits greatly from a wicked sense of humor. Fans of the Coen Brothers (and Fargo in particular) will find a lot to enjoy in this pastoral, pitch-black comedy.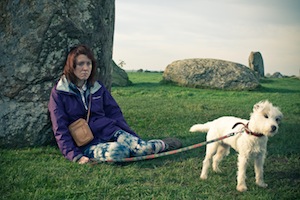 The dubious heroes of Sightseers are nerdy couple Tina (Alice Lowe) and Chris (Steve Oram), two innocents who swan about the English countryside on a caravan holiday (RVing, as we call it across the pond). Tina, a dog trainer and psychologist, lives with her possessive, manipulative Mum, who blames Tina for the freakish death of their terrier Poppy. Plagued by guilt, the meek Tina forces herself to endure her Mum's nasty, combative carping. An indicative exchange: when Tina whimpers that Poppy's death "was an accident," her Mum replies, "So were you." Chris rolls his caravan into this effed up Grey Gardens like a ginger knight in waterproof armor, and Tina breaks away from her Mum's control with lusty glee. Armed with a checklist of tourist destinations and rations of pasta sauce, Chris and Tina set off on an "erotic odyssey" to experience the tram museums, caverns, and campgrounds of England. Small skirmishes with other tourists soon reveal that Chris has a hideous temper, but Tina's a bit slow on the uptake. By the time she realizes that Chris is a ruthless killer, Tina has already shed her self-knit crotchless panties and her innocence, and there's no turning back.
As in Kill List, the violence in Sightseers is blunt, literally – victims are run over by the caravan, bludgeoned to death with a rock, or tossed over a cliff. The first deliberate murder plays out in a flawlessly visual sequence, intercutting Chris' still-new rage with the sacrifice of a chicken by some hippie kids playing shaman at the campground. The murders that follow grow increasingly cartoonish, as if to match the feverish pitch of Tina and Chris' twisted relationship, but Wheatley's precision keeps the film from veering too far off track. The visuals are especially impressive. Through the camerawork and the notably excellent production design, Sightseers makes the most of the ample opportunities for visual gags. From kitschy souvenirs, to a wardrobe of tie-dyed pants and Mom jeans, to the tropical cocktails she sucks down at a romantic restaurant, Tina probably bears the brunt of our derision. But all of the characters we encounter in Sightseers are there for us to laugh at, and it's great fun to watch unsuspecting victims enter the orbit of the evil nerds. A cyclist traveling solo, a bachelorette party – Wheatley skewers them all. Between the Krautrock soundtrack and Tina's unfortunate pants, the world of Sightseers could be the creation of a sadistic, black-hearted Wes Anderson.
Much of the credit for Sightseers must also go to Alice Lowe and Steve Oram, who first honed their roles as Tina and Chris in the staged version. Big Talk Productions, the shingle of Edgar Wright (Shaun of the Dead, Hot Fuzz), brought the project to Wheatley, whose partner Amy Jump did additional work on the screenplay. It's a fortuitous match – Wheatley makes a great team with Lowe and Oram, all of them fully committed to the dark hilarity of the story. And what becomes of our murderous lovers? It wouldn't be any fun if I gave away what Wheatley referred to as the "evil Thelma & Louise ending." This kind of wicked mayhem won't be for everyone, but I found the film thoroughly enjoyable, and was very impressed with the wit and mastery of Wheatley's vision. In Sightseers the devil truly is in the details.
— Susanna Locascio