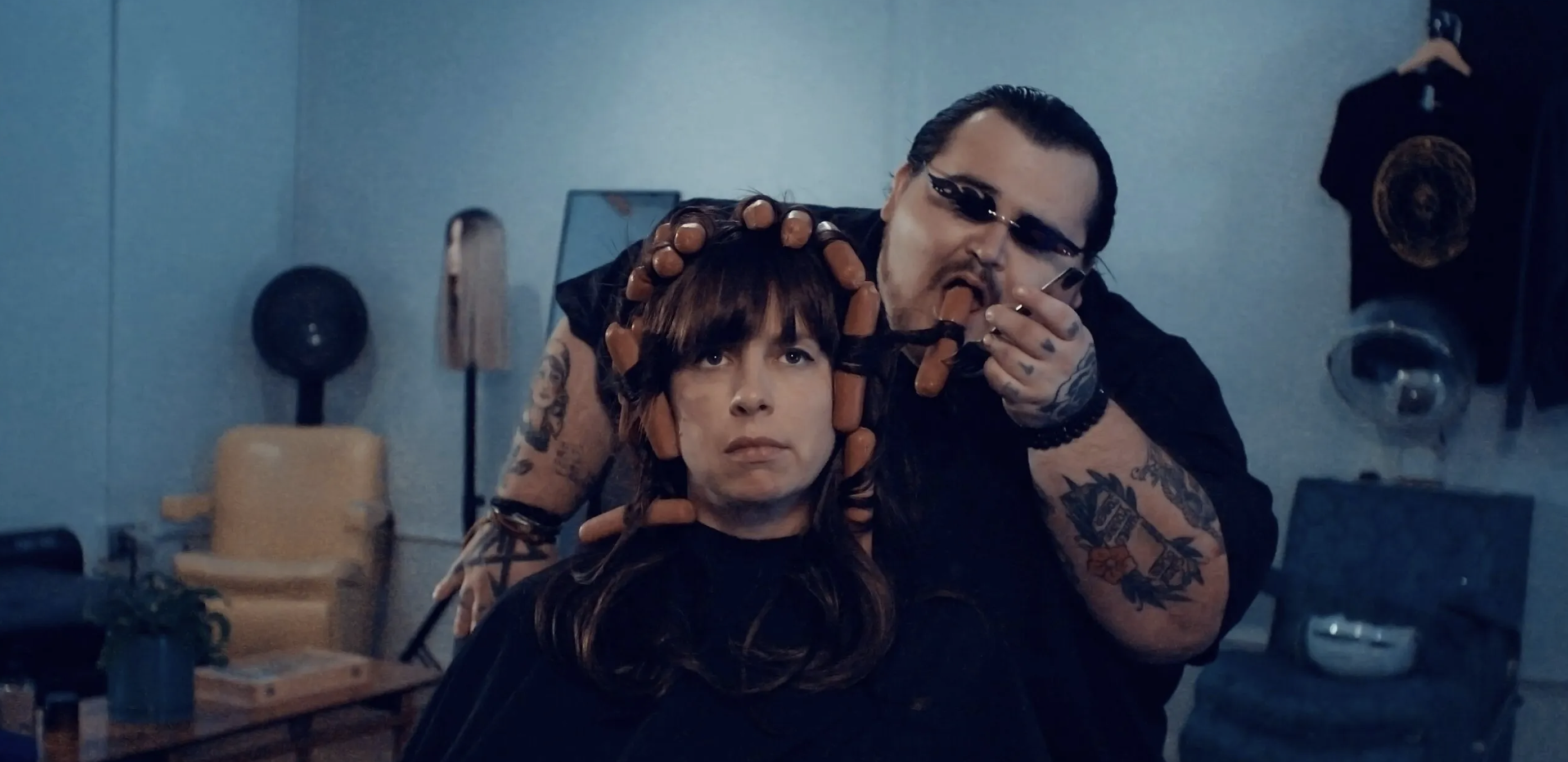 (The runs March 11-20 in glorious Austin, Texas. Check out Melanie Addington's movie review's of ten shorts films at South by Southwest. Join the conversation with HtN on our Letterboxd Page.)
While features tend to be what is looked at by industry at a film festival, I like to check out the short film category to see some of the most interesting things happening for the future of film. At South by Southwest, a bevy of documentary, narrative and animation shorts as well as XR caught my eye.
Probably my favorite short at Austin was Gay Haircut which I can only describe as a perfect slice of ridiculous. Written and starring Krista Fatka and directed by Jude Harris, the film follows bisexual comedian Krista who decides to become more gay when she dates someone trans so she decides to rebrand with a gay haircut. Ridiculousness ensues with the creative hairdresser, stereotyped gay receptionist and how a haircut will transform you. While a silly romp on coming out, the story also touches on a more sensitive issue of the gendering of where to get your haircut, a salon (feminine) or barber (male) which can cause stress in the queer community.
Another favorite I saw and loved at Sundance is Bestia which took home best animated short at SXSW and is up for the Oscar later this month. Directed by Hugo Covarrubias, the jury said "Bestia is an exquisite, intimate peek at the dreams and memories of a sadistic secret agent, set in a tactile stop-motion non-wonderland, where a porcelain exterior isn't enough to keep the damage away."
Also, it is just wild.
Getting special jury recognition for Vision at SXSW, Birds by Katherine Propper is the future of film. I have been a fan and given an award out to Propper myself for her talent. Her bold eye on youth and cinematic approach to providing a natural atmosphere with her characters, makes her stories something special. The film is about teens in summer in Austin but really about so much more.
Lena Hudson's Daddy Girl is an awkward look at masturbation, your dad, and moving when sort of all together. I know that reads uncomfortably, as does the film. A woman, played by Tedra Millan, has an uneven relationship with her father (played by Peter Friedman), who shows up to help her move out of her older boyfriend's apartment. To avoid the reality of their situation, they get high which forces them into some strange territory.
A similar vibe is Aspirational Slut which is hilarious and tonally perfect. Directed and written by Caroline Lindy, the short comedy is about a woman (Ellyn Nameson) motivated by her pizza delivery guy (Kenton Chen) to stop falling in love with "everyone who puts their dick inside of you" and love them and leave them. So she tries out. Then she meets Ned (Jake Nordwind) and despite their best efforts, something draws them together.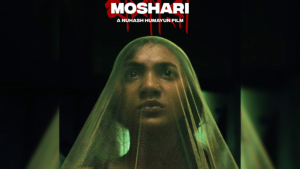 On the opposite end of the spectrum is midnight short winner Moshari directed by Nuhash Humayun and based in Bangladesh. Two sisters survive blood sucking creatures in a post-apocalyptic world where many other countries have fallen. The visuals and performances of this film combine to make something truly special. A stunning allegory that resides with anyone living today but also two orphans surviving despite the odds makes for great dramatic tension. The edit includes some terrifying jump scares and the nightmarish tale keeps you on your toes.
Roommates, directed by Ashley Eakin, is a fun look at dealing with our own internal abilities and challenging assumptions about who we are, how society defines us, all within the context of a wild night in a girl's dorm room. The film stars Kiera Allen, Kelsey Johnson, Harrison Cone and Nicholas Duvernay and is a great comedic short on disability representation.
Dress A Cow also challenges cow representation with a documentary short looking at the common "Dress A Cow" competition, the hottest thing in animal fashion. Dawn Luebbe (Greener Grass) follows various people on their journey to dress a cow. There just isn't a way to write about this without laughing but it is a serious competition.
XR film (Hi)Story of a Painting: The Light in the Shadow is the second in the series, the first world (Hi)Story of a Painting: What's the Point?  premiered at  SXSW  in 2021 online. The film received the special jury recognition for immersive storytelling. Directed by Quentin Darras and Gaëlle Mourre, the VR transport is from a painting into the world of Artemisia Gentileschi, 17th century Italian, painter. A stunning transformation into the Italian countryside, the story shifts and forces you to pay attention all around you.
Choctaw Code Talkers 1918 is another XR project that focuses on the origins of the Code Talkers in World War I as a way to strategize the war in France in 1918. Filmed on the spots the battles took place, the story tells about Choctaw Nation soldiers.  At the time the US had banned the language yet upon hearing the soldiers used it. Standing in the feet of the soldiers, listening to the sounds, the struggle, the triumph, somehow brings it to life in a way that the traditional medium of film could not.
Winner of the SXSW documentary short competition, Long Line of Ladies, the film focuses on preserving an almost lost cultural tradition of the celebration of the menstrual cycle in the Karuk Tribe of Northern California. The doc is directed by Rayka Zehtabchi (Period), and Shaandiin Tome (Mud), and takes an inclusive look at the traditions, the girls who are bringing it back and the significance to such a celebration.  The film is as much about women as it is about meaningful preservation on film of an important American part of culture.
– Melanie Addington (@MelAddington)