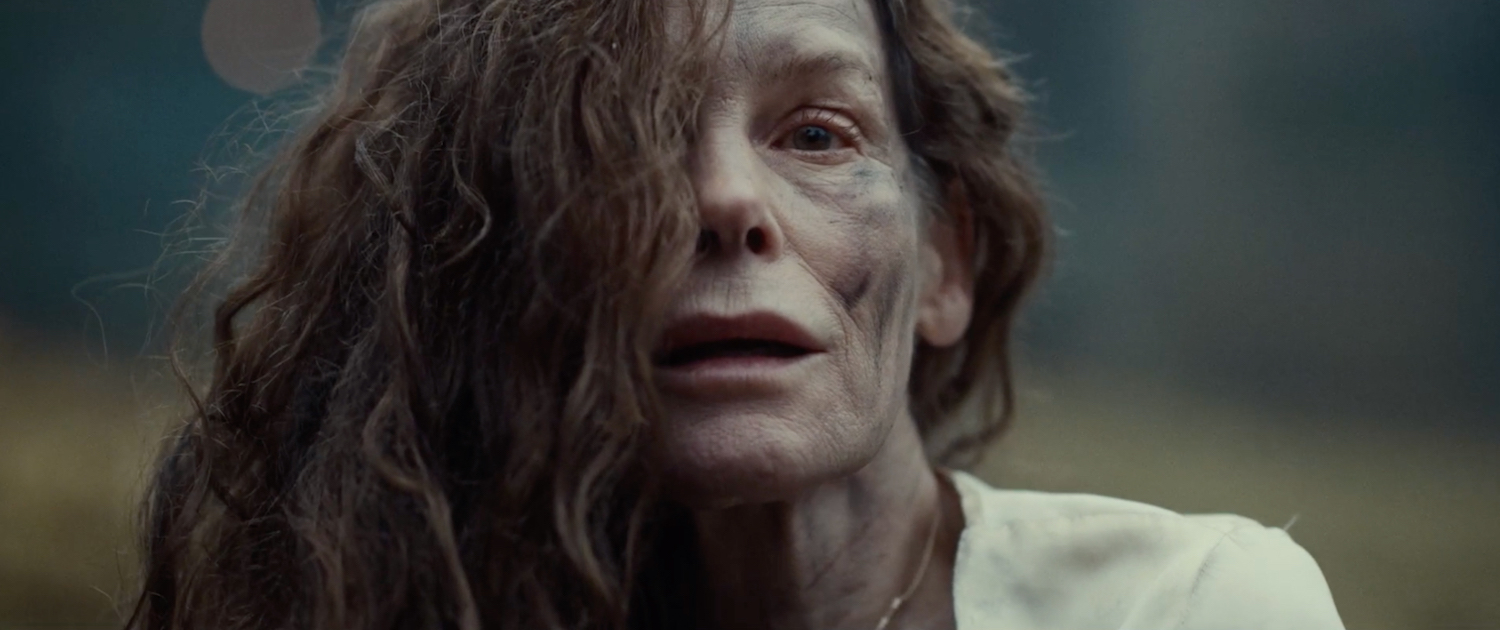 (Check out Chris Reed's movie review of She WIll, in select theaters and on VOD now via IFC Midnight. Seen it? Join the conversation with HtN on our Letterboxd Page.)
In Charlotte Colbert's She Will, there is much ado about evocative imagery and rapid editing, much of it effective. With a powerful performance from veteran actress Alice Krige (Gretel & Hansel) front and center, bolstered by strong supporting work from (relative) newcomer Kota Eberhardt (X-Men: Dark Phoenix), this haunting drama of feminist retribution for patriarchal crimes offers plenty to admire. Though not every element hangs together in perfect balance, the net effect is one of enchanting mystery and beautiful chaos. Unleash your inner sorcery and fall under its cinematic spell.
Before we get to the witches, there are first movies, themselves, to consider. Krige plays Veronica Ghent, a diva of the film world who got her start, when a child, in the cult-horror classic "Navajo Frontier," directed by a man, Eric Hathbourne (Malcolm McDowell, The Big Ugly), about whom rumors swirl over his treatment of her. It was the 1970s—the age of Roman Polanski running amok, not to mention disturbing roles for girls in movies like William Friedkin's The Exorcist—so it shouldn't take a huge leap of imagination to guess what might have happened. As Hathbourne announces a long-awaited sequel and begins casting, Veronica's mind returns to past sins.
But that's initially just background. We follow Veronica, recovering from a double mastectomy, as she travels north to Scotland with a nurse, Desi (Eberhardt), by her side, for what is supposed to be a solitary forest retreat, away from everything. Unfortunately, the manor house of the main estate is populated with others seeking the same, led by an ostensibly famous artist, Tirador (an unrecognizable Rupert Everett, The Happy Prince), with planned group activities that cause the antisocial Veronica significant discomfort. Fortunately, she and Desi have a cabin in the woods all to themselves, to which they quickly depart. It's there that the supernatural forces take root.
For this land was once a site of witch burnings, the soil rich with the dead women's blood and pain. They may be long gone but are certainly not forgotten, nor do their ashes forget what happened. As the perpetually angry Veronica absorbs their strength and magic, she pursues vengeance against Hathbourne. And though we are never quite sure whether what we see is real or merely a dream, it doesn't matter, for the ugly truths of rape and assault are all too vividly present on screen and off.
Colbert, here making her feature debut, populates the frame with an array of stunning details, in both close-up and wider shots, juxtaposed in rapid succession in often-dizzying montages. The effect is mesmerizing, at least at first, though as a technique it loses some of its energy through repetition. The script, which Colbert co-wrote with Kitty Percy, anchors these segments in a poignant story of triumph over trauma (the mastectomy perhaps now a liberation, freeing Veronica from the ugly male gaze), billed here as psychological horror yet clearly even more than that. Though many of the incidental characters feel extra (why do we need those art classes and/or Tirador?), Veronica's journey still resonates on its own.
The primary relationship in the film is between her and Desi, two women who are complete opposites yet share similarities because of gender. Through Veronica is quite mean to Desi at first, she gradually thaws to allow the younger woman a chance to see her as less than cruel. Desi could be more developed—there's a hint at a sapphic interest she may have in a worker at the retreat that goes nowhere—yet Eberhardt fills in the gaps with a natural warmth, the perfect contrast to Krige's near-skeletal features (at least as Colbert and her cinematographer light the face).
By the end, we have traveled far while remaining mostly in place. The witches' bones have spoken, exacting revenge on those who deserve it. Some enigmas and riddles remain in place, not all in the most satisfying ways, but Veronica's own odyssey is resolved in a near-perfect manner. Will she or won't she? She certainly did.
– Christopher Llewellyn Reed (@ChrisReedFilm)
IFC Midnight; Charlotte Colbert; She Will movie review