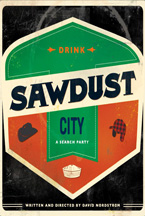 (Sawdust City world premiered at the 2011 Los Angeles Film Festival. It next screens at 7:30pm on Sunday, February  24, 2013, as part of the Brandon Harris curated "Hammer to Nail Screening Series" at Brooklyn Fireproof. Visit the film's official website to learn more.)
In his painfully earnest, mordantly funny, bar-hopping debut Sawdust City, writer/director/actor/editor David Nordstrom follows two more or less estranged brothers as they bar crawl across a snowy Midwestern hamlet on Thanksgiving. That hamlet, Eau Claire, Wisconsin, about half the size of Green Bay, is a dying lumber town that provides an at turns sensuous and melancholy backdrop for Mr. Nordstrom's simple but quietly effecting tale. It's a place where one could easily settle down, which is what Bob (Nordstrom) has chosen to do. Bob is a carpenter, but at the moment his career is going down in flames along with the entire Midwestern home building industry in this Obama-era drama of social retrenchment and economic decay. The marital discontent between the laconic, quizzical Bob and his wife (Becca Barr) is palpable, but his thinly concealed anxieties only continue to mount when his brother Pete (Carl McLaughlin) comes home on furlough from the Navy and suggests that they find their perpetually drunken, absent father, necessitating the epic bar crawl that makes up the bulk of the movie.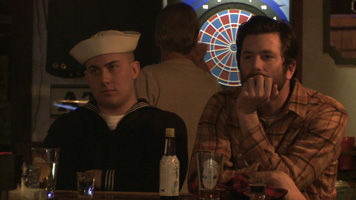 Bob and Pete get a little help from their father's would be drinking buddy Gene (Lee Lynch), who nonetheless sees their father nearly as seldom as they do and whose real motivation for helping them may be his relentless desire to mooch. It's not something the movie harps on, but like so many fantastical little details that crop up in this remarkably subtle picture, Gene's idiosyncrasies come to the fore in a series of scenes that are played flat and straight; Nordstrom isn't interesting bending over backward for you to get his humor or like his characters, which is perhaps why we haven't heard nearly enough from this movie since it debuted at the Los Angeles Film Festival a few years back. There is not an overplayed note here; just a precisely observed blend of cutting, brotherly humor that eventually recedes to provide a glimpse of long buried recriminations, which bubble to the surface in a fashion as natural as it is sneakily moving.
Despite the fact that Nordstrom and McLaughlin look nothing like brothers, their on-screen relationship is suffused with as much authenticity as the setting and the film's supporting players, several of whom come from the region. As they down one Leinenkugel after another, catching up on several years' worth of life choices that have made them more different than they have ever previously been, the broken lives of these two men slowly come into focus. Sawdust City, which owes at least some small debt to Cassavetes, as well as to Hal Ashby's The Last Detail, rather indulges us in a doomed brotherhood that we're rooting for even as we're watching it fall to pieces. Punctuating their journey are audio interludes featuring the narration of Wisconsin radio presenter Jack Raymond, whose syrupy voice provides an ironic yet oddly appropriate counterpoint to the proceedings. By the time it comes to fisticuffs in an icy parking lot, you know these men so well that the necessity of the fight and pain of knowing something else far more important than bones are being broken makes for a heart-wrenching yet completely satisfying finale.
— Brandon Harris