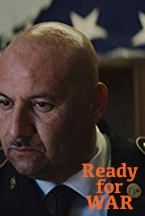 (The 2019 Toronto International Film Festival, or "TIFF"  ran September 5-15. Hammer to Nail had boots on the ground with Matt Delman and Chris Reed covering so keep your browser pointed here! Like what you see here on Hammer to Nail? Why not pay just $1.00 per month via Patreon to help keep us going?)
As a kid, I remember well the United States Army's "Be All You Can Be" slogan plastered on recruiting posters and, most memorably, playing on the soundtrack of television commercials urging young people to sign up. Since mandatory conscription was abandoned in 1973, our nation's military services have relied on inspiring calls to action (as well as income disparities that leave few better options) to find their soldiers. "Be All You Can Be" was an effective phrase, promising as it did opportunities for personal and professional development, both. The government held out a very different, but related, kind of promise, as well, to a different demographic: that of granting American citizenship to green-card holders, as well as to those with less legitimate papers, in exchange for time spent in uniform. Unfortunately, this last oath has sometimes been broken, for all kinds of reasons. Ready for War, a new documentary from Andrew Renzi (The Benefactor), explains why, and the devastating consequences that follow.
Who knew that there could even be such a thing as a "deported veteran"? How is that possible? It seems self-evident that, irrespective of initial legitimacy, anyone who has risked their life defending a country should be made an instant citizen. Well, yes and no. As Renzi explains, following the cases of two veterans, in particular – Miguel Perez and Hector Barajas – the problems arise when individuals run into post-service trouble with the law. Many vets suffer from some form of PTSD or other psychological trauma, or injury, or are unable to readjust to life as civilians, and turn to drugs and/or alcohol, which leads to bad decision-making and more. Once arrested, if they are not yet full citizens, they can be deported. And so it goes. Some heartless souls might think this is appropriate punishment. To them I say, have you considered what happens next?
As Renzi points out, once these highly trained veterans find themselves deported to Mexico (as with the people he profiles) – a country in which they may barely have ever set foot – they become targets for recruitment from the drug cartels, eager to put their military skills to use. If given a choice between working for the cartels and being killed, which option do you think most will choose? Beyond the peaceful (and somehow, still United States-loving Barajas and Perez), Renzi embeds himself with a man know as "El Vet," who takes him behind the scenes of the extreme violence on the US-Mexico border, showing just one of the horrific ways a shortsighted officious policy can turn sour. Nice job, America!
Indeed, underlying the entire documentary is a sense of quiet outrage, as Renzi outlines one reason after another to fix this broken system. He interviews Illinois Senator Tammy Duckworth (an injured veteran, herself), and spends significant time with Nathan Fletcher, a San Diego County Supervisor (and also a veteran), who makes it his mission to support all deported veterans and help them get back to the United States. One strategy is to have convictions overturned or pardoned. Overall, the movie offers hope, but a hope tinged with deep sadness that this situation could arise in the first place. To quote another slogan, semper fi.
– Christopher Llewellyn Reed (@ChrisReedFilm)
Like what you see here on Hammer to Nail? Why not pay just $1.00 per month via Patreon to help keep us going?