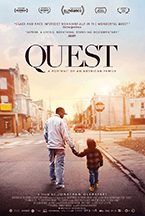 (Jonathan Olshefski's documentary Quest, the 10-year journey of an African-American working-class family in North Philadelphia that, in addition to being a deeply moving group portrait, illuminates issues of race and class in subtle but extraordinary ways. It first premiered last Jan. at the Sundance Film Festival and has since been scooping up best doc awards at festivals across the country. It's also just been nominated for Independent Spirit Awards for Best Documentary and the Truer Than Fiction prize as well as a Cinema Eye nomination for Best Documentary. The film opens in New York on Friday, December 8.)
Director Jonathan Olshefski's debut documentary feature, Quest, is one of those impressive character profiles filmed over many years that unite filmmaker and subject in such intimate harmony that we lose all sense of watching anything other than objective reality. Such a fly-on-the-wall quality is hard to achieve, yet both Olshefski and the Raineys – an African-American family in North Philadelphia with whom he spent almost a decade – appear to have grown so comfortable with each other that we forget the presence of the camera. Yes, we're obviously watching a movie, but Quest has a raw urgency and power that removes the barrier between the viewer and the observed. Even more impressive is how Olshefski has edited his material down to a brisk 100 minutes, crafting a tight story about race, class and family that is a brilliant evocation of the triumph of hope over despair.
Christopher Rainey – known as Quest – is the father, a neighborhood jack-of-all-trades who moonlights as a local music promoter and runs "Freestyle Fridays" – a weekly jam/rap session for the community – out of his basement, which is furnished as a makeshift music studio. This is not just a fly-by-night operation, though, as there is some real talent in the mix, including a friend named Price, who could be one of the greats were he not hampered by addiction. Then there's Christine'a – Quest's wife, known as Ma Quest – who works at an area hospital and is Quest's partner in all things, including the raising of their daughter. That child is Patricia – or PJ – whom we watch grow over the course of the movie from kid to teen. And then there is also William, Christine'a's son from another marriage, and various other community members. It takes a village to survive in the rough streets of North Philly, and survive they do, and sometimes even more.
Things happen – some severe, some less so – and life goes on. And always there is Olshefski, a one-man film crew who captures it all and distills it for our narrative pleasure. For tough as the Rainey's life may sometimes be, they are delightful people to get to know, resilient, resourceful and supportive of everyone around them. The accompanying music, by Quest and his Freestyle-Friday compatriots, along with a score by composer T. Griffin (One of Us), forms a vibrant soundtrack for this story of quotidian triumphs. Whether it's the police stopping Quest because he looks like a robbery suspect, a family member shot by a stray bullet, or money being tight, every day poses a new challenge. But Quest and Ma Quest remain sanguine, and very much in love. Theirs is a beautiful tale, beautifully told. Watch it, and be transformed.