THE CURBSIDE CRITERION: THE PRINCESS BRIDE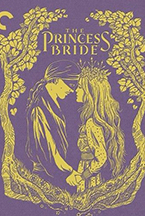 (We here at Hammer to Nail are all about true independent cinema. But we also have to tip our hat to the great films of yesteryear that continue to inspire filmmakers and cinephiles alike. This week, our new addition to the site, "The Curbside Criterion" continues where HtN staff can trot out thoughts on the finest films ever made. This week Brad Cook sets sail with the cinematic comfort food that is The Princess Bride.)
I'm not sure if any other home video edition of The Princess Bride was issued in book-like packaging, but if not, what took so long? This new Blu-ray edition from Criterion arrives in a purple hardcover book, complete with cover and interior illustrations that appropriately feel like they were created in the 1920s or 30s.
The obligatory Criterion booklet, which features a new essay by film critic Sloane Crosley and a reprint of a 1995 piece ("How it All Happened") by screenwriter William Goldman, is bound into that hardcover packaging. The Blu-ray holder is affixed to the inside of the back cover. I don't usually say much about home video packaging, but this is a nice presentation that evokes the "This is a real storybook" feel that Goldman was going for when he wrote the original novel, as well as the film's screenplay.
I assume you've probably seen this one before, but if you haven't, you have my word that this is worth a blind purchase. Goldman's script frames the story with a lazy sick day in which a kid (Fred Savage, who was a hot commodity as a child actor in the late 80s) reluctantly allows his grandfather (Peter Falk) to read a story to him rather than keep playing his Nintendo.
The Princess Bride is an adventurous tale about a young maiden named Buttercup (Robin Wright) who finds herself about to marry the rotten Prince Humperdinck (Chris Sarandon) while longing once more for the embrace of her first love, Westley (Cary Elwes). When a mysterious pirate arrives on the scene, accompanied by a Spaniard with a taste for vengeance and a kind-hearted giant, the situation becomes complicated. Will Buttercup live happily ever after? Sure she will, but as they say, it's about the journey, not the destination.
And this is a journey that's one of the more oft-quoted films in history. Crosley writes: "For my generation, this is not just a movie; it's a facet of our adolescence and a building block of our worldview. To call the movie influential, personally or culturally, would be an understatement." He goes on to note: "It is a statistical fact that every twenty seconds, someone in America is instructed to 'have fun storming the castle.'"
Remember, kids, never get involved in a land war in Asia.
Beyond the storybook packaging, Criterion gave The Princess Bride its usual treatment, starting with a new 4K digital restoration. The bonus features are a mix of new and archival material, starting with an audio commentary featuring Goldman, director Rob Reiner, producer Andrew Scheinman, and actors Peter Falk and Billy Crystal. It's from Criterion's 1996 laserdisc, and while it's a group commentary, everyone was recorded separately, so it never lapses into the kind of random chatter that can derail group discussions. If you enjoy hearing screenwriters talk about the nuts and bolts of their craft, you'll really like Goldman's contributions to this commentary.
Some materials from previous releases, such as the 2006 Dread Pirate Roberts/Buttercup Edition (two covers to choose from!), aren't found here, so you may want to hold onto your previous discs. The rest of the bonus features include:
Audio book: Also from that old laserdisc, this track features Reiner reading the relevant portions of Goldman's novel so you can compare the book to the onscreen action. The excerpts were taken from the actual audio book.
Pure Enchantment (18 minutes): This is a new featurette in which writer and screenwriting adjunct professor Loren-Paul Caplin discusses Goldman's novel and its adaptation into the film.
The Tapestry (8 minutes): Another new piece in which Goldman talks about a medieval-style tapestry he commissioned to illustrate scenes from his novel.
True Love (15 minutes): From 2012, this one has Rob Reiner, Cary Elwes, and Robin Wright talking about the making of the movie and its success, which wasn't realized at the box office but grew during the explosion of the home video era in the late 80s and into the 90s.
Making of the Film (95 minutes): This is a series of featurettes that are drawn from older material except Fairy Tale Reality, a 2018 piece in which art director Richard Holland discusses the approach to building the movie's fantasy world. Production designer Norman Garwood also shows up in some archival clips. The other featurettes included under this menu item are:
As You Wish: A 2012 featurette in which members of the cast and crew look back on the making of the movie and various other folks talk about their appreciation for it.
The Princess Bride: The Untold Story: A 2007 piece in which Christopher Guest, Chris Sarandon, Fred Savage, and Robin Wright talk about how the movie propelled their careers forward, as well as what it has meant to them personally.
Miraculous Make-up: Crystal talks about the creation of his character Miracle Max in this 2006 piece.
Behind the Scenes: This is a series of five short videos shot during the making of the movie. Each has a commentary track recorded for Criterion in 1997, with Crystal, Scheinman, and Reiner participating.
Cary Elwes Video Diary: The actor shot a bunch of home videos while making the movie. Four minutes from them are shown here, with narration by co-star Robin Wright.
The Art of Fencing (8 minutes): This 2007 piece features sword master Robert Goodwin talking about his work on the swordfights in the film.
Fairy Tales & Folklore (10 minutes): Also from 2007, this one has scholar Jack Zipes discussing the themes common in many fairy tales and how they're used in The Princess Bride.
A batch of trailers and TV commercials round out the disc.
– Brad Cook (@BradCWriter)