POSSESSION (4K RESTORATION)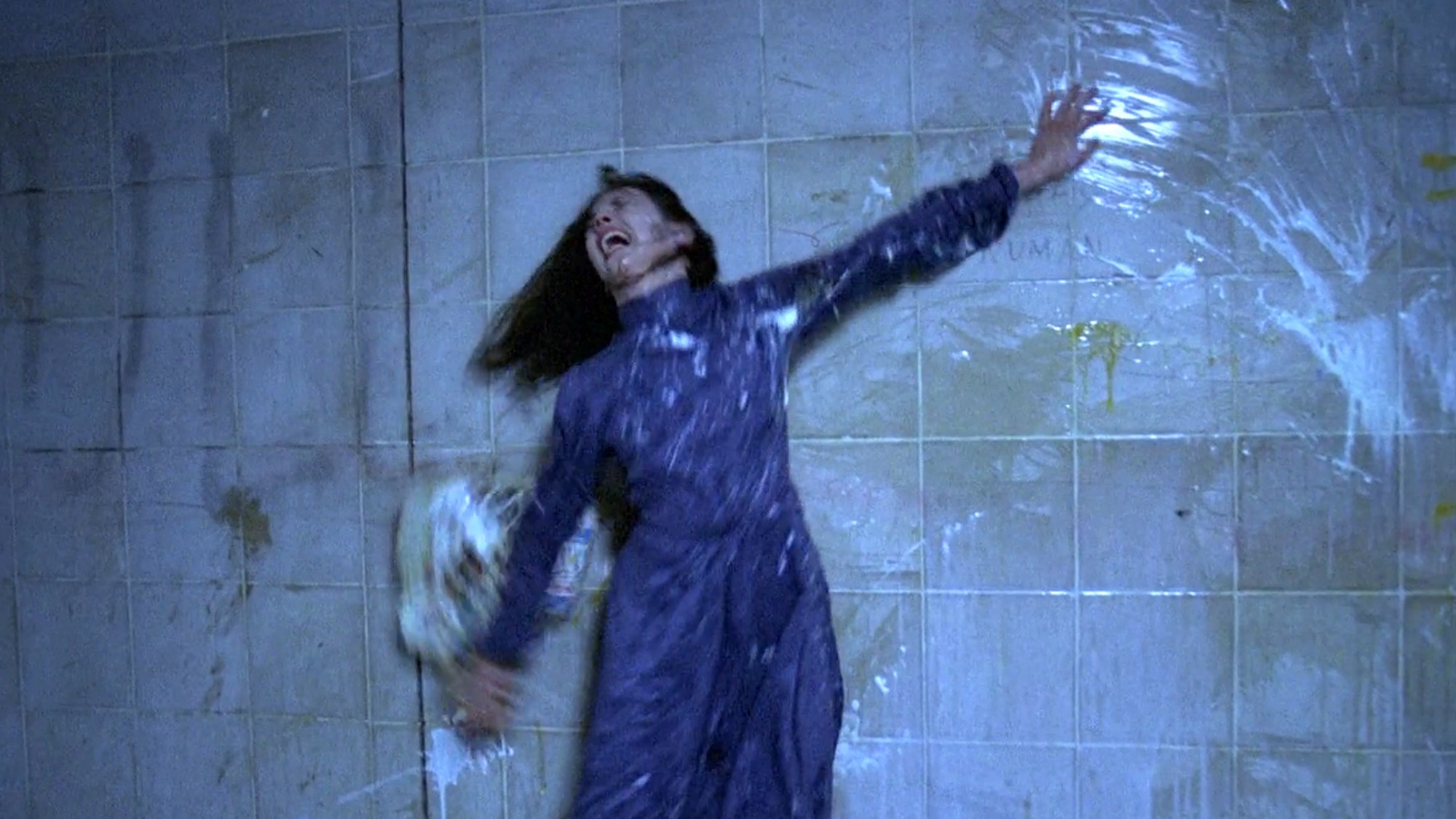 (Metrograph Pictures presents a new 4K restoration of Andrzej Żuławski's Possession, starring Isabelle Adjani and Sam Neill. Possession will open theatrically and digitally exclusively at Metrograph on October 1 before expanding to theaters nationwide on October 15. Like what you see here on Hammer to Nail? Why not give just $1.00 per month via Patreon to help keep us going?)
Metrograph Pictures' re-release of Possession takes us back to Berlin in the early 80s, to when it was a divided city; a city haunted by its recent past and made paranoid by its being the literal border between the Soviet Union and the West, a city possessed by different identities, different demons. Director Andrzej Żuławski gives us Berlin on a canvas of blues and grays — the 4k restoration does justice to Żuławski's visual aesthetic. Those gorgeous blues and grays do nothing to soften the tone of the hellish relationship at the center of the film — Mark (Sam Neill) and Anna's (Isabelle Adjani) disintegrating marriage.  
Mark is a spy who wants to quit his job. If his motivation to quit was to spend more time with his wife and young son, it is too late. Mark discovers a postcard in his home signed by someone named Heinrich (Heinz Bennent). Anna confesses to Mark that she has been having an affair with the man who gave her the postcard. She tells Mark that she prefers Heinrich over him, and she is moving out. 
Possession is far from being a typical relationship-gone-sour film. It is a horror film. Actually, that is too genre specific. Better said, it is a relationship-horror-thriller-science fiction-midnight movie-art film, for those into that type of thing. Possession is more Lynchian than any Lynch film. Once Mark and Anna stare into the abyss that is their relationship, the abyss stares back at them. Possession is a frenzied film. The arguments between Mark and Anna are brutal both psychologically and physically — as proven by a scene involving an electric knife. Mark goes into a rage at a restaurant that requires nearly the entire restaurant staff to restrain him. He goes into convulsions that render him unable to speak. There is a scene in a subway station in which Anna goes into spastic movements. It is perhaps one of the most visceral scenes ever captured on film. If it seems as though Anna is possessed by a spirit, it is because she is indeed possessed by one.
Possession's script puts the actors in a difficult position. The script is over-the-top which in turn makes the performances over-the-top. There are parts of the film that are disjointed. One is not sure how certain scenes cohere with others in the overall narrative. But these flaws are not fatal. Possession is thematically rich enough to keep the viewer fixated. The theme of possession has both a supernatural component and a relationship component. While Anna is obviously possessed by some evil spirit, none of the men in her life can ever have truly possess her. Gazing and monitoring are everywhere in Żuławski's universe — from the private investigator hired by Mark to the guards atop the observation towers of the Berlin Wall. Żuławski captures Berlin's paranoia, its tension. The film is overflowing with dualities. Mark's son has a teacher that, except for her hair color, is an exact double of Anna. Anna has two homes — the one she used to share with Mark and a dilapidated apartment she shares with a strange Cronenberg-like creature. And of course, the ultimate duality is Berlin itself — West and East, European capitalist model city and communist model city. 
Possession is a film best viewed in the late evening at home or in a dark theater. The tension, the horror, are brought about by the mood conjured by Żuławski. But perhaps the scariest element in Possession is not necessarily the blood and trust me, there's plenty. It may not be the strange creature in Anna's second home. The scariest part may just be what has scared many men throughout history—  a woman with an insatiable appetite for the flesh and freedom.       
– Ray Lobo (@RayLobo13)         
Metrograph Pictures; 4K restoration; Andrzej Żuławski; Possession film review