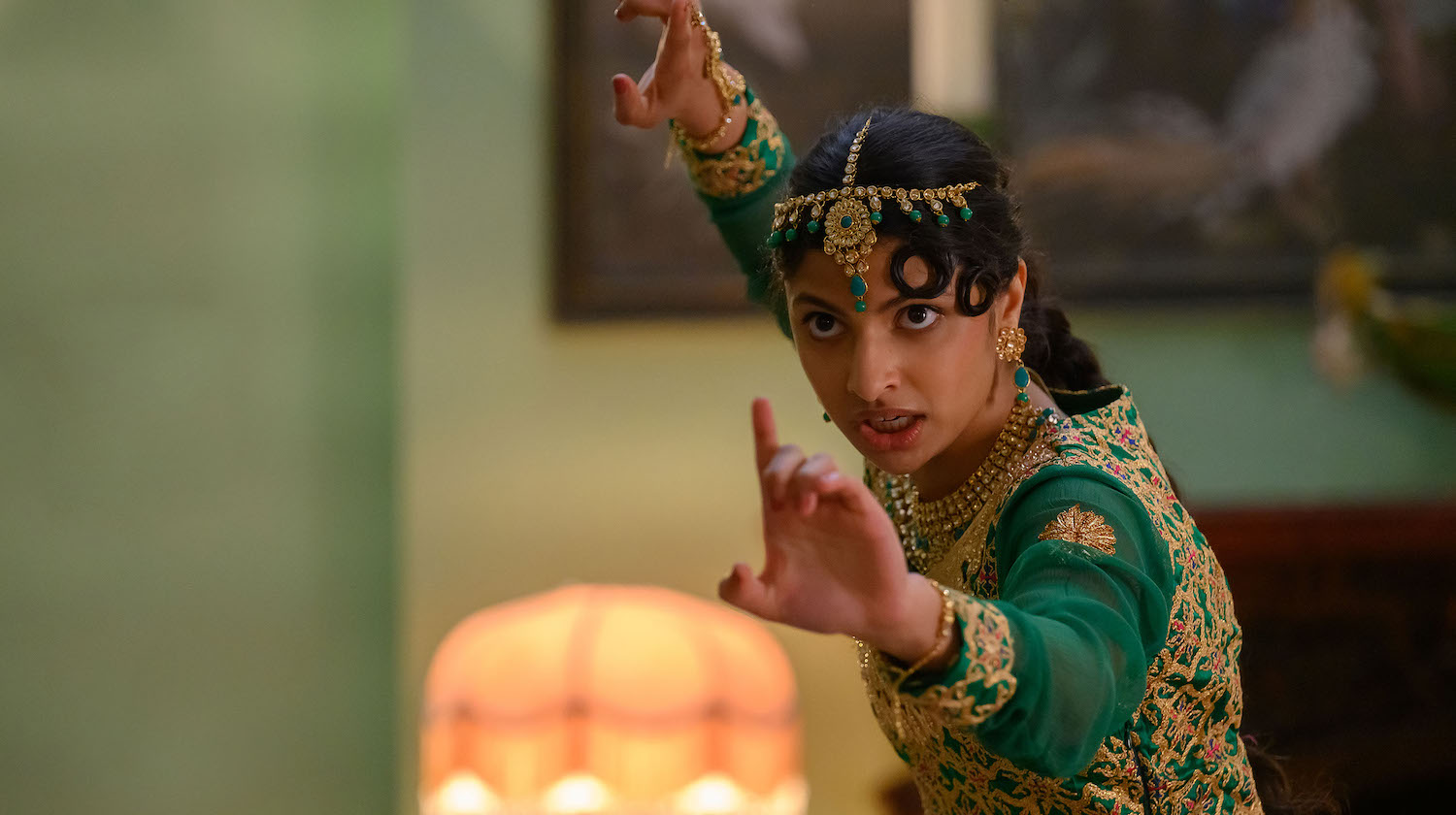 (Check out Chris Reed's movie review of Polite Society, in theaters April 28, 2023. Seen it? Join the conversation with HtN on our Letterboxd Page.)
Though Polite Society, the feature debut of writer/director Nida Manzoor, ultimately sticks its ending and proves a joyfully satisfying experience, it takes its time getting up to cinematic speed. The journey is definitely worth the wait, but sometimes the forced jokes and overwhelming number of different music cues threaten to derail what is otherwise a rollicking good time. Stick with it, however, and the rewards are great.
The movie follows two British-Pakistani sisters, the younger Ria (Priya Kansara) and the (somewhat) older Lena (Ritu Arya, Red Notice), as they struggle, each in their own way, to navigate early adulthood. Ria fancies herself a martial artist and future movie stuntwoman, while Lena sees herself as not much at all, now that her art-school dreams of becoming a painter have crashed and burned. Much to Ria's disappointment, Lena decides to marry Salim (Akshay Khanna), scion of a wealthy family and a doctor, to boot (not that Ria and Lena's family is poor, as evidenced by the mansion in which they live). Refusing to believe that such a marriage could make her sister happy, Ria elects to sabotage the nuptials. Much comic mayhem ensues.
Manzoor takes on many themes, and any initial narrative and aesthetic confusion arises from the feeling that too much is happening too quickly for any one style to land. From a jaunty opening montage featuring both sisters to the over-the-top performances of many of the actors—including Nimra Bucha (Najma on the Disney+ series Ms. Marvel) as Raheela, Salim's strong-willed mother—we are subjected to a barrage of styles coming at us one after the other. And yet, by the midway point, everything starts to gel, and the madness becomes not just palatable, but enjoyable.
Some of the best comic bits come courtesy of Ria's two close friends, Alba (Ella Bruccoleri) and Clara (Seraphina Beh), without whom the increasingly elaborate plans to set Lena back on the right path (as Ria sees it) would never work. Joined, later, by a fourth—the erstwhile school bully, Kovacs (Shona Babayemi)—the team gets to work trying to dig up dirt on Salim. No matter what they do, he appears perfect in every way. It seems like Lena will go forward into the future as his wife. If that's what she wants, where's the problem? Therein lies the movie.
It's to Manzoor's immense credit that she builds the intrigue with both great intricacy and humor, overcoming the initial flaws in her design. When the uproarious climax finally hits, we are all in. We are also fully engaged in the strong messaging about personal agency and feminist ideals. If polite society demands a certain form of restrictive behavior, then this Polite Society retorts that nothing is worth giving up freedom. There's a moment in every life for leaving pleasantries behind, and that time, for Ria and Lena, is now.
– Christopher Llewellyn Reed (@ChrisReedFilm)
Focus Features; Nida Manzoor; Polite Society movie review