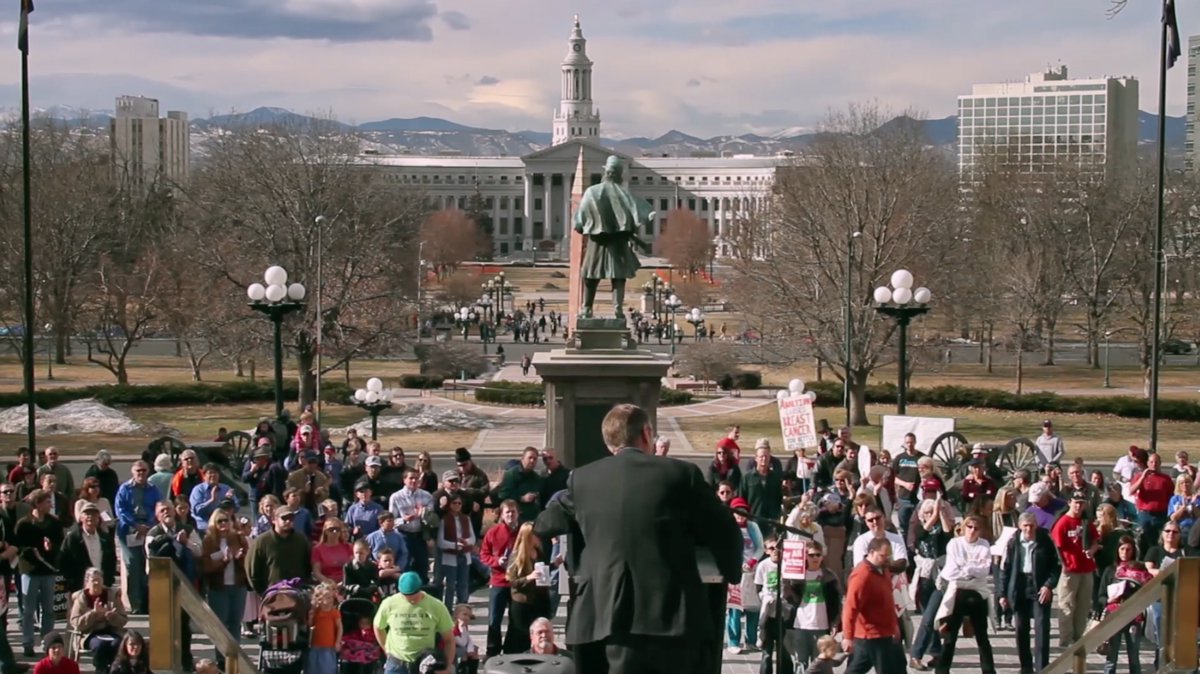 (DOC NYC runs November 6-15. Lead critic Chris Reed is there bringing you tons of coverage so stay tuned! Like what you see here on Hammer to Nail? Why not pay just $1.00 per month via Patreon to help keep us going?)
Pregnant women are hosts to the lives of unborn children. Their duty is to the fetus, ensuring it grows into a viable, healthy baby. Should anything happen to the future child while in utero – inside the host body – the mother-to-be is directly responsible. While in this state of gestation, the woman's rights are abrogated in favor of those of the nascent life inside of her. Her role is to give birth; anything she does in opposition to that is prosecutable. Forget the fantasy world of Margaret Atwood, we are living in a real-world era of the rise of fetal "personhood" movements, which seek to define life as beginning at conception, even at the expense of the hard-won freedoms of women. Couched in language extolling the evils of abortion and the need to protect life at all costs, these movements, intentionally or not, effectively disenfranchise those who become pregnant. This is our 21st century.
Director Jo Ardinger, making her debut, explores the horrors of these expanding personhood laws in the appropriately titled documentary Personhood. Rooted in the language of the 14th Amendment to the U.S. Constitution, personhood laws, now on the books in 38 states (even ostensibly liberal ones like my own, Maryland), in some form or another, range from limits on when and how women can have abortions to outright criminalization of behaviors both before and during pregnancy. One of the central cases profiled by Ardinger is that of Wisconsin resident Tammy Loertscher, jailed (while pregnant) for refusing to attend a court-mandated drug-treatment program. An expectant mother taking drugs? Sounds bad. Lock her up!
Loertscher's mistake was confiding to her doctor, on her first visit to the hospital once discovering she was pregnant, that she had been self-medicating with biweekly doses of crystal methamphetamine to treat depression from a thyroid condition, given that she had no health insurance after the loss of a job (which raises a whole other set of problems in this country, does it not…). Her goal was to do everything right from that point forward, but she was afforded no opportunity to do so, as she was immediately brought to a conference room to "attend" an emergency court session via speakerphone, in which her fetus had a lawyer present, though Loertscher did not. The (male) judge ruled on treatment, and then jailed her when she objected. Even if one somehow believes that the rights of a fetus trump those of its mother, 18 days in prison, without prenatal care, which is what Loertscher was subjected to, can hardly be good for anyone. But, you know, lock her up!
Beyond Loertscher, there are other, equally disturbing details of our brave new world that Ardinger uncovers. It's a disturbing movie, unless, of course, one is pro-dystopia. Shot and edited with an urgent mission to shed light on the very real dangers of our present, Personhood is always compelling. Surely even those who are against abortion can understand the evils of stripping away the rights of women. And if it's about saving lives, how can throwing women in jail serve that goal? These and other issues make of the movie a powerful call to action. Have strong feelings about any of this? Then, as the final title card implores, vote.
– Christopher Llewellyn Reed (@ChrisReedFilm)
Like what you see here on Hammer to Nail? Why not pay just $1.00 per month via Patreon to help keep us going?