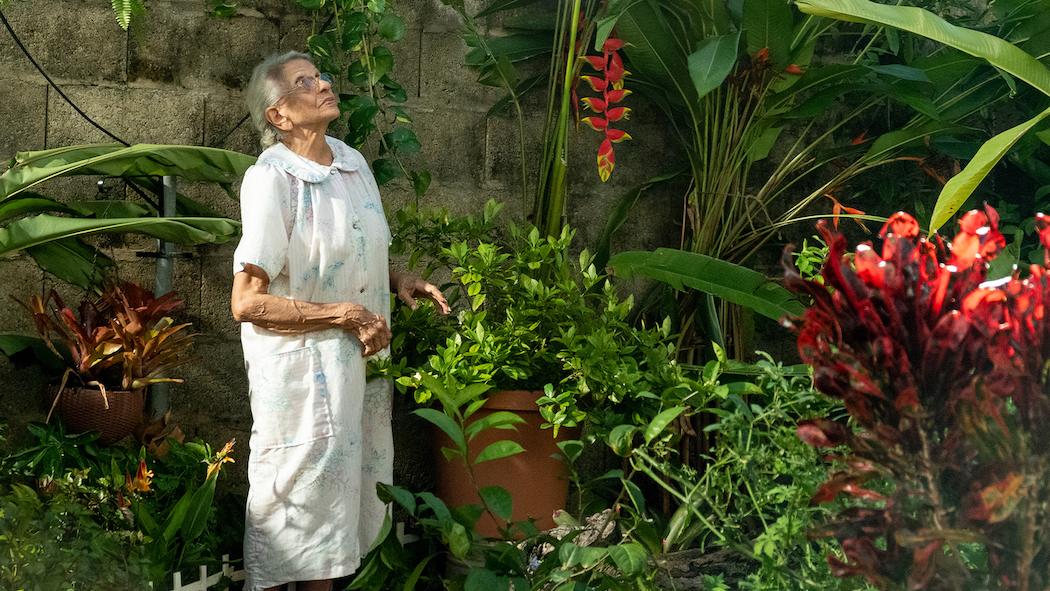 (The 2021 Tribeca Film Festival opened Wednesday, Jun 9, 2021 and ran all the way through Sunday, Jun 20. hammer to Nail has you covered with tons of coverage, coming your way! Like what you see here on Hammer to Nail? Why not pay just $1.00 per month via Patreon to help keep us going?)
Queer Puerto Rican artist Macha Colón (otherwise known as Gisela Rosario Ramos) has created quite the auspicious feature debut with Perfume de Gardenias, set in her native island's capital of San Juan and focusing on an elderly widow, Isabel, as she struggles to find meaning after her husband's death. She's actually not quite a widow as we begin, though shortly becomes one. When her skills as a funeral decorator and flower cultivator (on display at her deceased spouse's ceremony) earns her the admiration of a group of women at her local church, Isabel soon finds herself doing more of the same for the entire community. 
Are there that many deaths? Possibly, though not all may be natural. Despite that intrigue, what interests Colón the most is less the strict formalities of plot and more the neighborhood atmosphere and human interactions, along with the joie de vivre of Isabel and others. No amount of dying can get them down.
Though the underlying subject is serious, there is an element of delightful absurdist comedy that lends a buoyancy to the affair, all of it bolstered by vivid production design and occasional stop-motion animation. A quick look at a music video from Macha Colón y los Okapi, the band fronted by the director, shows that this brand of exuberance is nothing new for her. There are many layers to the narrative, colliding in sparkling harmony and, when needed, dissonance. 
The cast is more than game, led by Luz María Rondón (Manuela y Manuel), as Isabel, who may look frail but proves strong in both spirit and endurance. Her adult daughter and son worry about her now that she is alone, but she's not having it. There are the neighbors to take care of, after all, and she is by no means short of friends, though the activities of that church collective do end up giving her pause. Until, that is, she accepts that some things are for the best. Angels take many forms, after all.
By the end, what emerges is a vibrant portrait of a lively locale, filled with characters both eccentric and ordinary (or, even better, the one wrapped inside the other), co-existing as they make their way through quotidian routines. At the center of it all is Isabel, pruning her blossoms and planning her next funeral. Is she in mourning? Hardly, for she brings exuberance and love wherever she goes, making the transition to the great beyond as joyful as possible. May she see all of us off, for now and evermore.
– Christopher Llewellyn Reed (@ChrisReedFilm)