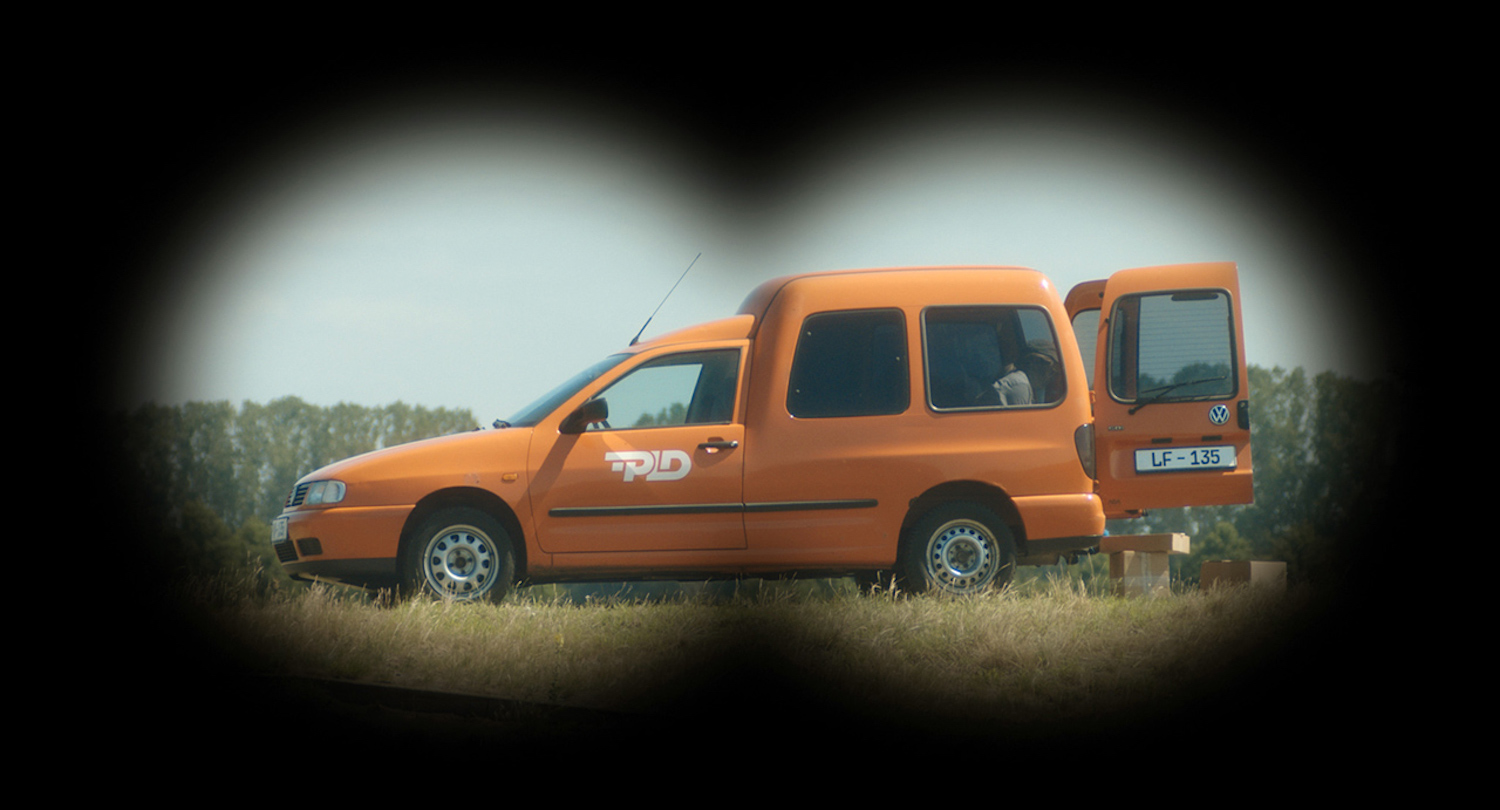 (The 2021 Maryland Film Festival runs May 19-27 with tons of great films playing online. Like what you see here on Hammer to Nail? Why not give just $1.00 per month via Patreon to help keep us going?)
Two men and one woman drive through a nondescript, mostly rural landscape in a work van, their task for employer STYX initially mysterious. Even after their first stop, where the flick of a button on what looks like a surveying device causes a targeted man to collapse, we are still not sure what is happening. Slowly, we gather that, for whatever purpose, they are tasked with bringing death, clearing the way for the next round of workers. "Reduce, reuse, recycle" reads the side of their vehicle. The why of it is less important than the how, which leads to consequences for all involved. In Paradies, the debut feature of German director Immanuel Esser, we examine the cost of killing on its executioners, the entire exercise wrapped in gently fantastical packaging. 
Much as in the cinema of Yorgos Lanthimos (Dogtooth, The Lobster), Esser here creates a universe of sardonic humor and arcane protocols, nothing ever explained yet always intriguing. Like the occasional dirt-filled work sites we visit, the comedy is bone dry, even when it turns tragic. And all the while, Esser remains trenchant in his analysis of human behavior. The odder the situation, the more it approaches the essential truth of real life.
Esser's production design helps create a visual palette of not-quite sci-fi, the simple, utilitarian costumes and unremarkable white and orange vans lending a certain timelessness to the affair. So, too, do the props, starting with the killing machine. And then there are the actors, playing our trio of Morris (the woman), Grundt and Kraumann: Franziska Machens, Holger Daemgen and Johannes Kuhne. Showing little external emotion, they still manage to make us feel their evolving internal torment. As we move closer towards their trauma, we gain insights into the price of trivializing individual lives.
For no one, no matter how insignificant, deserves to die, though in this particular world, most accept their fate without argument. One person pleads for more time to complete a project she is in the middle of, while another wants assurances that his camper car will stay where it is, as he has found the perfect place for it. Order is everything. Until it isn't, and then the question becomes: what remains if rules no longer apply?
Read this way, this seemingly calm and collected film covers a surprisingly wide range of poignant episodes. As each protagonist wrestles with the burden of grim reaping, they weigh the pros and cons of rebellion vs. acquiescence. Submit to fate or rise about it; such is the eternal debate that drives homo sapiens. Heaven just may be a place on Earth.*
*apologies to Belinda Carlisle
– Christopher Llewellyn Reed (@ChrisReedFilm)