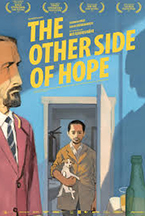 (The Other Side of Hope  by Aki Kaurismäki is in theaters now!)
How you feel about Finnish filmmaker Aki Kaurismäki's dry-as-a-bone style will determine your reaction toThe Other Side of Hope , his latest. Over the course of a four-decade career that includes such films as Leningrad Cowboys Go America, La Vie de Bohème, The Man Without a Past and Le Havre, Kaurismäki has never departed from his signature laconic absurdity, be his stories comedies, dramas, or some strange hybrid of both. They fascinate, even as they sometimes repel.
Here, Kaurismäki explores our very real modern-day refugee crisis, recently addressed by artist Ai Weiwei in his moving documentary Human Flow. Somehow, the director's dispassionate take on human misery allows us to relax, sit back and analyze the situation for the horror that it is. Rather than give in to outrage, we marvel at the series of bureaucratic measures that prevent the main character, Khaled, from receiving asylum in Finland. It's like a procedural of first-world cruelty … with jokes. And why not? One form of folly deserves another.
We meet Khaled (Sherwan Haji) right away, covered in coal dust. He's a stowaway on a freighter, and an escapee from Aleppo, Syria. After leaving the ship, finding a public washroom and taking a shower, he turns himself in to the authorities, assuming that they will hear the details of his case and do the right thing. Maybe, maybe not. Meanwhile, we follow a middle-aged (or more) man, Wikström (Sakari Kuosmanen), as he leaves his wife, sells his clothing business and buys a seedy restaurant, looking for a change. As improbable as it seems, at first, these two plot threads later intersect.
It's an odd movie, for sure, but that's Kaurismäki for you. Sui generis, he imbues every frame of the film with his own particular quirky sensibility, recognizable from his pervious work. Though the camera does (occasionally) move, it never leaves the tripod, lending the affair a static quality, a perfect metaphor for Khaled's plight. I can't say that I loved The Other Side of the Hope, but I found it extremely compelling, nonetheless, filled with great minimalist performances and off-kilter compositions. If nothing else, Finland's most famous living cinematic auteur always offers a refreshingly different perspective on storytelling, in and of itself a reason to watch him.
– Christopher Llewellyn Reed (@ChrisReedFilm)