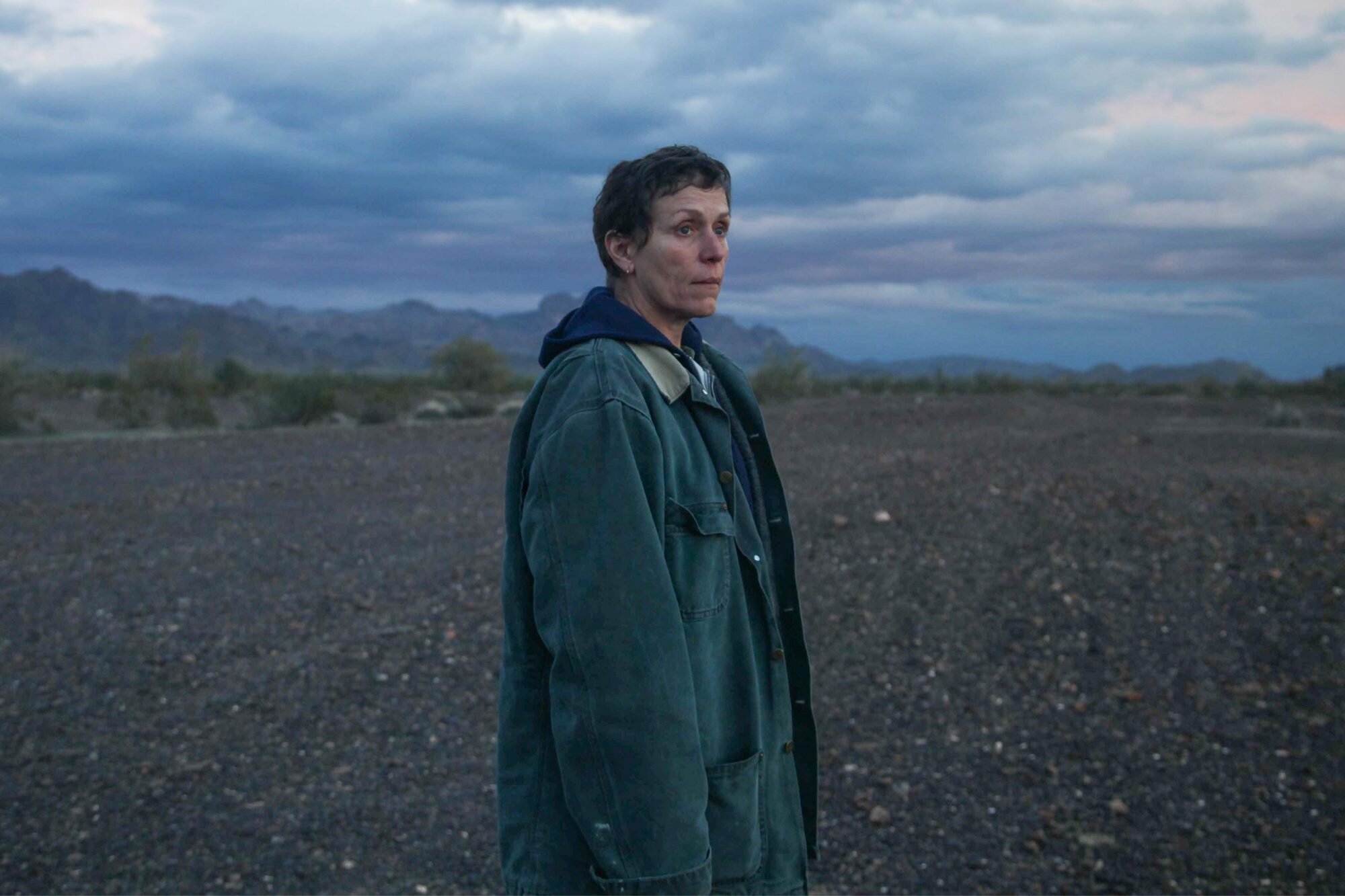 (Chloé Zhao's Nomadland has earned several film festival awards and garnered a ton of buzz. The film is available now on Hulu. Like what you see here on Hammer to Nail? Why not give just $1.00 per month via Patreon to help keep us going?)
Nomadland by Chloé Zhao stars Frances McDormand in this perfect gem of a film that won People's Choice at Toronto International Film Festival and the Golden Lion at Venice Film Festival. Based on the non-fiction book Nomadland: Surviving America in the Twenty-First Century by Jessica Brude, the film blends truth and fiction effortlessly due to Zhao's writing and McDormand's quiet performance.
The premise is that Fern (McDormand) sets off on the road after the small town she lived in collapses after the factory closes. As she explores nomadic living, she gets tips from real life experts Bob Wells, Linda May, and Charlene Swankie which brings a sense of authenticity to the screen. David Straithairn also brings to life a possible other life for Fern as a new love interest. A new wild west has arisen as the Great Recession took hold and Zhao captures this in quiet moments as the nomads work factory jobs to fast food gigs to keep enough funds to live, often eating off a hot plate, using a bucket for a toilet but relying on each other and the land.
But the romantic nature of the idyllic skylines of the west, the fantasy of giving up the daily grind and living off the grid, and the quiet provide understanding for the viewer on the adaptation of the lifestyle. Despite some real challenges and scary moments as a woman on the road alone, Fern finds her true self separate from a society that tells her who she is supposed to be.
In a time where most of us can't travel due to the pandemic, the film hits you in the gut with the reminder of the great outdoors, the beauty around us if we remember to stop and enjoy it and the fragile ecosystem that is breaking down in America, leaving our elders without safety nets. Sometimes we forget what is all around us and Nomadland gives us that nudge to go smell the roses.
If after the film you don't start eying RVs and wondering about "what if," watch it again. The film won Best Audience award, Best Director and Best Feature film at the Gotham Awards on Jan. 11.
– Melanie Addington (@MelAddington)