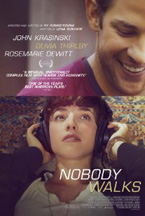 (Nobody Walks was released theatrically and is now available on DVD through Magnolia Pictures. It world premiered at the 2012 Sundance Film Festival.)
Los Angeles is indelibly attractive—especially when seen through the wispy, sun-soaked 16mm lens of cinematographer Christopher Blauvet (Meek's Cutoff). Every glint of summer sun that reflects off of the stream of endless cars outside of Martine's (Olivia Thirlby) cab catches the camera in a way that makes the city shimmer almost radiantly. Here the glassy houses have equally impressive pools, and cool dads dorkily smoke pot at parties and are John Krasinski. Full disclosure: this writer hasn't actually spent much time in LA, but then neither has Martine. Just like director Ry Russo-Young and co-writer Lena Dunham, Martine is born and bred of the New York art world, and from her sheepish shrug about her inability to drive to a spitefully thrown barb about her hatred of the beach, it becomes pretty clear that she's in a foreign land; one that isn't nearly as picturesque or anxiety free as she's hoping.
Martine is warmly welcomed into the home of Julie (Rosemarie DeWitt) and Peter (Krasinski) while she completes her scorpion-eating ant-vehicle art film with the help of sound designer Peter. Martine is young, naïve, committed but not quite confident, scatterbrained, and hopelessly sexy as if almost by accident; a pixie-haired, beautiful stranger straight out of a Rohmer film, with far too much depth to be labeled a "temptress." Within a few days of her arrival, both Peter and his assistant David (Rhys Wakefield) have fallen hard for her charms, sending the idyllic household into something like quiet turmoil. Elsewhere, psychiatrist Julie engages in some decidedly unethical flirtation with a patient, and even the teenage daughter, Kolt (Treme's India Ennenga in what should've been a breakout role), is getting cringingly skeevy attention from her older Italian tutor, which she puts up with because she's "supposed to take the Italian SAT 2." She lusts after David, is jealous of Martine, and is simultaneously annoyed and flattered by the affections of her nerdy best friend at school.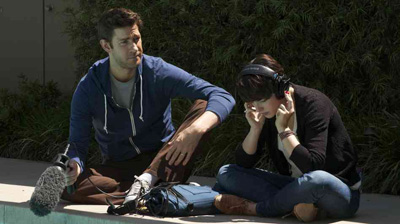 This Paul Mazursky-like setup would seem to lend itself to a comedy of sexual politics and a searing indictment of LA hipster culture—every character is unanimously dressed in their weather-inappropriately most stylish—if it weren't so tenderly humanist and likeable. There are so many themes at play here; from the using and abusing of the powers of attraction, to the differences in age between the three central female characters, to the commonplace shaming of women when sexual relationships turn sour; and yet Young and Dunham manage to keep everything remarkably subtle. Even when things eventually come to a head at a party—as they are wont to do in movies like this—the film never tips its hand and becomes melodramatic or preachy.
Dunham has a penchant for writing dialogue that transcends bitter satire and irony but still manages to poke fun at her characters in a way that emphasizes the embarrassing "realness" of what they're saying. When Peter and Martine are brainstorming sound effects for Martine's film, Martine wonders aloud what the ants' "heartache" would sound like with giddily nerdy enthusiasm. Later, as Martine and Peter finally consummate their unholy crush in Peter's sound studio, Peter brags that the room is "totally sound proof" as if it were a massive turn-on. We may wince at these lines, but the brilliance of Dunham's writing is that the characters are wincing in embarrassment right along with us.
It's something of a crime that Nobody Walks wasn't given more attention upon its release last year. For one thing, the entire cast is in top form, especially Ennenga, who glows in her role as the grounded, sympathetic heart of the film. Krasinski, too, is totally surprising; managing to perfectly personify both his character's likeable, goofy "good guy" side and his slightly gross, amoral sexual frustrations. It's also a highly successful collaboration between two artists stepping well outside their comfort zone. Young's previous films, including 2009's You Wont Miss Me, have all been totally insular, as if existing in the deluded and complicated minds of their damaged protagonists. Nobody Walks completely eschews that dynamic in favor of an ensemble chamber play. While there's plenty of finely honed wit in the film, there are no punchlines in sight, and the film is an impressively understated and dramatic turn for Girls creator Dunham; though it could be this fact, as well as seeing the eminently likeable cast in "impolitely" flawed roles, that drove away mainstream audiences. Regardless, the perfectly simple film causes a pretty impactful impression, aided by the gorgeous super 16 images and one of the best scores of 2012 from ubiquitous indie composer duo Fall on Your Sword; a breezy, woozy blast of California pop that manages to be both refreshingly fun and endlessly haunting, much like the city depicted in the film.
— Mark Lukenbill