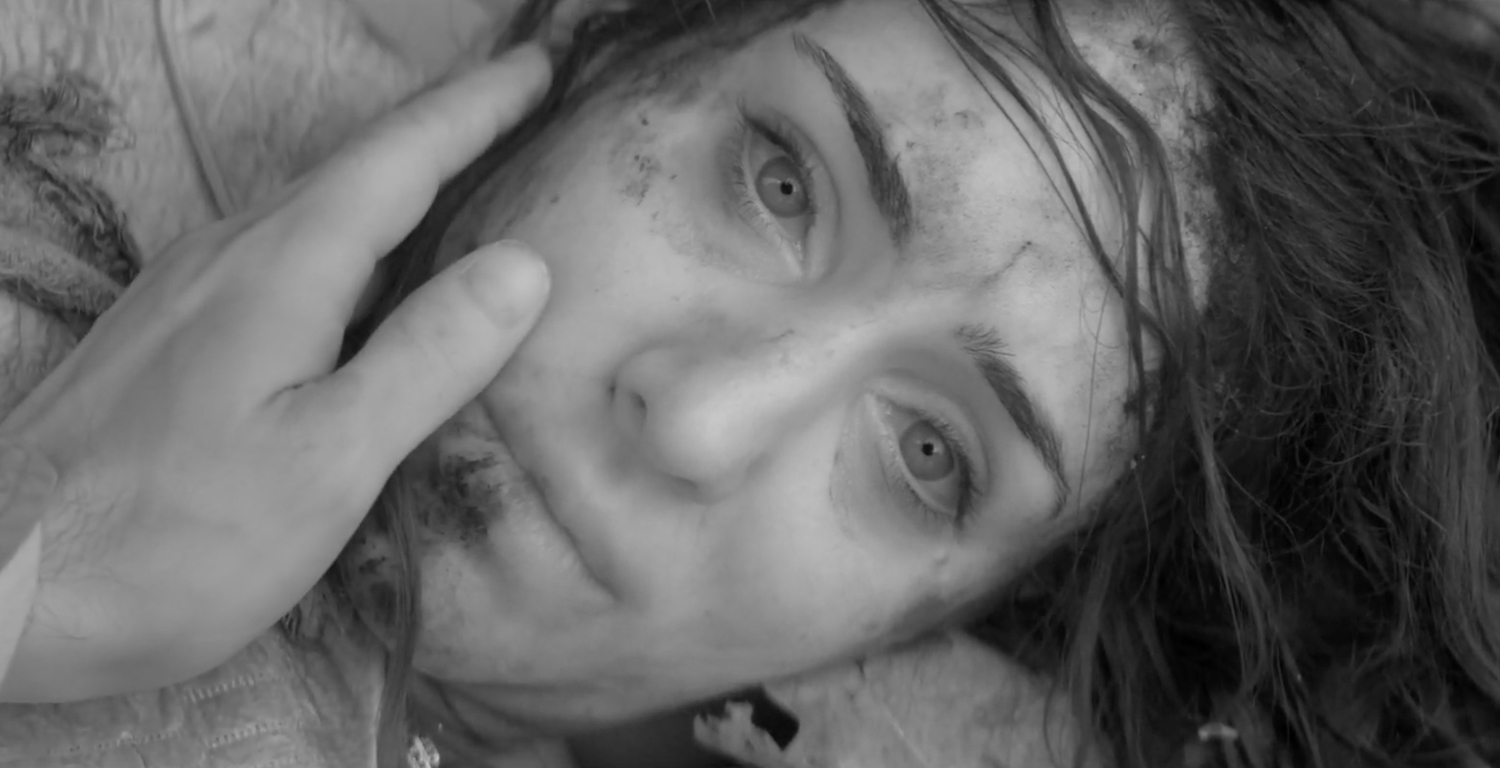 (The 2021 Slamdance Film Festival kicked off February 12 and ran through February 25, all online. Like what you see here on Hammer to Nail? Why not give just $1.00 per month via Patreon to help keep us going?)
In a devastatingly bleak near-future, a lone woman travels along deserted shoreline train tracks, her railcar emitting the only mechanical sounds for miles. After a long solo journey, she stops to pick up two passengers: a mother and her baby daughter. The kid had better not cry, she informs her new client after hiding her in the wooden crate on top of the vehicle, or they will all be dead once they hit the border. And, of course, once they start moving, the baby cries. Whatever this world may be, things are not looking up. With a title like No Trace, the story promises tragedy, and delivers. Before we arrive at our preordained destination, however, there's a journey to be taken.  
So goes this simple, yet devastating, dystopian tale of civilization overtaken by its worst instincts. Directed by Simon Lavoie (The Little Girl Who Was Too Fond of Matches) and starring Monique Gosselin and Nathalie Doummar (Boundaries), as transporter and rider, the film plunges us into a universe of hope and despair, the latter proving the stronger of the two. Though our protagonists speak Québécois French, we could be anywhere, so denuded of defining characteristics is the scenery. Lavoie further manipulates the image, presented in black and white, to turn what would normally register as green foliage into near white, hinting at natural catastrophes beyond those of societal breakdown. The times they have changed, and not for the better.
Once her cargo deposited (the baby followed instructions), our traveler goes on her merry way, though before long she makes a near-fatal mistake that complicates her next steps. Fleeing into the nearby woods, she finds herself once more in the company of the woman she recently left. They take refuge in a deserted cabin, occasionally discussing faith (or lack thereof), the one struggling to help the other overcome unspeakable trauma. In moments, given what else we see of the universe, it seems as if the fate of humanity depends on their ability to forge a connection. Hell may be upon us, but as long as one person can be kind to another, heaven might exist, as well. 
Beyond the manipulation of color, Lavoie also plays with aspect ratio, sometimes offering compositions in widescreen, sometimes in a smaller square box nestled inside the larger frame. What exactly this represents – point of view, narrowing opportunities, an arbitrarily alternating perspective in the arena of war – is never quite clear (at least not to this viewer), though the changing size holds visual interest. What is less appealing is the physical suffering we witness, including one horrific shot that remains seared in my brain long after the end of the movie (major trigger warning). Did I need to see that? Not really, but given the narrative architecture of the piece, it's less gratuitous than one might think. No Trace, in fact, leaves quite an imprint, a fair notice of what we should never become.
– Christopher Llewellyn Reed (@ChrisReedFilm)