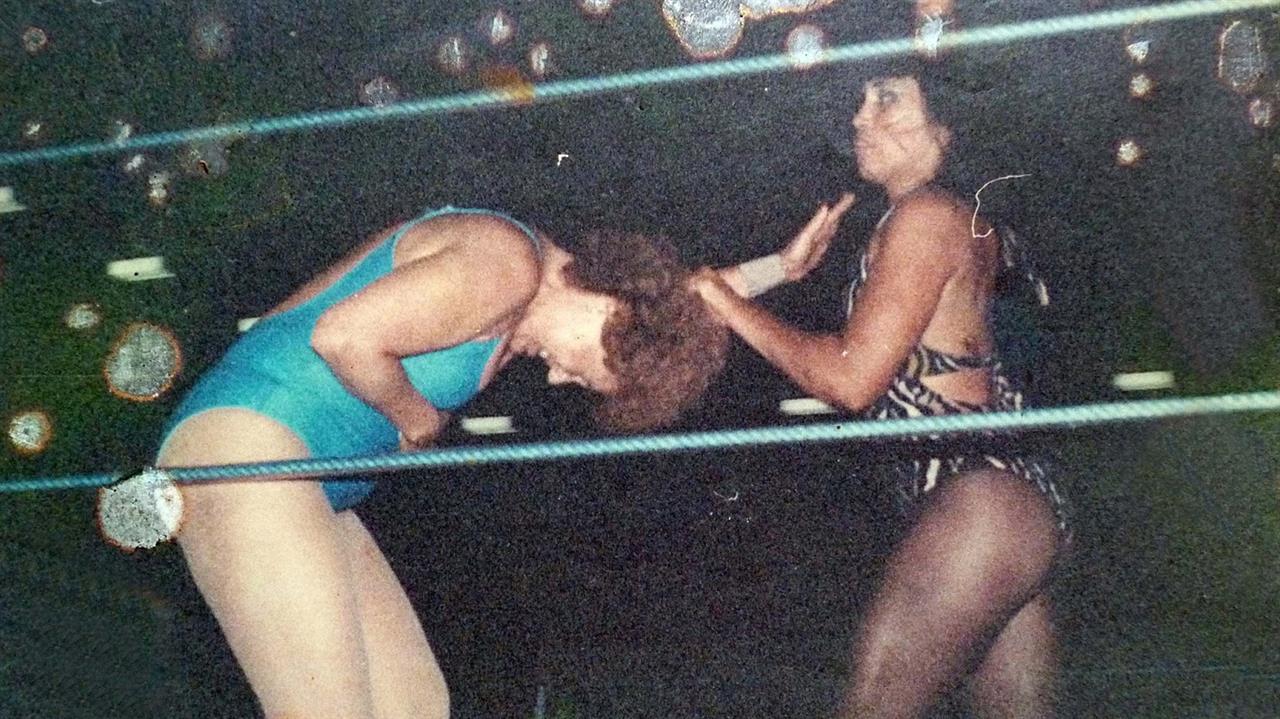 (DOC NYC, America's largest documentary film festival, runs November 8-26 in New York City. HtN has boots on the ground and will be bringing you tons of coverage like Chris Reed's movie review of Uncropped. Seen it? Join the conversation with HtN on our Letterboxd Page.)
A work of tender homage, Fernanda Faya's debut feature-length documentary, Neirud, starts and ends as a personal story. In the middle, it delivers the intriguing secret history of Brazilian all-women circuses. The sum total of its parts is a tribute to love (both hidden and overt) and survival. That proves a poignant combination.
At the heart of the tale is Neirud, herself. She's Faya's aunt, though exactly how she fits into the family has long confused the filmmaker. Everyone else is white (though descended from Roma, so outcasts not long ago). In addition, Neirud's past is shrouded in mystery, though she comes and goes throughout Faya's childhood in the company of Nely, Faya's grandmother. Disturbingly, she also bears a racist nickname: "gorilla woman."
Faya knows that her family has circus in their blood, though neither her father nor Nely have ever talked much about it. Both her parents are psychologists, and dad prefers to not bring up his childhood. Still, everyone loves Neirud, and even after Nely's death they all continue to visit her. Just as Faya is beginning to probe into the riddle of her aunt's origins, however, Neirud dies. That's in 2014.
Her passing prompts a long period of mourning and research, and Neirud is the resultant movie. Faya uses the process of gathering pieces of the puzzle to form an image not only of Neirud's identity, but also of Nely's. Along the way, she uncovers exciting facts about her pioneering women ancestors, the obstacles they overcame and boundaries they broke. More than just a profile in courage, the film is an examination of feminist principles in action.
What we learn takes us back to a time when being an independent woman, much less an entrepreneur managing a circus staffed by women, was a rarity. To top it off, this was no circus as we think of it, but one which often served as a showcase of women wrestling, an activity that was illegal in Brazil at the time (though legal in a circus). It's not the only taboo Nely and Neirud challenged.
There is an enigma at the center of the narrative that is not that hard to decipher, but there is much excitement in the journey to clarity. Visually, much of the movie is told through repurposed home-video footage. In addition, Faya takes archival film reels from a variety of sources to support the recreation of yesteryear. She edits everything into a beautiful mix of shifting images that evoke a dynamic tapestry of vibrant humanity.
Neirud is at all times a compelling subject (and yes, that "gorilla woman" moniker is explained). She may no longer be of this world, but is still very much present in Faya's mind. May she now live many years in ours. Given the power of Neirud, she most likely will.
– Christopher Llewellyn Reed (@ChrisReedFilm)
DOC NYC; Fernanda Faya; Neirud documentary movie review