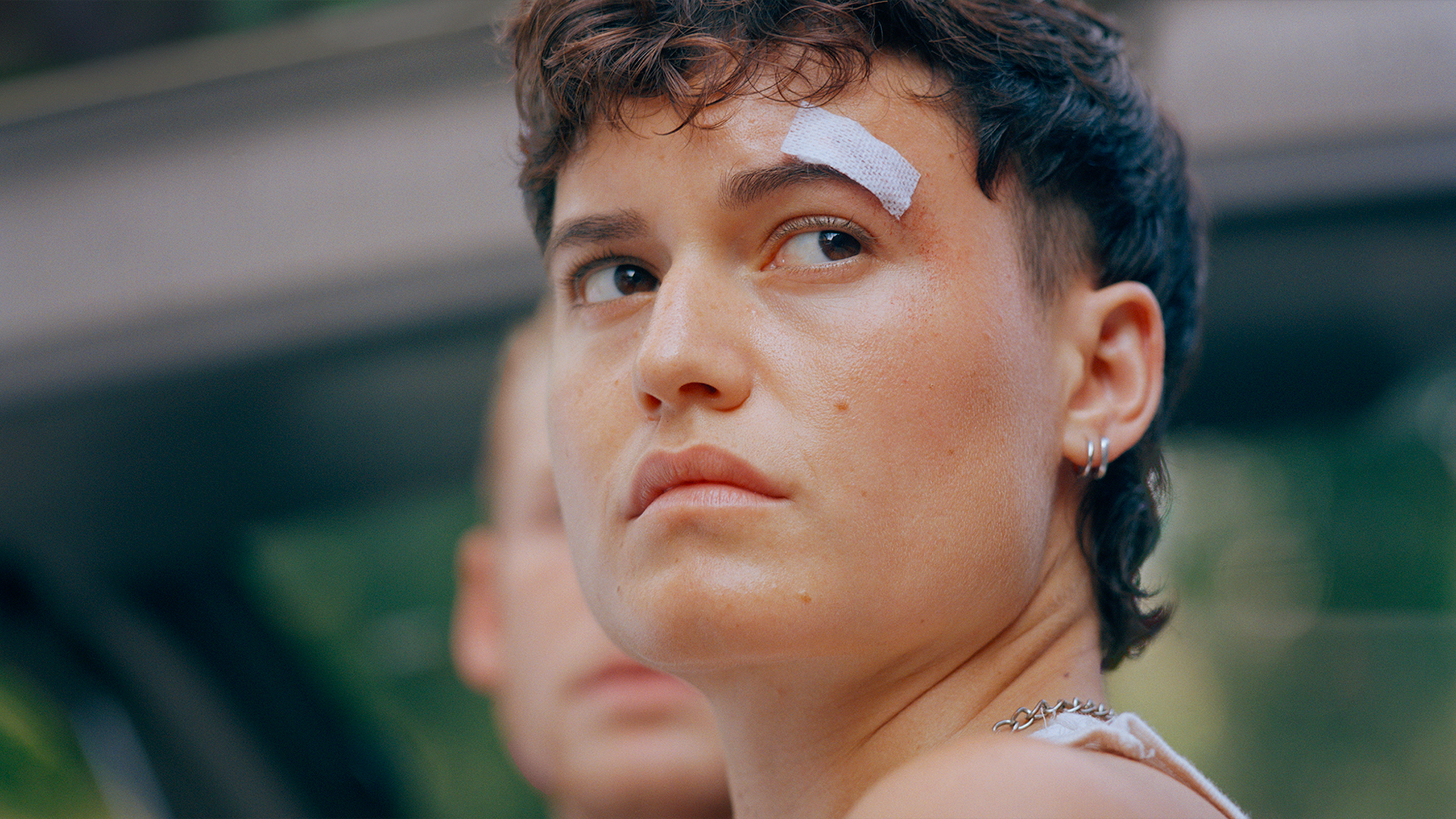 (The 2023 Sundance Film Festival took place January 19-29 in and around Park City, UT and virtually. As always, Hammer to Nail has you covered with tons of movie reviews like Bears Rebecca Fonté's  review of the film Mutt. Seen it? Join the conversation with HtN on our Letterboxd Page.)
A shitty day is universal. However, when you are trans everyday can be a minefield of microaggressions ready to sneak up on you at any time from anywhere. In Mutt, Serbo-Chilean director Vuk Lungulov-Klotz follows Feña (Lio Mehiel) through a day sometime in the first year after he has come out as transgender, managing to hit two awkward reintroductions within 24 hours, with his ex-boyfriend and his father. The film never lets the viewer escape the constant intrusions to being allowed to just live. Getting a check cashed incudes such insults as refusing to cash the check because its in Feña's deadname, having to explain that his boss still puts the wrong name on it (which feels intentional around the third time), and, after just having to justify the issue by explaining he is trans, being called 'm'aam.' Then there is the unfortunate conversation that every trans person is subjected to: "so, do you have a dick now?" [My version is "So, do you still have a dick?] invariably you have to tell them 'that's not an appropriate question' – to which they always say 'oh, I know,' pause a second, and continue on with 'but do you?' Seriously, I cannot tell you the number of times I've had that exact conversation. Feña has it in front of his ex-boyfriend.
Anchoring Mutt is a career-announcing performance from Puerto Rican actor Mehiel (Apple's  WeCrashed), who suffers the indignities with fierce determination, but is at his best in the softer moments, like in the scenes with his runaway sister Zoe (MiMi Ryder). His tempestuous relationship with his father — who is making more of an attempt to stay in his son's life than Feña's mother – gives Mehiel a chance to cycle through more emotions with another character than most actors get to do in a series. The actor, who identifies as transmasculine and non-binary, is just the kind of future star that could change this industry or reveal its limitations completely. There will be parts written for them after this performance, will there be investors, producers, or studios interested in greenlighting their projects? Will a high-profile role lead to finally ending the outdated practice of awarding Oscars by gender in the acting category?
Lungulov-Klotz, for his part, has given Mehiel the perfect framework to be brilliant in. The transgender artist is an alum of the Sundance Institute Labs, the Tribeca Film Institute, and the Ryan Murphy HALF Initiative Program. Mutt, his debut feature, focuses on intimate moments against the vibrant background on New York City. Masterfully structured to wind Feña up until he breaks, the conflicts never feel forced and inform each other.
Despite the increasing number of LGBTQ+ projects that are finally reaching the screens, there has been a scarcity of films focused on the transmasculine experience. Hopefully the artistic success of Mutt can lead to more stories finding their way to the lens.
– Bears Rebecca Fonté (@BearsFonte)
2023 Sundance Film Festival; Vuk Lungulov-Klotz; Mutt movie review