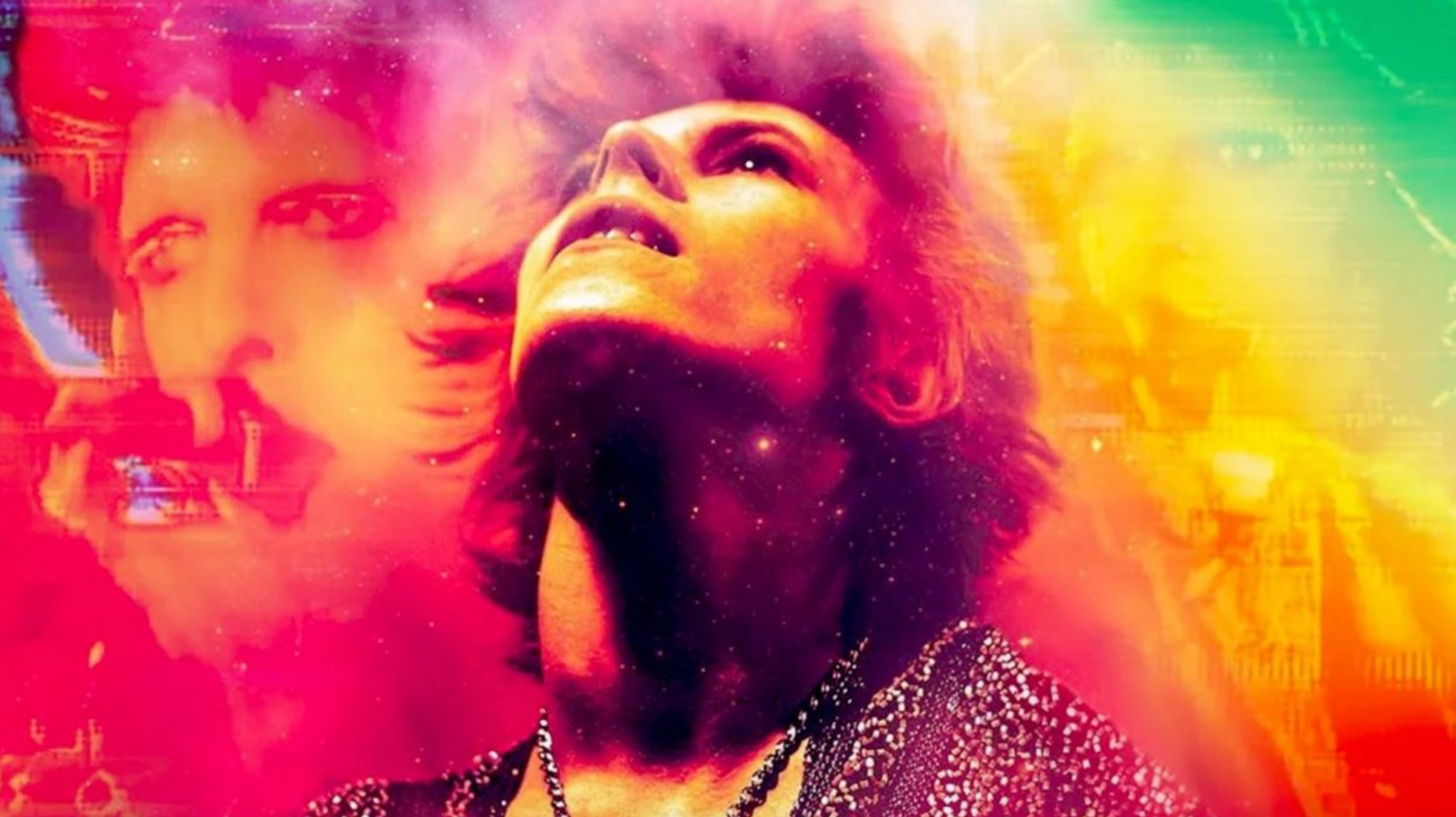 (Moonage Daydream arrives in theaters and IMAX today! Check out Jack Schenker's review. Seen it? Join the conversation with HtN on our Letterboxd Page.)
Director Brett Morgan was not lying when he said Moonage Daydream is more of a cinematic experience than a documentary. In a time where we are being saturated by tons of conventional, sometimes distasteful, posthumous documentaries, such as Juice WRLD: Into the Abyss, it was beautiful to see Moonage Daydream, a film I'm confident David Bowie would've loved. Bumping into Morgan on the streets of Cannes, I asked him about the challenges of editing the film. He told me the hardest thing was restoring all of the songs. That struggle paid off, these songs and concerts sound incredible, making it a documentary that demands to be seen in theaters, and where it's available, in IMAX.
Moonage does not have a consistent storyline, however, it seemingly follows Bowie chronologically. Thankfully, there are no talking heads. As the film shows us, Bowie was otherworldly, seen as an alien by many, it would have been a crime to do just another talking head documentary about one of the most unconventional rockstars ever. Instead, Brett flies the audience through a series of animations, concerts, and never before seen footage of Bowie living his daily life. This is spliced with incredible music, and voiceovers of Bowie philosophizing. The two hours and twenty minutes fly by. I was lost in the visuals as if I was on psychedelics.
I have never seen a documentary like Moonage Daydream. Last year's Summer of Soul was an incredible documentary, one that was certainly enhanced by the theater experience, however it still had talking heads and a narrative. Moonage is all experiential. As the film goes on and Bowie ages, no text pops up on the screen to indicate what year it is. The only indication is the album he is touring. The film encapsulates what made Bowie such an icon. Not just his music, he dabbled in every art form with class. One sequence which displays all of his paintings showcases just how insanely talented Bowie was at all forms of art. Some of the moments in this film, like Bowie smoking a cigarette late at night or him going to bed, are striking because I have zero idea how they got most of this footage. It is as if a camera followed Bowie around his whole life. We are exposed to what seem like personal moments, it is enlightening. 
The mark of a successful music doc is if it results in me listening to their music. I was somewhat of a Bowie fan going into this documentary and since I have been addicted to his music. For better and for worse I do not think this film can be seen without a good sound system. If you want to feel like you are at a David Bowie concert, I recommend you attend this in IMAX. The visuals are truly stunning. Everything is drenched in neon and saturated to the max. The concert sequences had me constantly dancing, however, it is also melancholic. Bowie's outlook on life is so beautiful, you wish he was still around to heal the world. Brett told the audience that the world would be a better place if everyone thought as David did, and after seeing the documentary it is hard to disagree. 
Obviously, if you are a David Bowie fan, this is a can't-miss experience, but this documentary transcends the need to be a Bowie fan by looking as incredible as it does. At the very least audiences will be enamored by the animation and inspired by Bowie's passion for life. It is the exact movie David Bowie deserves.