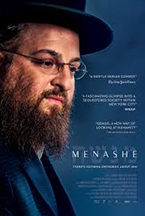 (Filmmaker Joshua Z. Weinstein's latest film Menashe made a splash when it premiered at the 2017 Sundance Film Festival. a24 snatched the film up and will be releasing it in a slow rollout beginning Friday, July 28.)
From documentary filmmaker Joshua Z. Weinstein (Drivers Wanted) comes a fictional narrative feature (his first), shot and set in Brooklyn's Borough Park, site of a thriving Hasidic community. Using non-actors – mostly from that community – Weinstein tells a story about tribalism, tragedy, love and faith, building his tale out of carefully calibrated behavioral performances that slowly draw us into the specificity of this world. Menashe Lustig plays the lead role of Menashe, a widowed father struggling to raise his son on his own within a group that sets high value by two-parent families. According to the movie's press notes, and my own conversation with Weinstein and Lustig (soon to post on this site, as well), many of the details of the movie come from Lustig's own biography, which helps explain why he is so perfectly at ease in front of the camera. He is not alone, however, as everyone is believable in this moving portrait of a little-seen, insular population struggling with novelty. To highlight the authenticity of the drama, all dialogue is spoken in Yiddish, with English subtitles.
For Menashe does not do things as do others. Compared to his brother-in-law – his dead wife's sibling – he can't quite keep it together. He's always short of cash, and always a little lost. Heavyset and physically awkward, and usually dressed in rolled-up sleeves, with only a yarmulke on his head, he stands out amongst the mostly trim men who dress more formally in coats and hats. Lost in grief, he just needs a little compassion, but instead runs up against the rigidity of thought that is the stock in trade of all orthodoxies. As a widowed woman on a date – arranged by the local Hasidic Ruv (Rabbi) – tells Menashe, "Beyond marriage and kids, what is there?" Indeed. Most traditional religions adopt a fairly strict view of the role that men and women must play in propagating their own kind.
Fortunately, this is not just a hard-nosed dissection of hardliners. Everyone here is a human being capable of change and growth, and Weinstein's beautiful accomplishment is to bring us inside the lives of these (mostly) men as they confront the oddball in their midst who can't quite conform. Jewish law – amply discussed here – serves as a useful guidepost, but sometimes fails to assist everyone. Menashe is frequently on his own, as even his son just want things to be normal, but he perseveres. Be glad that Weinstein did, as well, despite his difficulties finding Hasidic Jews to agree to be on camera, as the resultant film offers a loving and lovely look at an extraordinary ordinary life.
– Christopher Llewellyn Reed (@ChrisReedFilm)