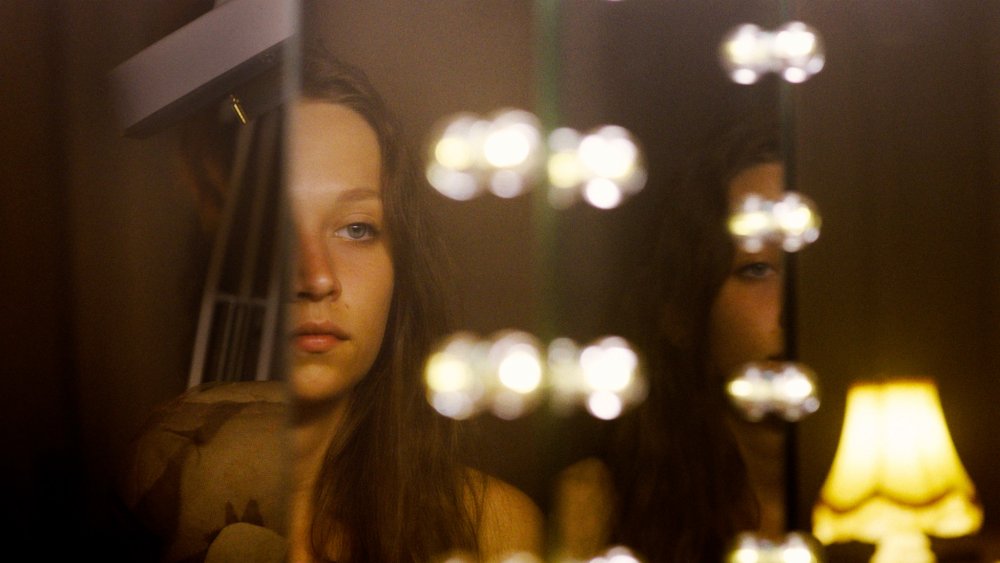 (Claire Oakley's debut feature, Make Up,was slated to debut at the 2020 SXSW Film Festival. Alas…it's become a #LostFilmsofSXSW. Like what you see here on Hammer to Nail? Why not pay just $1.00 per month via Patreon to help keep us going?
A fervent fable of sexual awakening, Claire Oakley's debut feature, Make Up, follows a young woman, Ruth, on a journey that ends far from her original destination. Hers is not an ultimately unhappy detour, though it is fraught with anxiety, catching her unawares and unprepared for change. Set against the backdrop of an off-season beachside resort on England's Cornwall peninsula, the film places its protagonist's increasingly passionate feelings in opposition to the dull gray slate of the landscape, thereby visually heightening Ruth's initial despair. Though there are few narrative surprises here, Oakley handles the material with impressive skill, allowing her fine cast full room to explore their characters' arcs, the intimate camera adding its own special touch to their performances. Alternately explosive and gentle, Make Up keeps us on our emotional toes, throughout, to our viewing delight.
As Ruth, Molly Windsor (The Runaways) brings a quiet intensity to a part that initially seems underdeveloped. We soon realize that this is by design. We're not quite sure how old she is, but since the manager of the resort asks Ruth if her parents are okay with her visit, we assume she may still be a minor, or just 18. Ruth has come to see Tom (Joseph Quinn, Overlord), her longtime boyfriend, who works on the winter repairs of the closely grouped cabins by the shore. At first, they eagerly jump into bed together, but soon they grow bored, the frequent proximity less exciting than they had imagined. Though Ruth is unaware of the depth of her restlessness, she still remains unsettled.
Her disquiet initially manifests itself as jealousy after she sees red hairs – most definitely not her own – in Tom's clothes while cleaning. Then she spies another woman wandering about, who not only has hair dyed red in front, but a pure red wig (as Ruth will shortly discover). This is Jade (Stefanie Martini, Crooked House), slightly older and more worldly than Ruth. Out of curiosity and worry about Tom, Ruth warily befriends her and then, much to her surprise, finds herself genuinely drawn to her after Jade gives Ruth a playful makeover. As Ruth and Tom's relationship deteriorates, so does Ruth and Jade's blossom, leading to the unexpected.
All the while, Oakley cuts to quick flashbacks and fantasies, the two blending together in a fitful reality while Ruth contemplates her future. We see it coming from far away, but that doesn't take away from the pleasure of watching Ruth's voyage of self-discovery. The evocative cinematography helps us along, as well. Overall, then, Make Up makes itself quite cinematically welcome.
– Christopher Llewellyn Reed (@ChrisReedFilm)