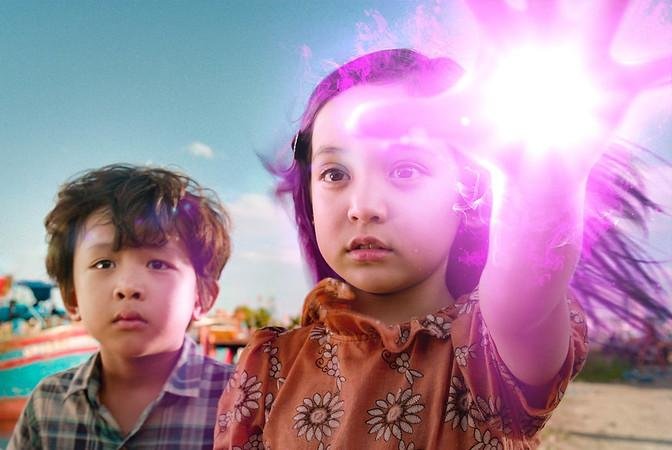 (The 2022 Sundance Film Festival runs January 20-30 all virtually. Check out Bears Rebecca Fonté's movie review of Maika. Like what you see here on Hammer to Nail? Why not pay just $1.00 per month via Patreon to help keep us going?)
Vietnam does not have a very extensive filmmaking history, let alone a track record for children's film, which makes it all the more surprising that Ham Tran's Maika effortlessly succeeds despite any low budget obstacles that get in its way. Inspired by the loss of the director's mother, Tran's alien-landing comedy channels a true classic, E.T., as the title character arrives on our planet with no way to contact her friend or the mothership that brought her there. The director fully acknowledges the inspiration, even having Maika and her human friend build a communication device out of cell phone parts for a modern day 'phone home.' At the heart of the story though is a human child, Hung (Lai Truong Phu), who lives with his cell phone repairman father in the apartment above the shop, one of the last holdouts from a bullying landlord who wants to turn their home into expensive condominiums. One year after Hung's mother's death, both father and son are still clinging to the memories they had with her and unable to part with the home they shared.
Everything changes for the family when what looks like a meteor crashes into a nearby lake. Using the model airplane that his mother gave him just before she passed to explore the area, Hung stumbles into lake only to be saved by Maika.  Our titular hero is an adorable alien who has quickly figured out that she needs to hide her glowing purple butterfly-like form and appear as a human child, a form she found on a milk bottle. She does however sport purple hair which loses its color as she performs various supernatural skills such as fighting burglars with her tentacles and putting broken buildings back into place. Meanwhile the country's most famous scientist/businessman, a sort of Elon Musk type, has announced plans to build a space shuttle and launch it from the lake near Hung's house. However, he is also tracking the alien presence which may just be the key to all his scientific ventures.
It's a fun plot that is easy enough for any child to understand and leaves lots of room for the themes to come out through the skillful performances Tran gets out of his actors, including all of the kid actors. I'm gonna put him on my very short list of directors I trust with a predominantly child cast, right behind Chris Columbus. There are bumbling villains that seem straight out of the Home Alone franchise, and the businessman manages to play on both sides of legality for as long as possible. Of course, none of this would work without Maika (Chu Diep Anh), a charming find who gets plenty of enjoyable fish out of water scenes and who I can totally see the little boys fighting over in their first taste of interest in a female. Of course, we never really know how old the alien is behind the human form so it could just be really odd that she is working with the children rather than the adults to help her phone home but when a film is so delightful, I don't get distracted by those sort of logic details.
I know that any American adult who sees this film will have a hard time ignoring the lower grade quality of the special effects but I guarantee you no child is going to care. Instead of being critical, I instead would like to praise the quality of what is in the film, especially the high flying plane and drone chase scenes. As for Maika's alien form and her alien powers, they may look somewhat cartoony, but they are no more cartoony than the performances of the villains, and the performances of countless villains in American films. Again, we need to stop looking at things with such critical eye and instead celebrate quality storytelling, especially when it can put a smile on your face.
Ham Tran debuted his first feature (Journey from the Fall) at Sundance back in 2006 and has made 5 features can you see since returning to Vietnam in 2012, including a romcom, a heist film about bitcoin, and a horror film. Maika may be his first science-fiction, and his first children's film, but I hope it's not his last of either.
Maika screened in the Kids section at Sundance 2022.
– Bears Rebecca Fonté (@BearsFonte)
Sundance 2022; Maika movie review; Ham Tran