(Lyle world premiered at the 2014 Outfest, where Gaby Hoffmann took home the award for Best Actress in a U.S. Dramatic Feature. The filmmakers have made Lyle available for free online at LyleMovie.com to call attention to their Kickstarter campaign for their next feature Putney. Watch it now while you can!)
Ever notice how many male directors use birth analogies to describe the filmmaking process? Filmmaker Stewart Thorndike offers something better with Lyle, her sharp, funny horror film that she describes as a lesbian Rosemary's Baby. While clearly influenced by Polanski's film, down to the floral cotton prints that Mia Farrow wears—the devil (haha) is in the details—Gaby Hoffmann's Leah is a real departure. Rosemary seemed to thrill to motherhood, even when porcelain-thin and consumed by the devil's spawn, but Leah is darker, less stay-at-home than trapped-at-home, raising her toddler Lyle while pregnant with a second daughter. The film opens with Leah and June (Ingrid Jungermann, of The Slope and F to 7th) touring a new apartment, forced to relocate for June's job (some kind of music producing gig? it's unclear). The apartment is a brownstone beauty, but Leah seems suspicious of their good fortune and uneasy in their new home. Then a tragic loss unleashes a ferocious grief in Leah, and the film charges from there to its conclusion, a birthing tub finale that might be the best ending to a film I've seen all year.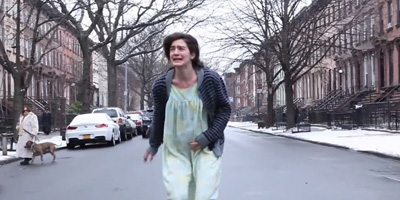 At barely over an hour, Stewart Thorndike distills the primal fears of pregnancy, motherhood, betrayal, and New York real estate(!!) into a potent film that somehow manages to be both very funny and a furious catharsis. At the heart of the film is Gaby Hoffmann's remarkable performance. But Lyle also clearly belongs to Thorndike, who has an innate understanding of tone, showing impressive command of the horror genre through pacing, visual style, and sound design. What I'm saying is it's a really good movie, a smart and nervy story told really well on a DIY budget. So why hadn't I heard of this film until now? Why does it seem to have been sidelined by niche festival programming?
I highly recommend you watch Lyle for the above reasons, but also because it makes me mad that Lyle was overlooked for reasons I'm convinced have nothing to do with quality. Her film itself is a strong enough argument that more women should direct horror films, but Stewart Thorndike sums it up eloquently in this essay at The Talkhouse: "We bleed more, we leak more, we grow and birth and feed humans out of our bodies and we may just tell stories a little differently." Lyle is available for free online at LyleMovie.com as an incentive to donate to the kickstarter campaign for Thorndike's next feature Putney (that's about a haunted TED Talk, and sounds awesome!). So check the movie out, and if you like it as much as I did, consider giving your beer money to Stewart Thorndike instead of the next Braff-mallow. With Lyle, she's more than earned my support, and I'm excited to see what she conjures up next.
— Susanna Locascio