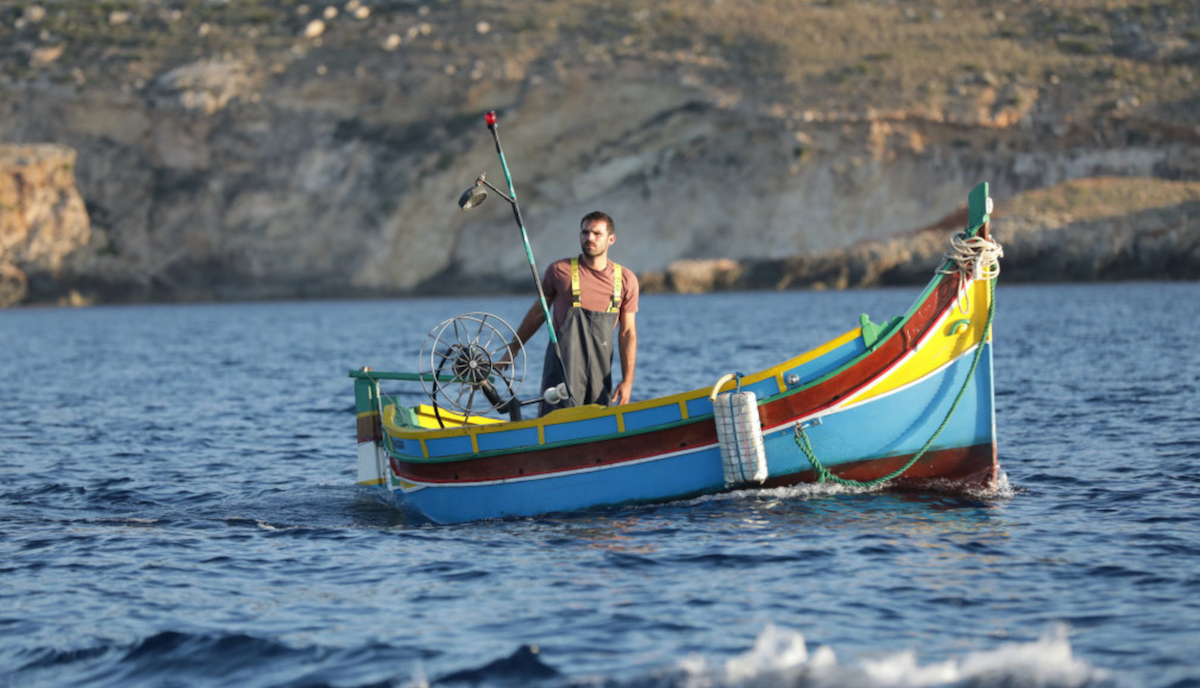 (Alex Camilleri's debut feature Luzzu  opened October 15 in theaters and on November 12 hits virtual cinemas, all via Kino Lorber. Like what you see here on Hammer to Nail? Why not give just $1.00 per month via Patreon to help keep us going?)
The "luzzu" is a brightly colored (in shades of yellow, blue, green, and red), traditional Maltese boat, used for both transportation and fishing. In director Alex Camilleri's eponymously titled debut feature, it is a symbol of a regional culture losing the battle against outside influence. The film takes this small vessel and elevates it as a metaphor for the wages of globalization. If you can't beat 'em, join 'em. Shot with great precision and filled with vibrant, naturalistic performances (mostly by non-actor island locals), Luzzu plunges us into the dangers of a modern world that takes from the planet far more than its due. Adaptation means survival, but at what cost?
 Jesmark Scicluna plays Jesmark (aka "Jes"), a fisherman whose luzzu has seen better days. When we first encounter him and it, they are at sea, taking on a slow leak. As tough as grounding the boat for repairs may be, Jesmark hasn't exactly been making a killing with his catch. Every year, there are fewer fish out there for guys like him, given the shadowy cartels that trawl the nearby ocean, destroying the seabed and decimating marine populations, a true ecological tragedy. Now, Jes has to find a way to earn money quickly, since he and his wife have an infant son who shows signs of potentially serious health problems, with medical treatment hardly cheap.
Jes' wife, Denise (Michela Farrugia), could ask mom (Frida Cauchi) for help, but her bourgeois family has always looked down on Jes and his profession, so that would be a painful step. In the meantime, Jes tries fishing on his friend's boat. That friend, David (David Scicluna, Jesmark's real-life cousin), is a good sport, even volunteering to repair Jes' luzzu, but such an arrangement cannot last, especially with local, corrupt inspectors bearing down hard on the little guy. So Jes does the unthinkable and, out of desperation, takes another look at the trawlers.
What then transpires defies narrative expectations, delivering dramatic surprises that tackle serious issues in the guise of a thriller. And while Jes struggles to find a path forward, his home life is under threat, as well. As the stakes rise, so too does our interest, each new plot development proving of greater and greater interest. The plight of the small fish in shark-infested waters is rendered with a cinematic urgency that makes every moment feel as gripping as it does authentic.
With its sculpted eyes on the prow, the luzzu becomes its own distinct character, a symbol of how the past is swallowed by the present and chewed into oblivion. Life may go on, but it looks very little like what came before. The scenic beauty of Malta, which appears like a picture-perfect postcard both from a distance and in close-up, provides an ideal background for this kind of story, serving as a reminder of all that is lost through greed and corruption. Soon, the future will be here. What will be left? Luzzu asks the question; it's up to us to answer.
– Christopher Llewellyn Reed (@ChrisReedFilm)
Kino Lorber Films; Alex Camilleri; Luzzu film review