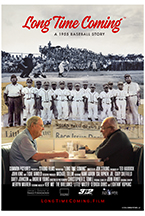 (Filmmaker Jon Strong debuts his first feature-length documentary, Long Time Coming: A 1955 Baseball Story, which is still out on the festival base paths before coming home to VOD in February, 2019.)
When racial segregation defined the livelihood of Americans in the Deep South in 1955, two groups of twelve-year-old boys defied the expectations of Jim Crow laws and competed against each other in a wholesome game of baseball.
The power of Long Time Coming resides in the testimonials of the original players of the black and the white little league teams and Jon Strong and his team of editors. The buildup to the legendary ball game is slow and steady, allowing the audience to get a genuine feel for these men and their honest views of the racial injustices that occurred in their hometowns during the 1950s. The point Strong makes is not to point at the screen and shout out why we disagree with this person and why we agree with that person. His point is to introduce these men of a complicated generation to us without an abrasive political agenda and then when the final image fades to black; we still see the same men as the unique and flawed human beings we see in ourselves.
With all of the specific context of this unforgettable little league game given by the original players and historians and legendary athletes like Hank Aaron and Cal Ripken, the game itself plays out quite disappointingly. Considering the fact that this game was not filmed, Strong does his best to illustrate the high stakes the boys were battling against but there was never a real sense of immersion. While the players' retelling of that day was profoundly moving, the personal breakthroughs that unraveled in the midst of the game flew by without a second glance.
Long Time Coming never sets out to break the mold of past race-focused documentaries and depicts a new, daring outlook. Instead Jon Strong tells a heartwarming story of acceptance, and in today's intolerant climate, this is the kind of story America so desperately needs.
– Patrick Howard (@PatHoward1972)