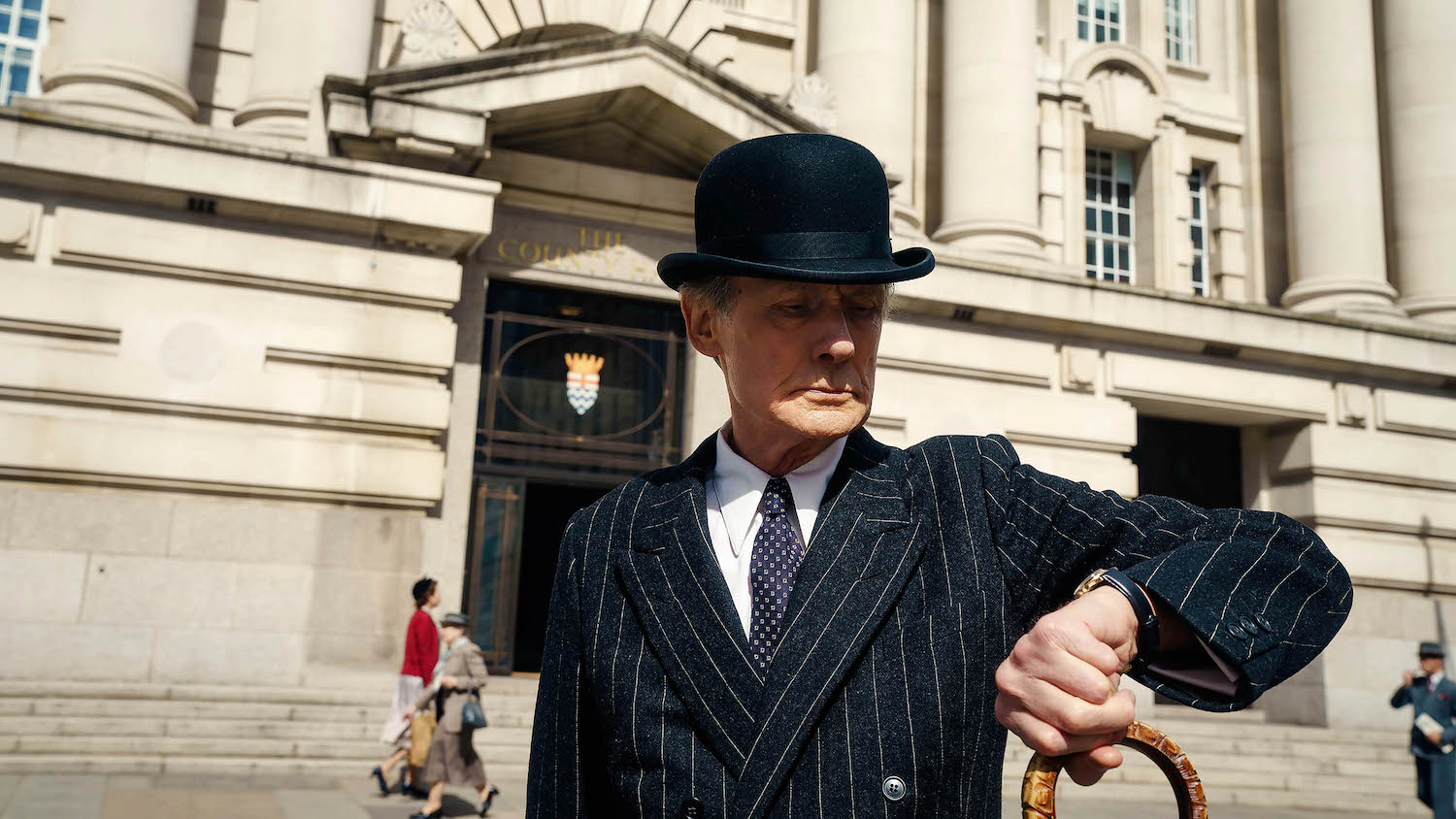 (The 2022 Sundance Film Festival runs January 20-30 all virtually. Check out Chris Reed's movie review of Living. Like what you see here on Hammer to Nail? Why not pay just $1.00 per month via Patreon to help keep us going?)
A remake of Akira Kurosawa's 1952 Ikiru, director Oliver Hermanus' Living keeps the same post-WWII setting of the original but transposes it from Japan to England. And what better person to bridge that cultural gap than Japanese-born British author Kazuo Ishiguro (The Remains of the Day), who pens the new screenplay. A brilliant master of emotional subtlety who has demonstrated, time and again, an ability to plumb the depths of human despair and highlight even the slimmest glimmer of hope, Ishiguro approaches each subject with the opposite of a heavy hand. Here, his work is beautifully complemented by everyone else's similar restraint, headlined by the endlessly versatile Bill Nighy (Their Finest).
Living begins with archival footage of the time and location, immersing us in period specificity before launching into the narrative via a young man, Peter Wakeling (Alex Sharp, UFO), on his first day of work in the Office of Public Works. He's an eager lad, whose youthful enthusiasm is immediately tamped down by the colleagues he meets on the train platform. They warn him to be sure to make a good impression on "the old man," their direct boss. This would be Mr. Williams (Nighy), and he shows up in due course at a station closer to the city. Once at the office, everyone gets down to the business of bureaucracy, where nothing much may get done, but at least there is a comfortable (to some) system.
But then that order is disrupted one day when Williams is diagnosed with terminal cancer. Given six months to live, he suddenly finds that the daily routine he has cultivated and imposed upon his staff seems trivial. And though he lives with his son and daughter-in-law, they appear more concerned with the money he might give them then with his emotional and physical well-being. You reap what you sow, a fact which he slowly grows to understand. It all seems so pointless. 
Nevertheless, after drinking himself into oblivion at a seaside resort, he comes back to London where he runs into a young woman from his office, Margaret Harris (Aimee Lou Wood, The Electrical Life of Louis Wain), who is about to leave for a better gig elsewhere. Her joie de vivre inspires, though it takes more than one encounter for the germ of an idea to form. Eventually, Williams takes action, and for those unfamiliar with Kurosawa's movie, what he does proves surprising, in the best possible manner. Even better, the film doesn't end there, but delivers a lengthy, exquisitely poignant denouement afterwards.
All the technical elements support the drama in perfect harmony, including the cinematography and score. The fine ensemble, which also includes the likes of Tom Burke (The Souvenir) and Adrian Rawlins (The Small Hand: A Ghost Story), both holds its own and allows Nighy to shine. The gut-wrenching punch of the final act emerges out of the sublime collaboration of cast and crew, making Living a loving tribute to life, death, and the path between the two. To merely exist is not enough. Make a difference in whatever way you can.
– Christopher Llewellyn Reed (@ChrisReedFilm)
2022 Sundance Film Festival; Oliver Hermanus; Living movie review