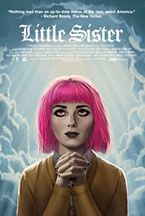 (HtN homie and previous short film juror Zach Clark's latest film Little Sister had a fantastic 2016 festival run before finding it's way to many "Best Of…" lists for the year. We finally found someone on staff who didn't know (and thus, love) Zach to watch and review the film! Little Sister is available widely now and is well worth your time.)
Zach Clark's follow up to 2013's White Reindeer, shares plot points with some rather trite films. In Little Sister, Addison Timlin plays Colleen, a woman in her early twenties who returns to her childhood home and her troubled, semi-estranged family in order to tie up emotional loose ends before making a major life change. If this were a Cameron Crowe or Zach Braff joint, the protagonist would meet a manic pixie dream person, dance quirkily to indie music, and do something cathartically impulsive, all while falling in love with said pixie. A blow-up with family members would trigger a revelation about her impending life change, and she would rejoin her life-in-progress with renewed hope and a new relationship basket containing all of her eggs.
Fortunately, Zach Clark is neither a Braff nor a Crowe. His protagonist, once a full-fledged Goth, has rebelled against her troubled family by joining a convent. She is only one rite away from cementing her lifetime commitment to God. Because of Colleen's cultural roots, the soundtrack contains barely an acoustic guitar or crooning sad sack (we're instead, serenaded with deep cuts from Gwar). Better still, because of Colleen's vows, there is no manic pixie anyone. Colleen interacts only with her parents, her childhood pal, and her older brother, Jacob (Keith Poulson). Jacob is an Iraq war vet who recently returned home after an explosion disfigured him and fried his lungs. Colleen's stoner parents are the ones doing most of the drugs.
Colleen must decide how her family fits into her new life trajectory. Jacob needs to move forward with his life, such as it is, and learn how to let his fiancé love him when he feels so unlovable. The family matriarch, Joani (a frighteningly fitting Ally Sheedy playing a sort of grown up version of her Breakfast Club character), has to come to terms with the fact that her strategy for fostering her daughter's individuality yielded unexpected results. She's also dealing with depression and the aftermath of a suicide attempt. Though we don't learn exactly what drove her to the attempt (or if it was even a true effort, given the horizontal nature of her scars), it is clear that a sense of motherly failure factors into it.
Sheedy is so good in this role that you alternate between wanting to hug her and slap her (sounds a lot like the hallmark of family). Joani is a cautionary tale of the cool mom gone wrong. She assumed that allowing Colleen to express her true self would create a sort of Joani 2.0. That's the fantasy of the liberal parent: our children will be us, minus the bugs that our parents installed. But it doesn't work like that. No matter what we do, our children will be unique and autonomous entities. Our main responsibility (besides keeping them alive) is to make sure that they feel unconditional love and support whilst encouraging them to become good citizens of the world. Sadly, knowing our job description doesn't make it much easier to pull off.
Joani is such a rich character that I would love to see another film focusing on her. But minimalism is also where Little Sister excels. Family members have meaningful interactions without resorting to exposition-laden conversations about their shared histories. In fact, many of the best moments are entirely devoid of dialogue. An extended scene wherein Colleen silently explores her empty childhood home is particularly effective.
Clark and co-writer Melodie Sisk also utilize snippets of home movies to establish Colleen and Jacob's history and drive home the extent of their lost connection. The premise is rife with potential for things to go precious or twee, but it never does. Clark and Sisk don't allow their characters to ring a false note. Of course, credit is also due to the actors who create such well-realized people that it almost feels like a documentary at times. Timlin in particular is able to convey paragraphs with merely a stern expression.
Kristen Slaysman is excellent as Jacob's fiancé, Tricia, who lives with the family. She's doing everything she can to make him feel like nothing is changed, but that's not what he wants. He feels different so he knows he can't go back to the way things were.
Colleen does manage to help Jacob inch forward by going way back, with a bit of performance art set to "Have You Seen Me?" by Gwar. Gwar was one of the bands that Tipper Gore was so up in arms about because of the grotesque nature of their lyrics. They also wore monstrous costumes, and made lewd gestures on stage. That was their point. It was performance art designed to upset people like Tipper Gore. No one in Gwar was eating babies, and (probably) none of their fans wanted to eat them either. They just needed some sort of release from decorum and the status quo. Colleen needed this too, and it's clear that it was something she and her brother shared. She has transferred catharsis to her convent work and the quiet, humble lifestyle suits her as she serves those in need, needing nothing in return. It's the opposite of growing up in a house full of self-involved people. But Jacob needs the old Colleen and a Gwar-themed trip down memory lane to heal and truly move on with him civilian life.
Set in the fall of 2008, just before Obama took office, the film is a time capsule of the recent past. Political lawn signs and televised debates provide an undercurrent of hope, which now, at the end of Obama's second term, rings naive. Every presidential election runs on the idea that the results will either fix or ruin everything. For better or for worse, we're sometimes right. When Clark and Sisk wrote the script, they had no inkling of the outcome of the 2016 election, but watching the film in January, 2017, it's difficult not to see potential irony in the narrative. On the upside, it also means there's always another chance on the horizon.
Little Sister is an apt title beyond the pun. Yes, Colleen is literally someone's younger sister and she is a sister in a nunnery. But she also has a lot of emotional development left to do. She is a fetus nun, on the precipice of a new life. She gives every indication that she could be happy there. She clearly loves the public service and minimalist aspects of the vocation. (Trust me, it's a lot of work to keep your hair dyed). But first, she must reconcile her old and new identities. The events of this film are merely her first steps on that journey.
– Jessica Baxter (@tehBaxter)