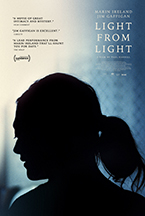 (In Paul Harrill's Light From Light, a single mom working as a part-time paranormal investigator is hired to investigate a widower's farmhouse in Tennessee. It hits theaters November 1 via Grasshopper Films. Like what you see here on Hammer to Nail? Why not pay just $1.00 per month via Patreon to help keep us going?)
Lonely souls attract one another in Light from Light, a ghost story curiosity written and directed by Paul Harrill. When people die, do they linger in their house and communicate with a living spouse or child? Harrill explores this common question through a recent widow (Jim Gaffigan) and a single mother (Marin Ireland) who comes to investigate his reports of ghostly interactions with his dead wife. The film opens on wide exteriors of the foggy countryside, evoking nature's mysticism. It is this mysticism that pervades the film, not scares or frights or anything resembling horror — though the film has its share of suspenseful moments. Harrill elides those conventions and instead focuses on the lives of the ordinary people at the story's center.
As a child Shelia (Ireland) had an unexplained clairvoyant episode, and since then she has been taking the occasional request to engage her supposed supernatural powers. We're introduced to her on a radio show, where she points out her own skepticism. Whether this is modesty or self-doubt, it's clear she is not the best salesman for her services, and when she takes Richard's (Gaffigan) gig she doesn't ask to be paid. "Money complicates things." She enlists the help of her son (Josh Wiggins) and his high school crush (Atheena Frizzell) to setup cameras, audio equipment and operate the cornucopia of paranormal-tracking gadgets. Richard is instructed to vacate the house while Shelia investigates, but we learn a lot about him through their conversations. A scene between the two on the porch one night provides ample backstory, but it's a little too long and talky, decelerating the momentum in an already slow film. But there are moments of excitement too, such as a dangerous allergic reaction to a wasp sting, and the ghost-hunting scenes themselves, which make excellent use of silence.
The ambient score by Adam Granduciel and Jon Natchez is a highlight, setting the perfect tone for a meditative and soulful journey. The film is executive produced by David Lowery (a former HtN contributor), and shares some similarities to A Ghost Story, though unfortunately for Gaffigan, he doesn't get to eat an entire pie. Gaffigan is a large presence, but here he dumps his usual magnetism for the low wattage of a small, sad man. Ireland is frustratingly one-note, seemingly paralyzed with the same troubled facial expression throughout. The kids on the other hand show a wide-range of emotions, especially Wiggins who shined in Alex and Andrew Smith's Walking Out, as a boy who has to save his father after a bear attack in the Montana wilderness. Him and Frizzell (daughter of Augustine, who directed her in Never Goin' Back) give much needed life to a film that could have felt too quiet without their energy.  Harrill and his D.P. Greta Zozula have a good eye for lighting and framing, exemplified by their use of windows and doorframes to obscure action, such as a bleary shot through a church window, and another at Richard's house where Shelia is in the kitchen and her son passes by in a window behind her. The film is very nice to look at, and viewers will be content to exist in this world even if nothing much happens until the very end.
Without spoiling the ending, it's fair to say that it elevates the film to another plane. If at times the film can feel like purgatory, the bittersweet surprise of the third act sweeps us into a rapturous nirvana that will send tingles down your spine. Perhaps the whole trick of Light from Light is to lull us into a sense of complacency, so that the ending will be more affecting by comparison. It would be a small moment in most other films, and may get lost if you're watching at home, but in a quiet theater I could almost feel Shelia's hand on my arm. If you open your mind, and let Light from Light wash over you, then by the end you may feel a little less lonely.
– Matthew Delman (@ItsTheRealDel)
Like what you see here on Hammer to Nail? Why not pay just $1.00 per month via Patreon to help keep us going?