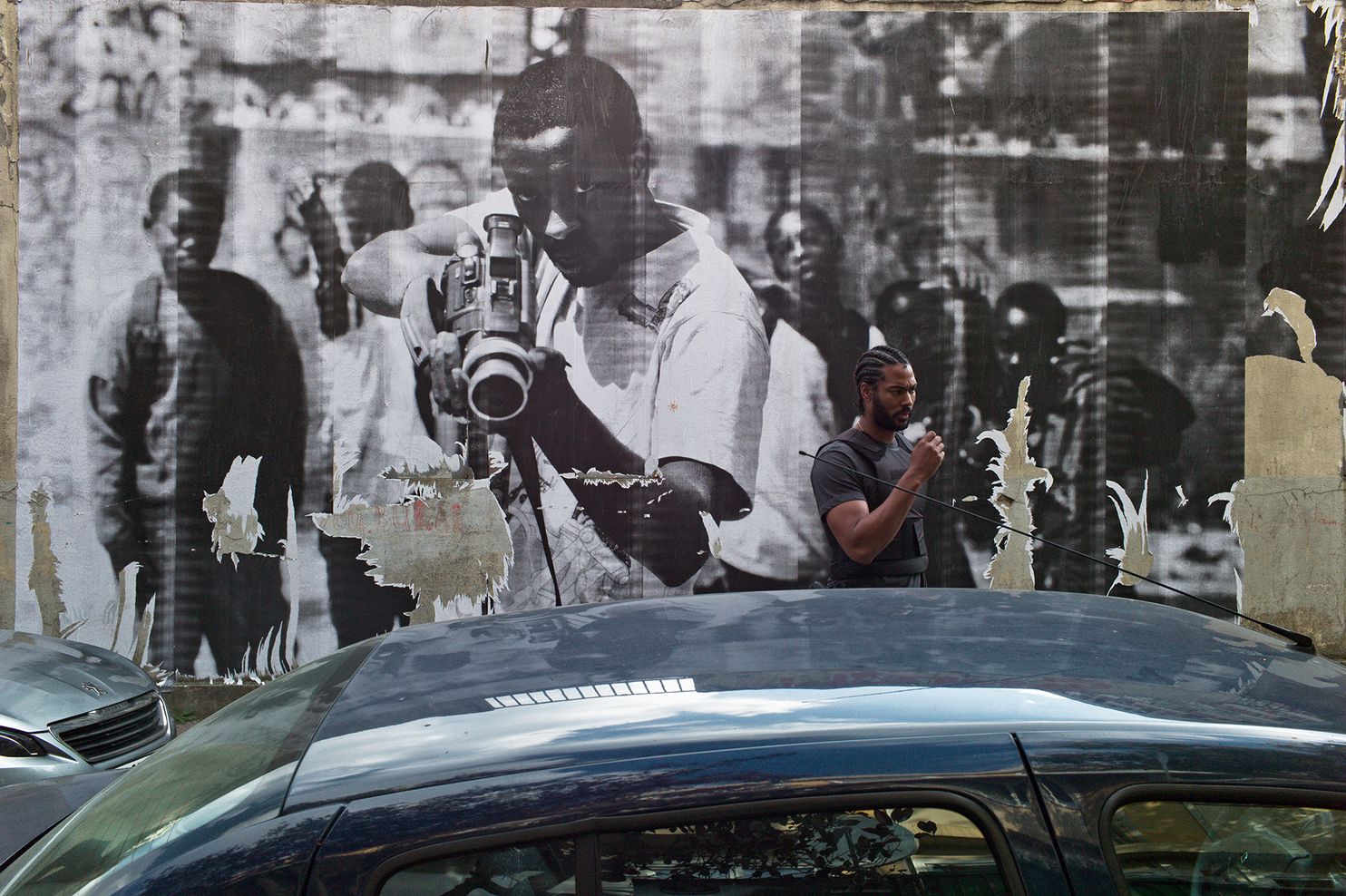 (France's pick for the Oscars this year, Ladj Ly's Les Misérables is in theaters now. Like what you see here on Hammer to Nail? Why not pay just $1.00 per month via Patreon to help keep us going?)
Singing France's national anthem, the Marseillaise, a boisterous and happy crowd swarms the Champs Elysées in Paris following the country's 2018 Soccer World Cup victory. It's a powerful opening statement of unity, the populace mingling across class and racial lines. For the rest of Les Misérables, director Ladj Ly's gripping drama of police brutality in lower-income neighborhoods, that image will be carefully deconstructed until we are left, at the end, with its opposite. Both specific and universal, and powerful in its message, the film – which won the Jury Prize at the 2019 Cannes Film Festival and is France's selection for this year's Best Foreign Film Oscar – Les Misérables is a tour de force of warring factions and emotions, ever engaging as it pulls us down a cinematic rabbit hole of first-world arrogance and resulting despair. Brilliant and urgent, it demands watching, especially today.
Following that joyful beginning, Ly (making his feature debut) plunges into a Training Day-type scenario, with two experienced urban cops showing the new guy, from the provinces, the ropes, giving him a demeaning nickname just to put him in his place. The two veterans are Chris and Gwada, and the rookie (to the city) is Ruiz (whom they call "Greaser" because of his haircut). This is the unfortunate neighborhood where, according to Chris, Victor Hugo set his 19th-century masterpiece, Les Misérables.
Whatever it was then, this Parisian suburb now houses mostly immigrants of color, themselves divided into drug dealers and religious Muslims, among other factions. Gwada is a North African émigré, too (Chris is white), but blue is his true color. The two partners rule their little roost with alternating violence and casual bonhomie. All is calm, until they take it too far. All the while, Ruiz looks on, disgusted by their entitlement and worried about its consequences, though still too unsure of himself to stop them. The cauldron of socio-economic resentment boils.
Slowly, the narrative takes shape in surprising ways, given the initial focus on the adult men of the area. We almost don't notice the kids, at first, though one of them sets the plot in motion by stealing a baby tiger from a local circus. Soon, however, they become integral to the story, as the power dynamic shifts towards the new generation. The how and the why of it is what gives the film its sharp bite, filled with the raw performances of its young stars. As the three bumbling detectives, Alexis Manenti (Chris), Djibril Zonga (Gwada) and Damien Bonnard (Ruiz) are excellent, too, joined by a superb cast of fellow adult supporting players. Ferocious, bracing and profoundly illuminating, Les Misérables showcases revolt against misery, in all its glory.
– Christopher Llewellyn Reed (@ChrisReedFilm)
Like what you see here on Hammer to Nail? Why not pay just $1.00 per month via Patreon to help keep us going?