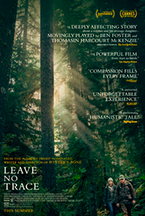 (Debra Granik's Leave No Trace premiered at the 2018 Sundance Film Festival. It's in theaters now via Bleecker Street.)
A heartfelt drama about a troubled army veteran trying to raise his daughter off the grid, Leave No Trace, from writer/director Debra Granik* (Winter's Bone), offers a meditative examination of what happens when mental health issues collide with the necessities of parenting. Ben Foster (Hell or High Water) stars as Will, a man who, when the film begins, has his act precariously together living (illegally) on forested state land with Tom (relative newcomer Thomasin McKenzie), a thoughtful, quiet teenage girl, Though she may love her father, she still yearns for something more than their transient existence. When local authorities step in, concerned about the pair, Will and Tom must adapt to the very societal conventions they have long eschewed. It is not an easy fit.
Based on Peter Rock's 2009 book My Abandonment, the movie explores what happens to the once tight-knit family duo as the light from other people's metaphorical campfires cast away the shadows of isolation. Contaminated by the pollution of civilization, Will retreats; Tom, however, blossoms. In brief allusions, we garner that the trauma of Will's military service has left deep wounds that cannot be healed with the security of hearth and home. Such is not the case for Tom, who seeks out the company of others as soon as it is available. Their divergent reactions to change set up a conflict that will most likely lead to a more radical break, and this tension forms the heart of the story.
Shot on location in the Pacific Northwest (Oregon and Washington), by cinematographer Michael McDonough** (Sunset Song), Leave No Trace contrasts, in gorgeously evocative visuals, the green lushness of nature with the withered barrens of Will's soul. Foster and McKenzie both give committed performances (though an occasional Kiwi accent creeps into New Zealand native McKenzie's speech), investing the central relationship of the film with genuine feeling, so that the stakes feel real as Will and Tom choose different paths. I've loved Foster ever since seeing him as Claire's art-school boyfriend on HBO's Six Feet Under, but he needs to be matched on-screen by an actor of equal intensity, lest he overwhelm his partner. Here, McKenzie more than holds her own.
Unfortunately, not all parts within the whole feel as well-realized as the father-daughter bond. Whether it's the state agency that pulls them from their woodland home, the set-up at their next residence or a major story beat at the end of the second act involving an injury to dad, certain scenes give in to screenplay contrivance, rather than the realism so perfectly captured elsewhere. Still, whatever the occasional limitations of narrative, Leave No Trace ultimately engages with both its showcase of two fine actors at the peak of their game and its beautiful images. Indeed, it leaves more than a trace, but a lasting impression.
*In the interest of full disclosure, I note that Ms. Granik and I attended the same graduate film school, though she was a few years ahead of me, and we only vaguely knew each other.
**McDonough also attended said film school.