(Released by Truly Indie, Lbs. opens in New York City on Friday, March 26, 2010, before expanding to more cities across the country. Visit the film's official website to learn more.)
Lbs. feels like one of those movies that was made before the independent world had been completely overtaken by the digital revolution. That's because it kind of was. After premiering at the 2004 Sundance Film Festival, its filmmakers ran into some tricky distribution problems (can I get a Harlem Aria?) before they were finally able to retain their rights and pursue other distribution avenues. Six years later, their wish has come true. Lbs. is now a card carrying member of the U.S. theatrical circuit.
As for the movie itself, that's it's own tricky situation. I can't recall the last time I watched something in which my pistons were firing so rapidly at both ends of the cylinder. In its message, its spirit, and its overriding ambition, Lbs. is to be fully commended. But in many other ways, it feels like a conventional festival film that wears its age rather unwell. This strange dichotomy is what makes Lbs. such a curio for me, and it's what made me want to write about it instead of ignoring it as I usually do in cases such as these.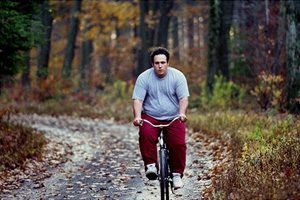 Directed by Matthew Bonifacio and written by lead actor Carmine Famiglietti, Lbs. tells the story of the Neil Perota, a Brooklyn 20-something who is stuck in a dangerously glutinous rut. Weighing in at over 300 pounds and still living at home, Neil knows he has an eating problem, but he can't stop himself. A freak accident gives him the wake-up call he so desperately needs, sending him upstate into self-imposed seclusion (Into the Wild meets Hunger!), to the dismay of his family and bitter anger of his mother. Will it work? The answer to that question is what makes Lbs. absolutely worth seeking out (seriously, Robert De Niro's body transformation in Raging Bull has nothing on Perota's). But when it comes to the telling of its tale, all cutesy indie film soundtrack and borderline caricatures, it threatens to ruin an otherwise good thing.
If I leave behind the most glaring problems and concentrate on the positives, they shoot directly to the filmmakers' sincere intentions and the performance of Famiglietti. This brave soul really did shed over 100 pounds during the course of the film's four stages of production (though it feels closer to 200). The result of this is a movie that says some very astute things about how hard it is to break free from an unhealthy routine, as well as how necessary it is to reject one's family at times in order to realize one's true potential. That it does this while being squeezed inside a formulaic structure is perhaps unfortunate, but it doesn't diminish the nobility of Bonifacio and Famiglietti's mission (at least not all the way).
Normally, we don't post marginal reviews on Hammer to Nail. There are too many movies in the world, and it's hard enough writing about those that we fully endorse. But in the case of Lbs., my ultimate verdict is that the good outweighs the bad. For Famiglietti's transformation alone, it is worth 99 minutes of your time. It might even make you acknowledge and confront the unhealthy habits in your own life.
— Michael Tully