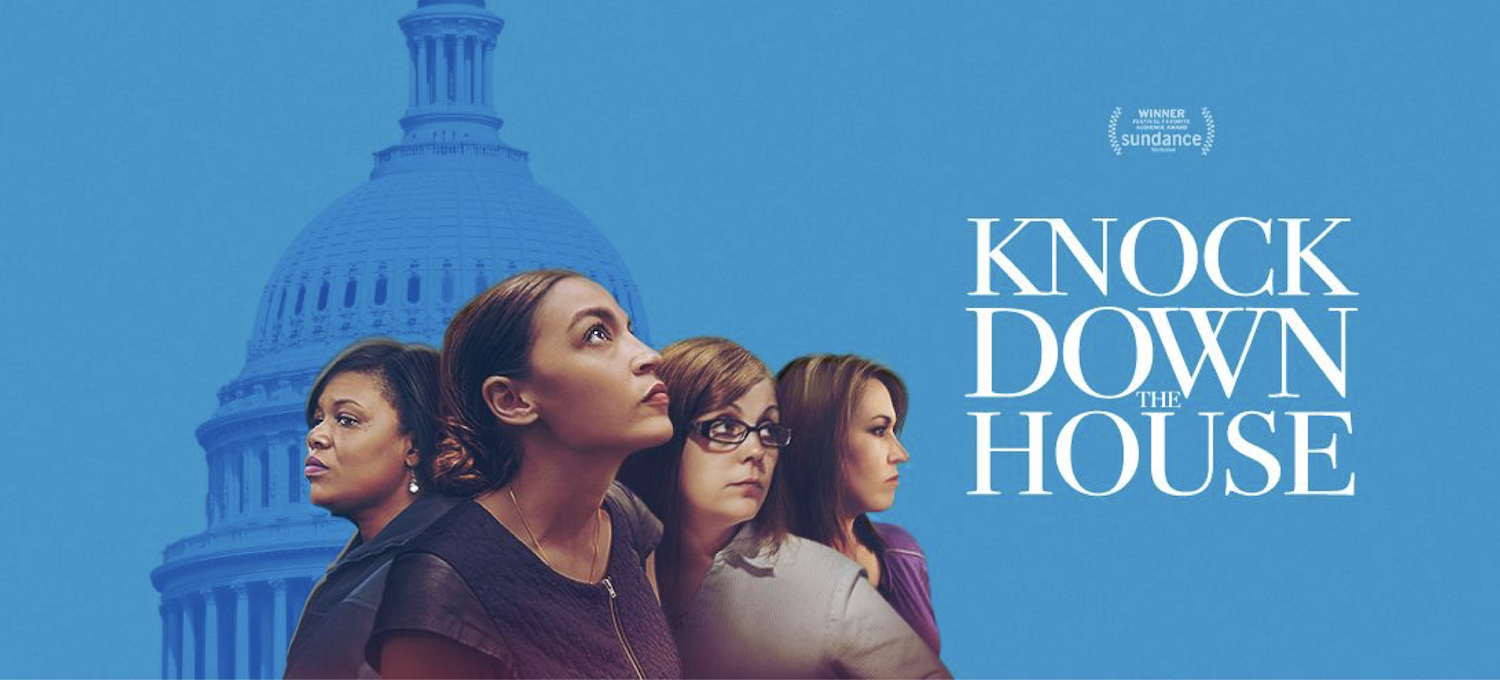 (The 2019 Sundance Film Festival ran January 24-February 3 in Park City Utah. Hammer to Nail guarantees more reviews from the fest than any other website around. That alone is worth $1.00 per month to help keep us going!) 
A rousing, profoundly inspiring paean to grass-roots democratic movements, Rachel Lears' Knock Down the House profiles a number of underdog challengers – all of them women – to establishment figures in the 2018 midterm congressional and senatorial elections. Duly elected Representative Alexandria Ocasio-Cortez, of New York's 14th District, emerges as the star, but the documentary is about more than just her ascendance. Lears (The Hand That Feeds) gives us a vibrant view of the United States of America at our current political crossroads, its citizenry struggling with how to wake up the ruling class to the needs of the people. When even the nominal liberals – i.e., the Democrats – in a two-party system are beholden to corporate interests, what are progressives to do? As this movie makes clear, the answer is to run, run and run some more. No change happens without massive effort, and even if only one person makes it through, that's one who wasn't there before. Watch and learn; this is how it's done, one candidate at a time.
Beyond Ocasio-Cortez (let's just call her AOC, like everyone else), there is West Virginia's Paula Jean Swearengin, running against Senator Joe Manchin; Nevada's Amy Vilela, proposing "Medicare for All" as her signature issue as she runs for an open seat; and Missouri's Cori Bush, running against the 1st District's longtime (with his father before him having held the seat, as well), William Lacy Clay. They make a committed, engaging cast of real-life subjects, whatever the final results. The organizations recruiting them – Justice Democrats and Brand New Congress – feature prominently, as well, their idealistic members working hard to find alternatives to mainstream figures, who might thereby encourage disaffected voters to come out in support. It takes a village, indeed, to transform the world.
But everyone likes a story of triumph – and, in this case, comeuppance, as well – so it's no wonder that AOC takes center stage. Elected, at 29, as the youngest-ever member of the US House of Representatives, she continues working as a waitress and bartender throughout the primary. It seems, initially, like a Herculean task, since her opponent – for 14 years prior always unopposed – is Joe Crowley, one of the most powerful congressmen in office and a dominant party boss. His district includes the eastern Bronx and northern Queens, though by this point in his career he lives mostly down in the DC area. Nothing, however, happens in his area without his say-so. Who would dare run against such a man?
The answer, as AOC – who comes across throughout as whip-smart and poised, even if daunted by what she is doing – brilliantly articulates, is that to defeat Crowley requires a true outsider insurgency: a woman, of color, from the Bronx (i.e., not the whiter Queens), who has no connections to any members of the political class and is therefore beholden to no one. Crowley never sees her coming until it is too late, and by then his complacency and arrogance have turned off more people than AOC has turned on. On primary-election day, it's not even that close a contest.
Of course, if one likes middle-of-the-road Democrats or more conservative Republicans, then this film is unlikely to win one over. Then again, maybe it will. Lears offers enough stirring backstory for each of her movie's participants that it would be hard to imagine anyone faulting the sincerity of their beliefs or the purity of their motives. Most people respond to the genuine article, even if the ideology is not one's own. The halls of the United States Capitol may yet be standing as before, but perhaps its staid foundations have been shaken just enough that Bush, Swearengin and Vilela – and others – have an even better shot next time. In the meantime, may Knock Down the House be our Democracy 101 primer. Watch and learn.
– Christopher Llewellyn Reed (@ChrisReedFilm)
Like what you see here on Hammer to Nail? Why not pay just $1.00 per month via Patreon to help keep us going?