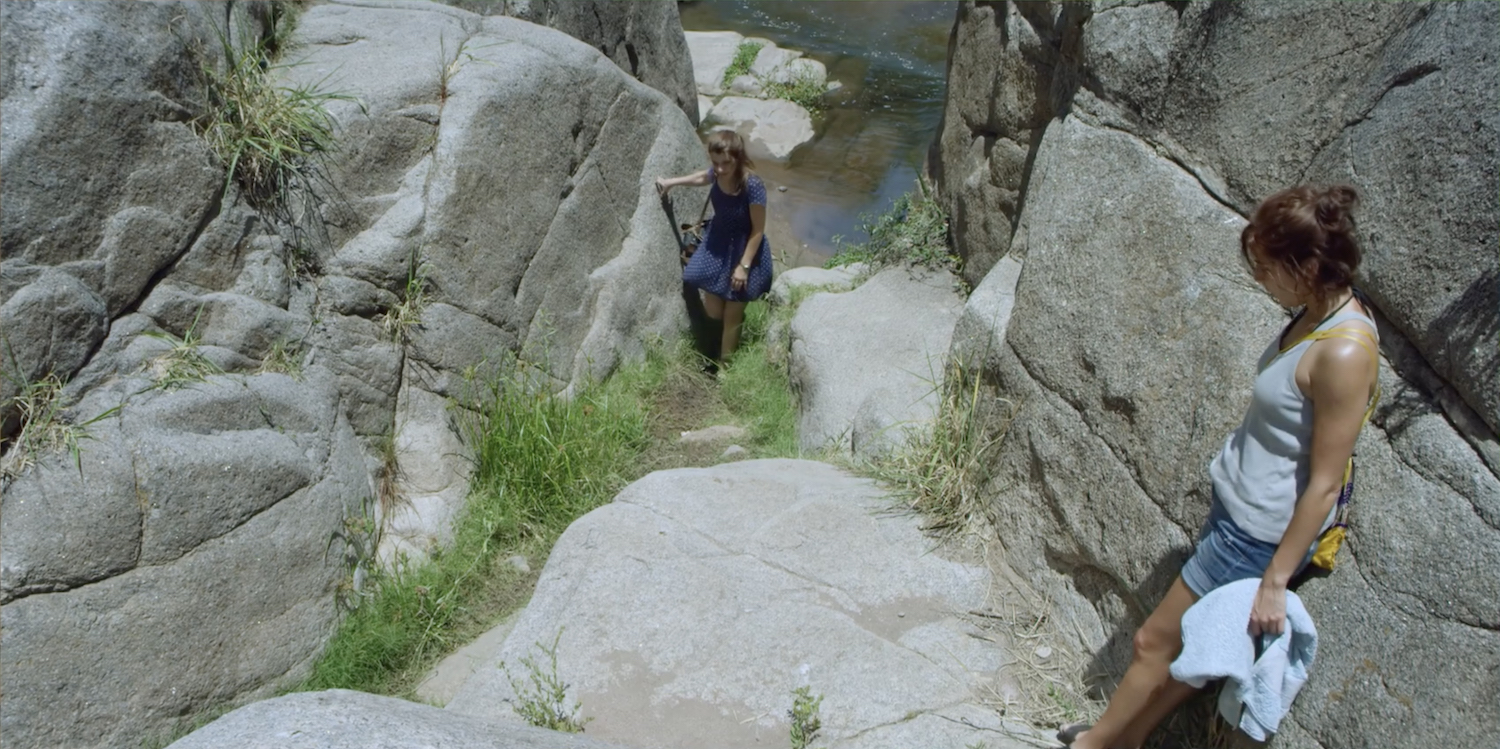 (The 2020 New York Film Festival (their 58th!) ran September 17-October 11. Like what you see here on Hammer to Nail? Why not give just $1.00 per month via Patreon to help keep us going?)
Continuing the technique of embedding Shakespeare into modern life that we last saw in his Hermia & Helena (where A Midsummer Night's Dream was the text), Argentinian director Matías Piñeiro, in Isabella (the title coming from the main female character in Measure for Measure), crafts a poignant drama about art, inspiration and sisterly love, haunted by evocative visuals and editing. Time folds in on itself, throughout, made more resonant through frequent repetition of similar images and moments. What's past is prologue, and simultaneously past. Isabella may be a theatrical construct, but she is also eternal.
María Villar plays Mariel, whose big audition for an upcoming production of Measure for Measure comes as she is close to 8 months pregnant. Her main rival for the role is Luciana, played by Agustina Muñoz, to whom the part was previously offered (and turned down) and seems once more predestined. Further complicating matters is the close friendship between the two women (both actresses were in Hermia & Helena, and have a solid rapport). Each is committed to their acting careers, and each stands to gain or lose a lot by being cast in the production, though who ends up where at the end may not be guaranteed. In fact, the play may not be the thing, at all.
Interspersed between the scenes of encounter, audition and fraught developments are stylized presentations of purplish Marc Rothko-like rectangles within rectangles, spread horizontally across the screen, all flowing from an opening tableau of sky and water joining in harmony. That gentle idyll also comes with a narrated story of the "ritual of 12 stones," whereby the casting of stones into the sea, or the refusal to do so, indicates a lack of doubt on a subject, or doubt (depending on the action). Are these interstitial abstract colors a projection of feeling, or merely a photographic representation of the art installation on which Mariel works when not trying out for the play? Measure it however you see fit.
What forms the affecting center of the story is the relationship between Mariel and Luciana, initially linked by Mariel's brother, who is also Luciana's lover. But the men are never essential (the father of Mariel's child is neither seen nor discussed), a fact best manifested in Mariel's emotional reading for the play, where a hidden male (speaking the part of Measure for Measure's Duke of Vienna) may drive the actress's response, but our eyes are always, and only, on her. And it's in her interactions with Luciana, who at first appears the more assured of the two, that the narrative evolves.
Which it does in entrancing fits, starts and reversals, each woman not quite a mirror image of the other, yet enough of a double to increase the recurrence of echoes in almost every frame. Where Measure for Measure is about the cost of fidelity to one's ideals and a tribute to its heroine's strength of character, Isabella deconstructs the world that would require sacrifice of those who merely want to live as their true selves. Art here is inspiration and agency. Throw those stones of doubt or not, but do it with conviction.
– Christopher Llewellyn Reed (@ChrisReedFilm)