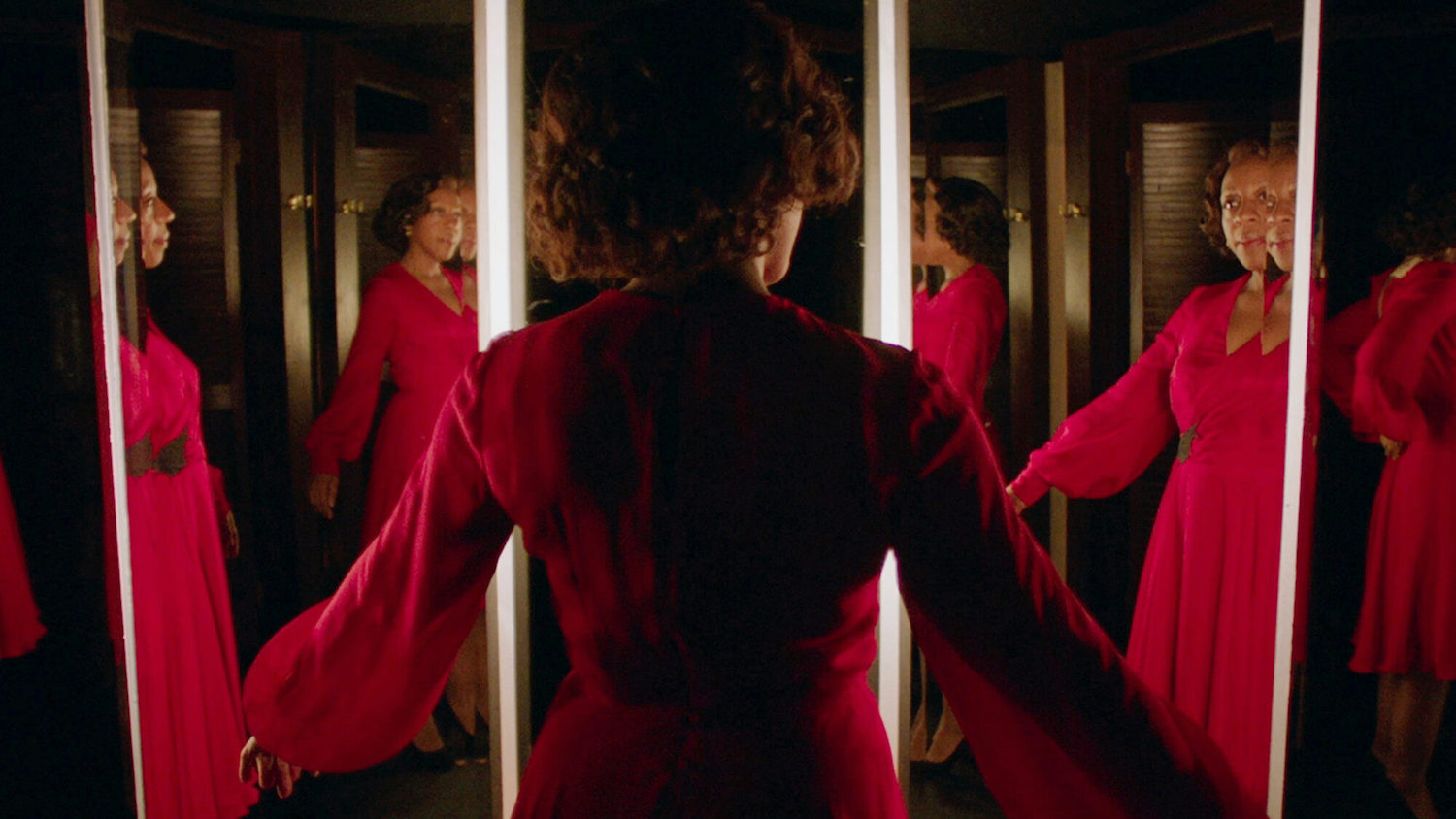 (Peter Strickland's In Fabric is in theatres now via A24. Like what you see here on Hammer to Nail? Why not pay just $1.00 per month via Patreon to help keep us going?)
A highly stylized horror film that pays direct homage to the tactile cinema of Italian director Dario Argento (Deep Red), Peter Strickland's In Fabric is rich in evocative atmospherics, if sometimes poor in structure. Filled with aesthetic delights and strong performances, the film plunges us into the bizarro hellscape of a shadowy department store where fashions are delivered to customers beyond their wildest desires…beyond what they can handle, in fact. Enter at your own risk, lest you lose body, mind and soul.
Comprised of two somewhat parallel narratives, the film begins with Marianne Jean-Baptiste (CBS' Without a Trace) as Sheila, a bank teller and recently separated mother of a grown son, himself an art student. We follow her as she enters the dating world, purchasing a brand new red dress to help make those first encounters sparkle. Unfortunately, what she gets, instead, is a nightmare of an accessory possessed by a demonic spirit that will not be ignored. Throw the dress away as one might try – or even attempt to just wash it – and bad things happen, haunting the night.
And at some point, something bad does happen, launching us into a second story, where we meet Reg (Leo Bill), a hapless plumber engaged to his longtime girlfriend, Babs (Hayley Squires). It's at a stag night that he – not Babs – encounters the cursed dress, his mates demanding he wear it for good fun. As it did Sheila, the fabric brands Reg with a burn-like rash, and will soon do so to Babs when she adopts it as her own. Whoever briefly claims ownership is soon thereafter thrown into the fiery inferno.
Though Sheila, her son (and his girlfriend, played by Gwendoline Christie), Reg and Babs make up the ostensible focus of the bifurcated plot, the film spends almost as much time with the demented salespeople of Dentley and Soper's, the strange purveyor of seemingly innocuous goods that torment their purchasers. Headlined by the aggressively mysterious Miss Luckmoore (Fatma Mohamed), these agents of the devil do little to hide their nefarious intent. Indeed, one of the weaknesses of In Fabric is that everything is more or less as it seems. There is very little nuance to the proceedings: the dress is a nasty piece of work and those who sell it are, too (though the movie hints that Luckmoore and others may actually be mannequins come to life).
Still, there are wonderful treasures within, courtesy of the striking production design and expressive supporting score (by Cavern of Anti-Matter). I also loved Sheila's bank managers, whose officious proclamations form an additional layer of pleasant oddness. Though it may not all hold together, if one lets logic go and allows the texture of the movie's fabric to gently envelop one's mind (before it scratches it to death), then In Fabric wears itself nicely. It is certainly a breath of unusual (if fetid) air, which is always welcome in our cinematic universe.
– Christopher Llewellyn Reed (@ChrisReedFilm)
Like what you see here on Hammer to Nail? Why not pay just $1.00 per month via Patreon to help keep us going?