I'M THINKING OF ENDING THINGS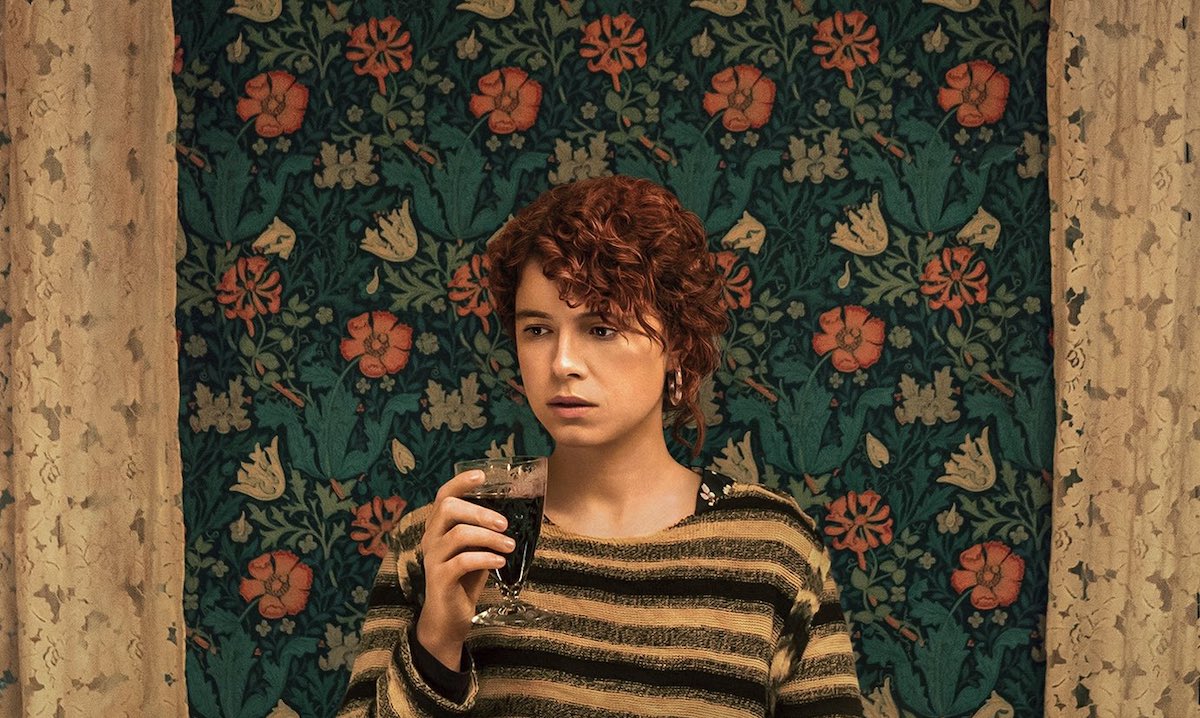 (The always idiosyncratic Charlie Kaufman's latest,  I'm Thinking Of Ending Things, is streaming now on Netflix)
Charlie Kaufman's I'm Thinking Of Ending Things is a solipsistic labyrinth of loneliness and alienation, stark reality and extravagant fantasy. Kaufman is often suffocating in his sadness, but he is also hopelessly romantic. In his latest film, he includes all the ingredients for gut-wrenching romance: mystery, embarrassment, delusion, and fleeting hope. I'm Thinking Of Ending Things reads like an Edith Wharton novel dipped in acid, thrown through a Coen Bros wood chipper, and re-arranged with a Kubrickian mysticism. But it is classic Kaufman, and his distorted view, that makes this strange feature one of the most romantic cinematic experiences in recent memory.
The film begins with a newly formed couple: a shy lumbering Jake (Jesse Plemons) and his bright yet indecisive girlfriend Lucy (Jessie Buckley). He picks her up at her apartment. They have plans to meet Jake's parents. She's thinking about ending things. It's snowing. Meanwhile, an old man observes the couple from the window of his apartment. Frost covers everything and whiteness drowns all surfaces. The car trudges along, empty farmhouses and barren landscapes occupy their rearview. Lucy shouldn't have come.
Jake is oblivious to Lucy's pessimistic outlook of their courtship. To pass time they discuss poetry, the biochemical make-up of the rabies virus, the musical Oklahoma! and Jake's parents. But, like a virus, the thought of ending things has taken hold in her brain. She can't help herself. It poisons her every waking moment. She reminds Jake she needs to be back early in the morning to study. In a jarring crosscut, we see a janitor slowly walking through the empty corridors of a high school— a wandering ghost.
Finally, they reach their destination. The travelling couple exit the vehicle as they prepare to step into the history of Jake's life. They are greeted by his vivacious mother (Toni Collette). They wave at each other for an uncomfortably long while. In a desperate plea of last second escape, Jake drags Lucy to his parent's barn to meet the animals. As they step inside the run-down structure, we see blocks of dead sheep frozen solid. This shakes Lucy, but Jake pays no mind, assuring her not to worry as they will thaw come spring. They turn their attention to the pig pen. He relates to her a story of his youth. A story of grotesque nature, of his family's pigs being eaten alive by maggots. The story is a metaphorical underbelly that bleeds into every aspect of this esoteric and coded film. Finally, they head for the house, where things get stranger and stranger by the moment.
I'm Thinking of Ending Things is a film that revels in stylistic exuberance and rigid formalism. For most of the film, the camera is static. The frame is squeezed tight in a 4:3 aspect ratio. The color is desaturated and crackles with beautiful low light grain. Yet, when the narrative pops- so does the style and photography. In scenes where the story beams with energy and joy- the color returns, the camera dances, and the once somber music turns joyous. Kaufman and his DP Lukasz Zal (who was recently nominated for his work on Cold War) walk a formal tight rope as they mesh contrasting techniques and tones. In terms of performances, the principal players display a commitment to ambiguity. Throughout the film, as the characters morph, so do the actors. Their performances are truly chameleonic.
Kaufman's I'm Thinking of Ending Things is an infernal creation begging to be picked apart. It's a heavy textbook of a film filled with references to artists from all walks of form and genre (DFW to Pauline Kael to musical theatre). It's an iconoclastic narrative work from an iconoclastic filmmaker at the peak of his powers. As you attempt to pull the film apart in your brain an odd phenomenon occurs—pieces don't fit. Pieces aren't what you thought they were. Pieces have changed, re-arranged, and deranged like a waking nightmare of melting memory and faded dreams.
–Sammy Levine (@thesammylevine)