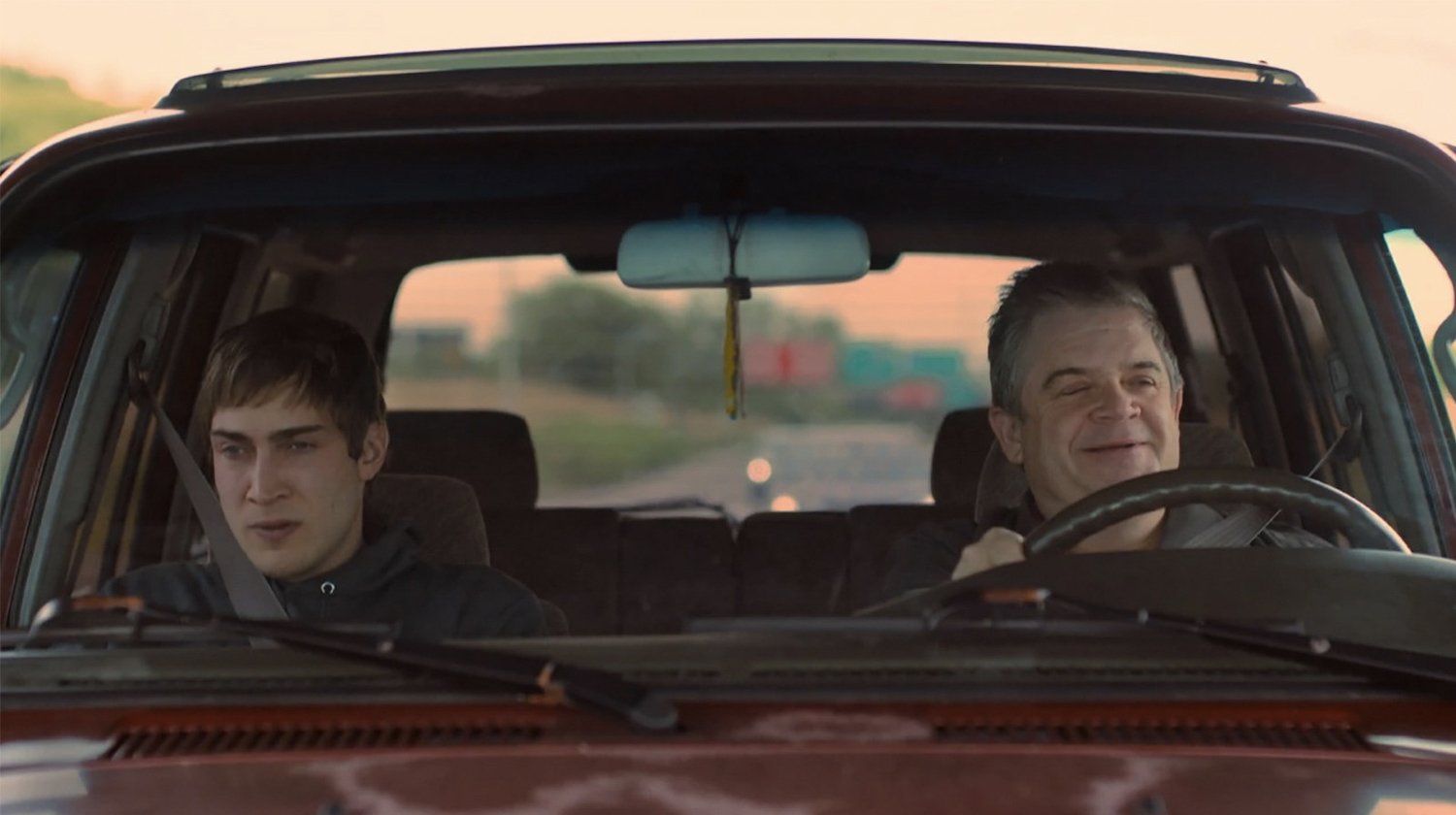 (The 2022 SXSW Film Festival runs March 11-20 in glorious Austin, Texas. Check out Melanie Addington's movie review of I Love My Dad. Join the conversation with HtN on our Letterboxd Page.)
There is a fine line between comedy and drama, and no one is more adept at straddling it than loveable actor Patton Oswalt. We've seen him do it before with Robert Siegel's Big Fan (2009). In James Morosini's autobiographical sophomore feature I Love My Dad, Oswalt plays a very complicated character. A much more comedic romp through a very weird social experiment, I Love My Dad heads into a friendlier zone, and eventually way past the friends zone, and into some edgy territory that is bound to make you squirm.
With a few acting credits under his belt, most recently as a steamy soccer coach in HBO's Sex Lives of College Girls, writer/director James Morosini stars as Franklin. And there is no one else that could have told this story as it is something that truly happened to him. Oswalt stars as Chuck, dad to Franklin and the two have some tough issues to work through. Neither knows how to handle it in a healthy manner. After Franklin blocks his dad on social media, Chuck decides to create a fake account based off a waitress he saw earlier that day. He proceeds to Catfish his own son, with things getting more and more out of control. Rachel Dratch plays Oswalt's horny girlfriend and Lil Rel Howery plays the co-worker and friend. Both steal the spotlight more than once. Amy Landecker plays mom, divorced from Chuck and just trying to be a good mother to Franklin. Claudia Sulewski in her first feature plays a couple versions of Becca (the catfish) in the film and is a true stand out. A YouTube and Instagram star, Sulewski turned to television next and takes on her first cinematic role with a comedic sensibility that matches Oswalt and Morosini.
While the film is a romp with some gut twisting choices and some extremely laugh out loud scenes, what Morosini has done is take a cringeworthy story and turn it into a beautiful cinematic experience with a bit of a nod to Hitchcock and the silent film era. The humor has to balance some dark themes including suicide attempts and a struggle to connect with others in modern times. And it will not be a film for everyone. If you don't buy into the story, it would be tough to accept the most absurd scenes. But if you do buy into the journey as I did, it will make you combust with laughter, especially because it all apparently happened to James in real life.
Edited by Josh Crockett who has proven his ability to walk the line between character driven humor and gross out gags with films such as Dinner with Holly, the direction and editing showcases some outstanding visual ways to interpret texting with someone. Becca acts out the texts, including mixed up typo words out loud as if it was the intent rather than a mistake. A premise that could potentially run out of steam is constantly enlivened by these fantasy sequences of the actors performing the text messaging.
I Love My Dad is one of those films that reminds us that sometimes making a movie can be more helpful than therapy. Watching one too can remind us to laugh at some of the weirdest things that humans do. It is certainly better than crying, or fighting about it. In that way the film does not judge Chuck, but allows him a bit of redemption. We could all use a redemption story right about now.
– Melanie Addington (@MelAddington)