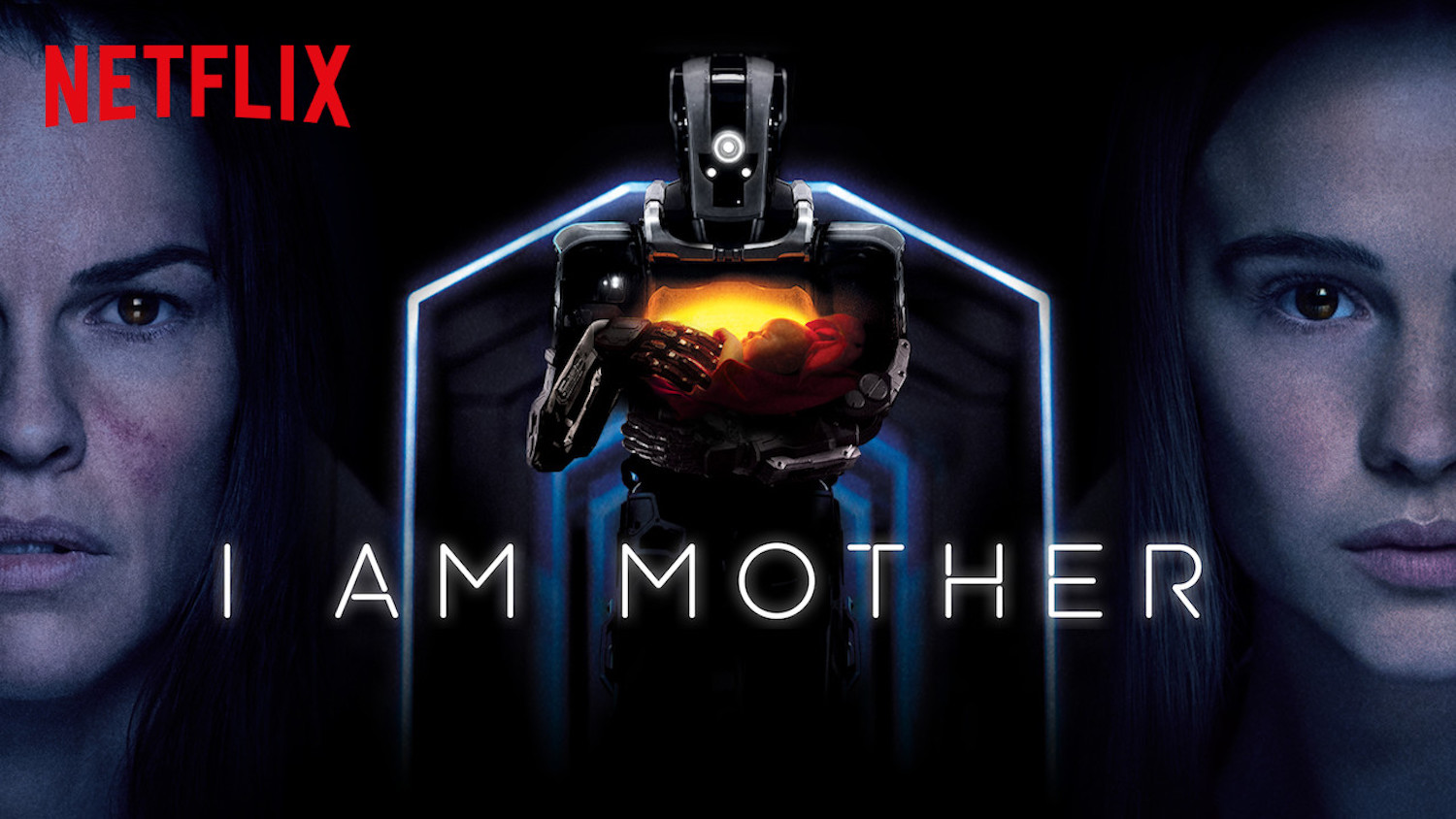 (The 2019 Sundance Film Festival ran January 24-February 3 in Park City Utah. Hammer to Nail guarantees more reviews from the fest than any other website around. That alone is worth $1.00 per month to help keep us going!) 
A fascinating amalgam of post-apocalyptic sci-fi tales past, I Am Mother – director Grant Sputore's debut feature – rises above its pastiche to become a unique creation with its own particular off-beat take on the end of humanity. If we are doomed (and it seems likely that we are), then at least we can take heart that innovative artists will offer us many exciting versions of our annihilation before it's actualized. Whatever the cause, we won't be able to claim we didn't see it coming. Homo sapiens may have many faults, but lack of imagination is not among them.
Here, Sputore gives us an underground bunker overseen by a single, very maternal robot. With 63,000 frozen embryos to choose from in her carefully monitored vault, she picks a human female to launch into life, raising her as an only child (the better to practice parenting in a trial run). As we learn in the opening title cards, this is a repopulation facility, and the first frames of the film occur on the day after an "extinction event" that appears to have killed everyone on the planet. We don't (yet) know what happened, but don't need to. Somebody, somewhere, set up this place to preserve the species, and all our hopes now reside in this single girl.
Once a teenager (she grows up via a quick montage), she is played by Clara Rugaard (Good Favour), who perfectly incarnates both sharp intelligence and restless curiosity. Rose Byrne (Juliet, Naked) is the voice of Mother, and Luke Hawker (Krampus) the body (Hawker designed the metallic suit, himself), the two together crafting an engaging artificial sentience that conveys mystery, empathy and a probing mind. These early scenes of childhood's unsettling wane are beautifully realized, the gently futuristic and sterile production design of most of the spaces contrasting with the retrograde decay of the peripheral rooms closer to the exterior. It's a dangerous world out there: better to stay inside.
But Rugaard's character (with no name but "Daughter") is getting to an age where the authority of her guardian carries less force, and so she wanders increasingly towards the door to the outside, hoping to catch a glimpse of another, organic person. Enter Hilary Swank (The Homesman), a desperate soul caught in the surface wasteland who catches Daughter's attention. Will she break the rules and let the woman inside? Wait and see, but know that though the film bears similarities to many other end-of-world scenarios, there are significant surprises in store, and much narrative fun to be had. It's a slow burn, but with a satisfying dramatic explosion. The end is nigh. Let's celebrate its glorious visualization.
– Christopher Llewellyn Reed (@ChrisReedFilm)
Like what you see here on Hammer to Nail? Why not pay just $1.00 per month via Patreon to help keep us going?