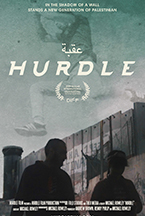 (DOC NYC runs November 6-15. Lead critic Chris Reed is there bringing you tons of coverage so stay tuned! Like what you see here on Hammer to Nail? Why not pay just $1.00 per month via Patreon to help keep us going?)
Perhaps I assume too much, but Parkour and Palestine is probably not the alliterative combination on most people's minds when they think of the Middle East. In Michael Rowley's debut documentary Hurdle, however, they not only go together, but do so in a glorious exhibition of defiance to the inhumanity of occupation. The physical, emotional and mental condition of Palestinians living in and outside the nation of Israel may be less than optimal, but when individuals allow themselves the momentary liberty of soaring through the air, the brief liberation is good for the soul. Though walls may loom large, they are but obstacles to be scaled. Attitude is everything.
I have rarely had a conversation about Israel that does not border on the contentious, depending on who my opposite number in the discussion might be. There is no consensus on who bears the most right to the land, not even among Jews (American, Israeli and otherwise), nor how to create a lasting, just peace. Grievances pile up on both sides with each new settlement built on former Palestinian ground or each new attack from Gaza or the West Bank and subsequent Israeli retaliation. But whatever one's feelings, the fact remains that, for many Palestinians, what life they have is intolerable. I reviewed Garry Keane and Andrew McConnell's Gaza out of the 2019 Sundance Film Festival, which offered a bleak assessment of the situation. Now comes Hurdle, which remains stark, yet offers something resembling hope, as well.
Two men, Sami and Mohammad, lead groups of young men and women in activities designed to develop agency and personal expression. Sami trains boys and teens on the twists and turns of Parkour, which he, himself, learned by watching slowed-down videos on YouTube. Mohammad, his face scarred by a sniper's bullet (he was shot while photographing an Israeli raid), teaches mixed-gender photography classes where he leads students out into the street to develop their own sense of composition and eye for interesting subjects. Each man is on a mission to provide some kind of future, however tentative, to their charges.
It would be nice, even in a film so firmly embedded with its subjects, to avoid the same dehumanizing – or othering – of the Israelis that they are so often accused, and not without reason, of doing to the Palestinians, if only because people are people, even if power corrupts. Instead, what we see of Israelis is mostly young soldiers, out of their comfort zone and brutal in their posture, not much more than stormtroopers. It's a small quibble, since Hurdle is a gesture of support to the disenfranchised. As such, it presents their struggle to rise above misery as heroic, a beautiful testament to how victories of spirit can have lasting positive effects. Run, leap and jump, snapping pictures all the way. Freedom is a state of mind.
– Christopher Llewellyn Reed (@ChrisReedFilm)
Like what you see here on Hammer to Nail? Why not pay just $1.00 per month via Patreon to help keep us going?