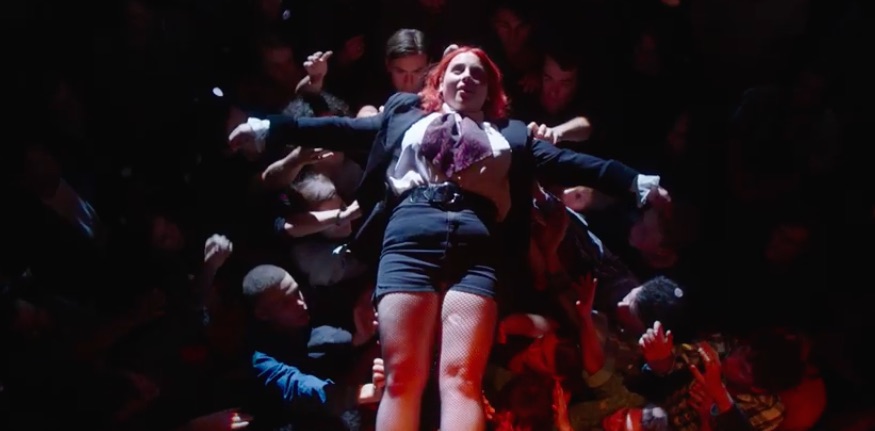 (After it's premiere at the 2019 Toronto Film Festival, Coky Giedroyc's Beanie Feldstein starring comedy How to Build a Girl will be released on digital platforms May 8. Like what you see here on Hammer to Nail? Why not give just $1.00 per month via Patreon to help keep us going?)
Although How To Build A Girl starts out like most teen small town big dream United Kingdom dramedy's, thanks to sharp writing of Caitlan Moran and the modern miracle that is Beanie Feldstein, the movie ends up being quite a crowd pleaser. If this makes me just another fan girl, I for one am happy to say that is the one true thing I will write is that: I loved this movie.
Based on the book of the same name by Moran, we follow the adventures of 16 year old Johanna as she goes from dreaming about boys in the library to dreaming about rock stars with her new job as music critic. In the end, the way all young girl films should be, it ends up never being about the boys or rock stars at all but really finding her true voice.
From being a young girl with inspirational people posters on her wall that she shares her hopes and dreams (with the likes of Sylvia Plath, Elizabeth Taylor, Jo March and Albert Einstein) to teenage rebellion nightmare, Johanna's coming of age story is not like most girls but resembles most boys we've seen on screen before. If you blended Sing Street with Almost Famous, you almost have How To Build a Girl down but with a slight edge of Feldstein being just a little bit more ambitious, smarter and adventurous, because that is what girls do. But also the film is directed by Coky Giedroyc who has been doing a bang up job directing episodes of Harlots, another unconventional strong feminist story.
Sure, this coming of age story has the usual girl from a poor family, a mom with new twins and postpartum, the dad dreaming of the good ole days and the annoying younger brother. And while Feldstein is an American, her Irish accent doesn't lay it on too thick. She is truly the feminine icon that many of us needed growing up in the 80's and never had. From Molly in Booksmart to now Johanna Morrigan In How To Build a Girl, my hope is that girls watching her now can feel strong and confident with being who they are, even if it means trying on being someone new for a while and being okay with getting back to you.
The comedic timing of the adult cast, Emma Thompson, Martin Sheen, Alfie Allen, Gemma Arterton, Lucy Punch, Chris O'Dowd, Paddy Condisine and others are lovely but almost not needed due to how strong Feldstein shines. But those of us with writing backgrounds can also heavily relate from the early cringe-worthy poetry that gets us started to losing our way to fit in with the snarky critic crowd to finally finding our own voice and taking ownership of it.
Because as much as the film is about how to build a girl, it is really about how to find your voice, a parallel often not shown enough on screen. Lucky for us in 2019-2020, we have Feldstein guiding the way.
In reality, a handful of lines in the film sum up the whole movie from the beginning with "I have nothing to wear for who I need to be," to the end with "I became evil but its July and I'm over it." She leads her own discovery and doesn't need others to tell her who she is, even if her rock star crush really does give her an extra dose of understanding that she is an unstoppable force so she shouldn't stop reminding her to not worry about love but her career for a while, something not enough girls get told early enough. Not a teenage girl? Don't fret, the film's comedic twists and turns give everyone something to enjoy.
– Melanie Addington (@MelAddington)