(The Last Winter is now available on DVD
through IFC Films
.)
On the heels of M. Night Shyamalan's big-budget debacle The Happening, multi-hyphenate Larry Fessenden's infinitely lower budget—and infinitely more successful—The Last Winter arrives on DVD to show viewers how it's done. Fessenden's frozen, bleak eco-nightmare presents a world in which nature has literally begun to snap back with vengeance. Though Fessenden has proven himself to be an accomplished and interesting filmmaker throughout his career, The Last Winter marks a gigantic leap forward in both scope and execution, resulting in one of the early 21st Century's most convincing and disturbing works of environmental horror. Hopefully an official home video release will expose The Last Winter to a wider audience, for while it certainly has more brains than your average multiplex horror picture, it also packs a genuinely unsettling punch.
While it's obvious that with The Last Winter, Fessenden is channeling the spirit of movies like Alien and The Thing, his socially conscious spin on that formula keeps it from feeling like a mere retread. Yes, the story concerns a group of isolated oil drillers who are being targeted in the desolate environment of Alaska, only this time around, it's the environment itself—not an actual monster—that's doing the targeting. Or is it? For any time it appears that an otherworldly force has arrived to take a character's life, Fessenden finds another ingenious way to keep us guessing as to who or what is, in fact, responsible for the damage. Was it nature? Was it a monster? Was it merely cabin fever? Or are the worried environmentalist Hoffman's premonitions correct? Is the natural world, in fact, changing irrevocably for the worse? Fessenden and co-writer Robert Leaver create so many different and ambiguous explanations for each situation that the ultimate answer is irrelevant. All that matters is that this world is in some seriously major trouble.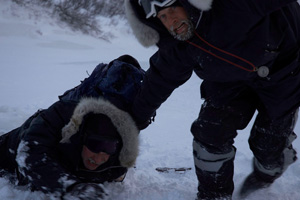 Fessenden has always been interested in making films that use the tried-and-true horror genre to explore relevant contemporary social issues, and while his previous films have had flashes of brilliance, they haven't always hit their mark. But with The Last Winter, something has changed. This time around, his direction—and, by extension, the overall production—feels more expansive and complete. With the help of cinematographer Magni Agustsson and composers Jeff Grace and Anton Sanko, Fessenden sets such a suspenseful, assured tone that the Global Warming metaphor becomes just icing on the cake. This movie is scary, first and foremost.
After going to such great lengths to establish an air of mystery, Fessenden unleashes a wild climax that is certain to divide viewers. Initially, it might appear that by doing this he has betrayed the previous ninety minutes and become blatantly overt and supernatural. In those puzzling last few moments, more questions are raised than ever before. Does this cheapen the film's impact? Does it heighten it? This depends on a viewer's natural inclination towards this type of material. But by that point, no matter the reaction, it will be too late. The Last Winter will have left an indelible scar.
— Michael Tully