HONK FOR JESUS, SAVE YOUR SOUL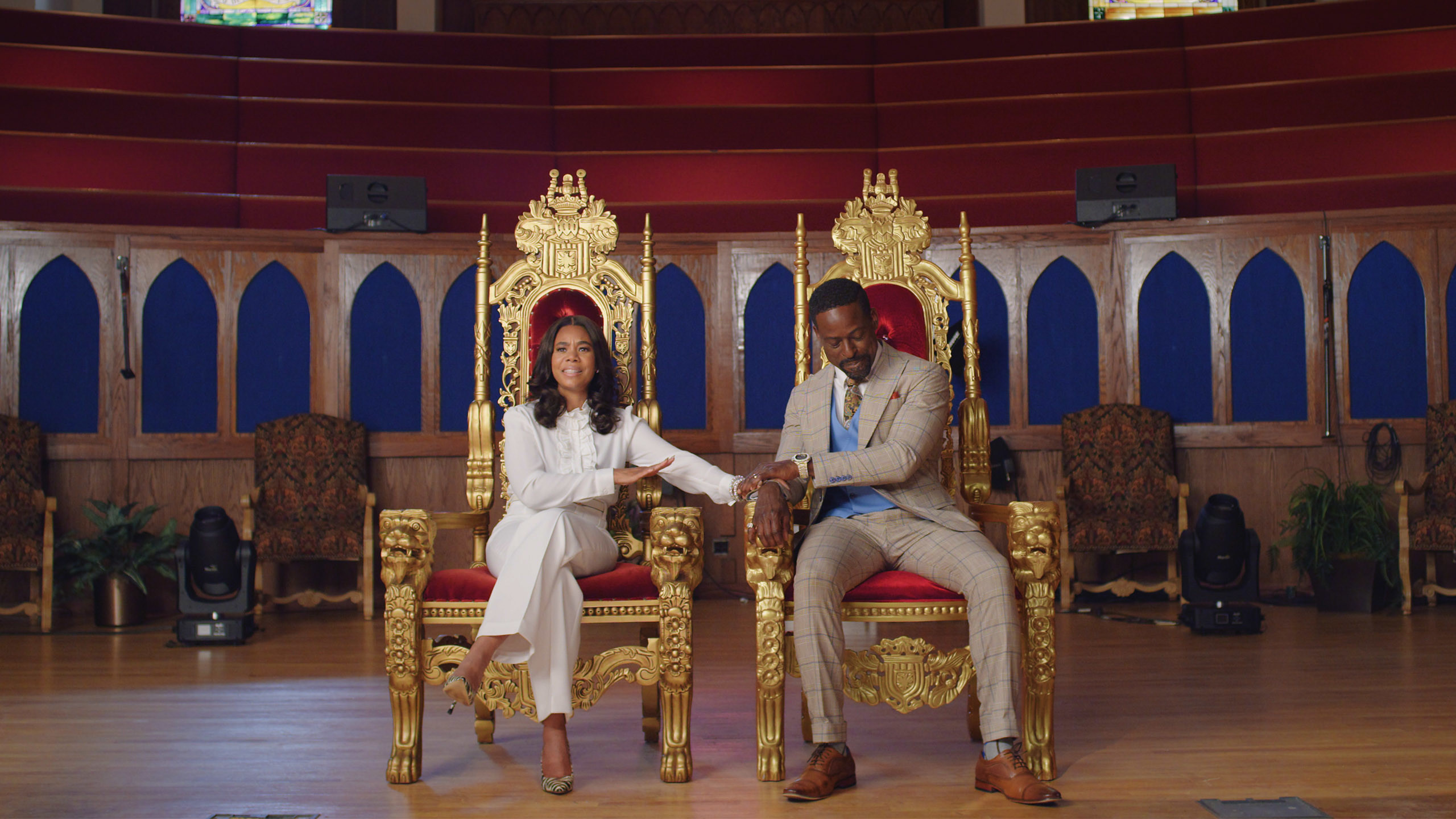 (The 2022 Sundance Film Festival runs January 20-30 all virtually. Check out Melanie Addington's movie review of Honk For Jesus, Save Your Soul. Like what you see here on Hammer to Nail? Why not pay just $1.00 per month via Patreon to help keep us going?)
The difference between a Southern film made by a southerner and one that is not is usually a huge gap for those who live or have lived in the South. From sweating and bad accents, non-Southerners have rarely gotten the South right on camera. But that is not the case for two Atlanta natives, Adamma Ebo and her twin Adanne Ebo with their very Southern-tale, Honk For Jesus, Save Your Soul.
 Based on the short film that premiered at Atlanta Film Fest in 2019, twins (writer-director Adamma Ebo, producer Adanne Ebo) mockumentary highlights a scandal that takes down a Southern Baptist megachurch. Trinitie Childs (Regina Hall) does what she can to stand by her husband and Pastor Lee-Curtis Childs (Sterling K Brown) even while neighbors "bless her heart."
On the eve of the re-opening of the church, the Pastor hires a documentary crew to follow their movements and show how well everything is going even while court cases are being settled. With proper southernisms placed, Ebo weaves a powerful comedic story that gets to the heart of Atlanta culture from praise miming to the proper hat for church.
Miming in Black churches has been around for a long time but is often done by a Choir or group, rarely is the head of a church out frontwaving and in mime makeup to sell the opening of the church. But for Trinitie, pushing her own envelope to support her husband means debasing her self, even if he is not willing to do the same.
Her character arc doesn't keep her meek though as she finally stands her ground and speaks up for herself after being pushed to the edge. Hall has an incredible performance showcasing the gamut of emotions she must go through and how she tries to put on a face for the camera, long before putting on a mime face for her husband.
But for the Pastor, being part of a culture of being on the downlow as a Black man is amplified by his position and being in the South. Brown is pitch perfect as his character with the blend of strength, confidence, with the pain of living a double life bubbling up from the surface just enough to show in the cracks.
No sale is announced as of this review but this is one to wait and watch for as it is a delight. While waiting for the feature to be released, I recommend the short film on Issa Rae Presents.
– Melanie Addington (@MelAddington)