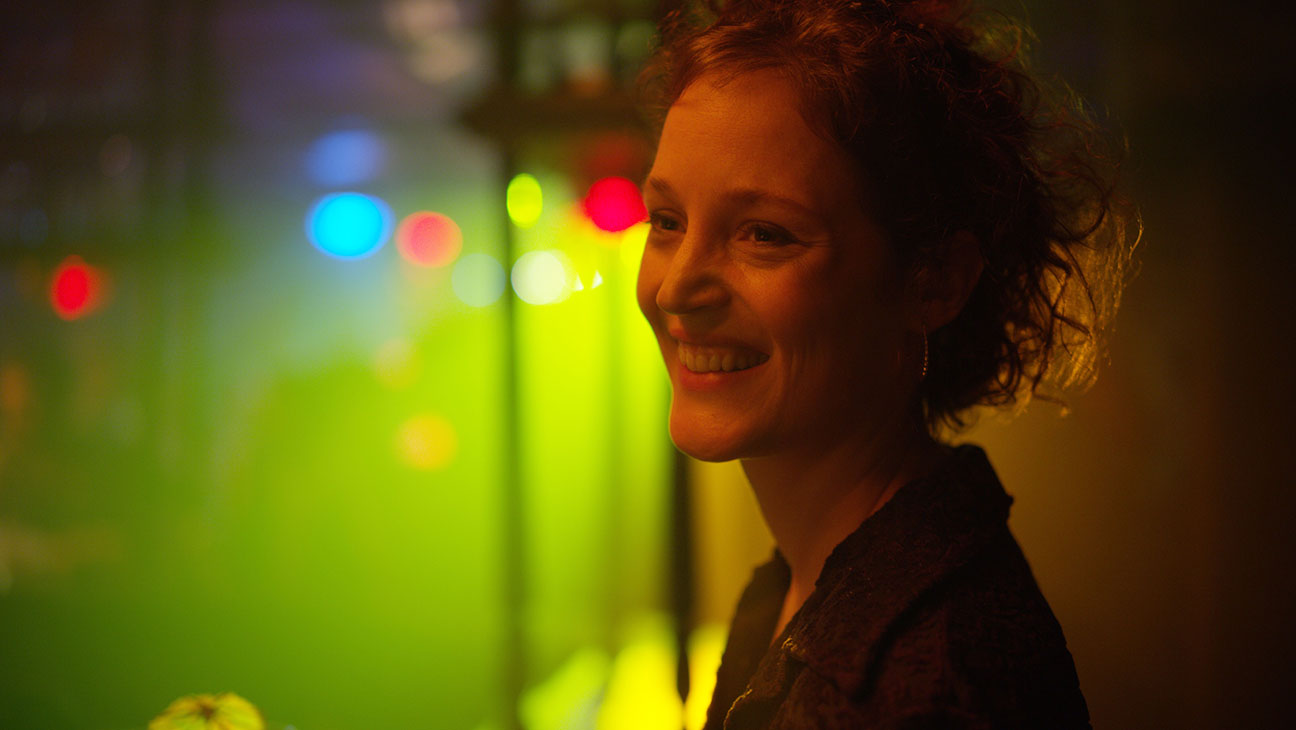 (Rendez-Vous with French Cinema takes place at Film at Lincoln Center from March 3 – 13. Matt Delman has this movie review of Hold Me Tight, which will screen March 6 and March 13 at the Walter Reade Theater)
Mathieu Amalric is one of those instantly recognizable actors, the everyman of French cinema. Working with greats like Arnaud Desplechin and Wes Anderson, it's no wonder their directorial pixie dust has rubbed off on him. In Hold Me Tight, Amalric steps behind the camera and delivers a magical and melancholic drama about a mother, played by Vicky Krieps, who unravels after a tragedy. The film seamlessly jumps through time and space to create a surreal experience where the audience is never sure what is real or imaginary. Amalric has previously directed many short films, tv movies, and two other features, and yet Hold Me Tight feels like a breakout moment for him as a filmmaker.
The story begins with an escape. Clarisse (Krieps) sneaks out of her house in the dark whilst everyone is sleeping, and one would think she is running out on her husband and two children. We see her driving, meeting up with a friend, and eventually settling in a quaint ski resort during the warmer months where the snow is mostly melted. The importance of this setting is revealed later, and Amalric does a terrific job of unpeeling layers of the onion in a mysterious fashion. We wonder if Clarisse is simply unfulfilled in her marriage. A stranger walks by and remarks, "nice car" and she retorts, "and what am I? A stuffed tomato?" However, Clarisse is in no shape for an affair. She sticks her head in the ice of a fish counter, before collapsing and being carried back to her room. Amalric juxtaposes this scene with her husband (Arieh Worthalter) carrying their son to his room after a tantrum. The boy was rightfully upset that his dad threw all of his mom's perfumes away. One of many heartrending scenes that start to make more sense as the narrative moves along. It's unclear if this scene ever actually happened or if it's all in Clarisse's head. Best to leave things ambiguous.
It would be difficult to continue summarizing the plot without spoiling the big dramatic turn. What is clear is the virtuosity of the editing, by François Gédigier  who also cut Walter Salles' On The Road, as well as Amalric's last feature Barbara. The elliptical editing is done with match cuts and stylistic flourishes, with the sound design overlapping scenes in delightful ways. We are often under the impression the music is diegetic when it is actually not, and vice versa. The hum of a Zamboni is used to dizzying effect, mirroring the character's inner headspace. The cinematography by Christophe Beaucarne (who also shot this year's César Award winner Lost Illusions) is often striking, making good use of windows, treehouses and out-of-commission ski-lifts.
Despite an overall depressive mood, Amalric finds a way to delight his audience with nifty tricks of cinema that elevate the usual brushstrokes of family tragedy. The other hero of the film is Krieps, whose magnetism cannot be overstated. Her performance, as usual, lends the grace and gravitas of a Renaissance painting. She was also wonderful in Mia Hansen-Løve's Bergman Island, another recent French film that plays with narrative timelines to upend our expectations. In Hold Me Tight she is often waited on in cafes, which flips the staging from that famous scene from Phantom Thread in which she waits on Daniel Day-Lewis. Perhaps an unintentional coincidence, but the imagery evoked something about her leveling up as an actress and taking on a different type of challenging lead role. Amalric has found his leading lady, which must be extra special for an actor-turned-director. Hold Me Tight suggests that actors have a talent directing other actors. Amalric also wrote the screenplay, proving that he is a triple threat, and further establishing himself as a legend of French cinema.
– Matthew Delman (@ItsTheRealDel)
Film at Lincoln Center, IFC Films; Mathieu Amalric; Hold Me Tight film review