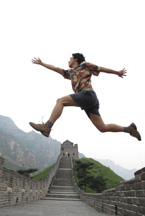 (High Tech, Low Life opens theatrically on Wednesday, January 9, 2013, at the IFC Center. It world premiered in the World Documentary Competition section of the 2012 Tribeca Film Festival, and followed that up with screenings at IFFBoston and Hot Docs. Visit the film's official website to learn more. NOTE: This review was first published on April 20, 2012.)
It's an inspiring look at the resilience of the human spirit under China's totalitarian rule, but also a fascinating look at generational differences that have ringing similarities to the western world. In High Tech, Low Life, director Stephen Maing employs a cool, understated visual style to document the parallel stories of two of China's many "citizen reporters," as they each play dangerous games of hide-and-seek through the country's maze of bureaucracy and censorship laws. Zola, a playful 20-something from Hunan Province, and Tiger Temple, a low-key but street-wise 57-year-old from Beijing, are both driven and charismatic but have very distinct styles and motivations in their efforts to bring injustices to the public's attention.
Against a context of relentlessly cheerful TV propaganda—"Our swift-growing nation will usher in a bright future of peace and prosperity for all mankind"—we meet Zola, standing shirtless, waist-deep in a field of tall grass, navigating on his iPad. His day job is selling vegetables from a motorized cart in his hometown. "I used to be a nobody," he says, "until I discovered the Internet." He's not shy about his reason for reporting: he wants to get famous.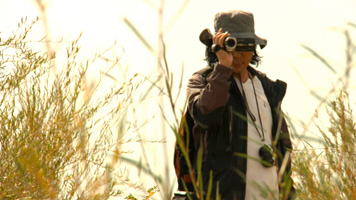 Tiger Temple, conversely, is a long-haired chain-smoker who fell into blogging by chance one day when he witnessed a murder and instinctively started taking pictures—when the police arrived they were more concerned with his photos than the actual crime. His commitment to social justice is rooted in his family's persecution at the time of the Cultural Revolution, when his father—a long-standing party member—was stripped of everything he owned and Tiger Temple became homeless.
Both reporters have to navigate the "great firewall"—a system that employs tens of thousands of government and private sector workers to monitor what's being published on the web and censor anything that's perceived as dissent. The system is in fact surprisingly porous—when they shut down Zola's website he shows off some simple digital trickery to switch to a foreign DNS and log back on.
High Tech, Low Life is a bit of a tortoise-and-hare story: we see Tiger Temple bicycling thousands of miles to document the toxic dumping that's poisoning the farmland of the small village of Er Lou; meanwhile, Zola zips off on his motor-scooter to cover a splashy story of a suspected rape and murder involving the relatives of government officials. He posts pics of himself doing push-ups on a bridge to mock one of the unlikely details of the official story.
The Chinese way of exerting authority shown here is quite different from the direct and aggressive American approach—it starts with small amounts of indirect persuasion and then gradually turns up the heat. Zola's mother, eager to see him give up reporting and start a family, uses the same technique as the government, slowly but relentlessly dialing up the intensity of her rhetoric at family dinners.
Maing conveys the desperate need for citizen reporting with devastating footage of Er Lou Village. Fluorescent green sludge stagnates across what used to be farmland; a flood has damaged or destroyed the farmers' homes. Fifteen years of petitions have fallen on deaf ears. Tiger Temple goes beyond just reporting; he connects the farmers to pro-bono lawyers back in Beijing, and even brings them food. Most importantly, he gives them a sense that someone, somewhere cares—that change is possible.
As the authorities tighten the screws on both reporters, Zola's determination to be in the limelight becomes a liability. He's stopped at the airport and prevented from leaving for a blogger convention in Germany, and there are rumors that he's about to be arrested. There's pounding on his door in the middle of the night; his mother accuses him of putting himself as an individual ahead of the common interest.
Ultimately she does have a point, and it brings up a fundamental difference between Tiger Temple and Zola: the older man's work is grounded in a sense of service and responsibility that makes him unstoppable. When the police come to his apartment in the middle of the night to escort him out of Beijing during an official Party conference he warns them: "Just remember, this old geezer's gonna tell the truth until he dies. Period."
— Paul Sbrizzi