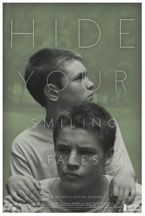 (Hide Your Smiling Faces is now available at iTunes and Amazon Instant
and opens theatrically on March 28, 2014, through Tribeca Film. It world premiered at the 2013 Berlin International Film Festival and screened at the Tribeca Film Festival, among many others. Visit the film's official website to learn more. NOTE: This review was first published on April 26, 2013.)
Terrence Malick seems to currently be the biggest living hero for many young character-driven filmmakers. Those who are stuck in video game adolescence may drool over Tarantino's backwards-baseball-cap irreverence, but it is Malick who captures the heart of most serious-minded film students. This year, several new films traveling the festival circuit accept Malick as their master, but I've seen only one—Daniel Patrick Carbone's Hide Your Smiling Faces—that fully understands how Malick links man and nature.
If we were to broadly describe the Malick style, we would have to include descriptions of sad, doomed characters walking through nature toward a setting sun. This is a broad description, but in reality it's the way most Malick haters would describe The Thin Red Line, The New World, The Tree of Life, and, most specifically, To The Wonder, which plays like a Scary Movie-esque parody of the Malick style. The basic component here seems to be the shots of sad people walking through nature, yet that's where most descriptions go wrong. For Malick, the key dramatic issue is the degree to which his flawed characters can be judged. Nature stands as the defining manifestation of purity unstained; therefore, it is against nature that man must be judged. In the process of that trial, the question of what is nature is raised. Each one of Malick's films is a trial in which man's impulses, urges and actions are measured. This aspect of the flawed character on trial seems to be missing from many recent imitators' films. Most importantly, the way in which they frame and use nature is not the same as Malick because they don't see nature as a character. For Malick, nature is not only a character, it is a theme and the arbiter of moral judgment by which we watch man's actions.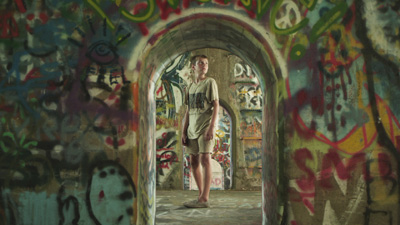 This is why for me The New World (the extended cut) is his best film. In Malick's world, man is passing through a world that does not belong to him. He is a visitor and thus nature is treated by his camera in a way that places it above plot, character and dialogue. Hide Your Smiling Faces is one of the first Malick inspired films I've seen that gets this key idea: nature is a character. It is not to be used as a cutaway or an interlude to show pretty sunsets while music swells between the talking parts. Nature shots are the film because it is a drama about man's role in nature.
Carbone's film opens with the image of a snake eating a fish. We linger for a while, establishing that this will be a languidly paced film, and then we go to a wide shot from behind two boys as they play on the wall of a barn overlooking a majestic rural landscape. We watch them play for a while; there is pushing and shoving right up to the edge of full on aggression, and then we are inside an abandoned house that is starting to collapse and melt back into the woods. Nature will one day fully reclaim this property; it has already reached inside through crawling vines and animals, and like the half eaten fish, it is almost fully swallowed. Inside the house, the image exposure is dialed toward the bright outdoors which throws the walls into darkness, allowing the trees outside to sway and bristle while the boys play in shadows below. We are only a few minutes in, and it is already clear that Carbone values nature above all else. When one of the boys finds a dead bird, they put it on a string and swing it around. Death, nature, and boys killing time during a hot summer are essentially entwined as the film's key components.
When the boys' play takes them onto a lawn of a mean neighbor (New Jerusalem's Colm O'Leary) and there is a struggle over a pistol, I became nervous. I was calmed by the distant camera that watched the struggle from the woods, but still I was fearful of the specter of the gun (plot) overwhelming the themes and pace so beautifully established in the film's first ten minutes. One of Carbone's greatest achievements is that this gun does not overwhelm the film. In Hide Your Smiling Faces, despite the existence of several potentially explosive plot elements like the gun, the angry neighbor, a dead boy, a pile of dead dogs, and the specter of suicide, nature and its omnipresence remain front and center throughout.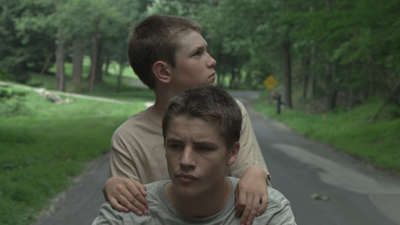 Boys will be boys: they fight, they scream at their parents, they smash shit, and they wander in the woods to forbidden, scary bridges (the only thing missing are girls, which is acknowledged in a strange scene when two boys kiss). For me, the exploration and articulation of these various paths of young manhood, all done under the watchful gaze of the green canopy and distant mountain peaks, visible across misty lakes, is all I need for a fully satisfying cinematic experience. I know many will beg to differ. They will pile on their narrative expectations via rhetoric left over from their book club discussions, but in reality, if cinema has a distinctive ability to transport us, then it needs to do that through the exploration of its unique, specifically cinematic components. Tone, tempo and counterpoint may be musical terms, but they are actually the most essential dramatic components of the lyrical film drama. Their management and control are not really skills that can be taught. Directors either have it or they don't.
If a film feels like a journey with velocity, despite a lack of action/reaction plot devices, then it has succeeded as cinema. Few directors understand this; even fewer can achieve it. The lyrical approach of Malick and Carlos Reygadas, resistant to plot and dialogue, favoring nature as a character, is a style that is in pursuit of truths that are beyond the grasp of literature. It takes guts , talent and vision to walk into those woods. Hide Your Smiling Faces makes its way through, scratched, shirt torn but hungry, and ready for another adventure. Out of the 12 North American premieres I saw at the 2013 Tribeca Film Festival, it was by far the most accomplished. Carbone's extremely impressive debut announces the arrival of a new cinematic talent.
— Mike S. Ryan