HEIMAT IS A SPACE IN TIME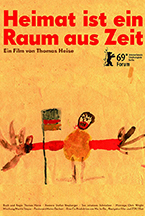 (The 2019 Toronto International Film Festival, or "TIFF"  ran September 5-15. Hammer to Nail had boots on the ground with Matt Delman and Chris Reed covering so keep your browser pointed here! Like what you see here on Hammer to Nail? Why not pay just $1.00 per month via Patreon to help keep us going?)
Life is short, so live it to the fullest, I say. And though one might think, knowing that I love to watch, and write about, movies, that I would jump at the chance to review any film, any time – that this is me living "life to the fullest" – I nevertheless initially balked at the prospect of watching German director Thomas Heise's new documentary Heimat Is a Space in Time ("Heimat ist ein Raum aus Zeit"). Why? It is 218 minutes long, and as I looked at the vast number of screeners on my list to watch before the Toronto International Film Festival, my heart sank. Did I really have the time? Nevertheless, I started watching…and couldn't stop. It more than held my interest; indeed, it gripped me, at least until the last 40 minutes or so (when it merely engaged). Not bad, Herr Heise. Gratuliere herzlichst! That will teach me to doubt the power of cinema!
"Heimat" means homeland, though I understand, after talking to some real live Germans, that it also means more. It's one of those words, like the Russian "nostalghia," which appears translatable into other languages, but then loses something in that translation. To a Russian, the English "nostalgia" is not nearly strong enough, nor appropriate enough, to convey the deep longing for home and childhood that Russians feel when displaced (witness director Andrei Tarkovsky's insistence that his next to last feature, Nostalghia, keep the "h" in its title to ensure that the word retain its Russian roots). So, too, then, does Heise keep the "Heimat" as it is, refusing to compromise it through the meager Anglo replacement. It connotes more than country, more than home, but is, indeed, a "space in time," where one feels most oneself.
In this particular treatment of the subject, we journey through time – the very medium of the moving image – to the end of World War I, meeting Heise's grandfather Wilhelm. From there we travel slowly towards the present, meeting the grandmother, then her children, and then, finally, Heise himself. He narrates, though until the very last scenes the voice we hear is always reading letters and documents, rather than speaking his own words. It's an epistolary film, where the thoughts of Wilhelm, eventual wife Edith, their son Wolfgang (Thomas's father) and his wife Rosie, then Thomas's brother Andreas, and then…Thomas Heise, who closes out this long odyssey. Accompanying the audio are archival photographs, drawings, official papers and modern-day shots of locations referred to in the voiceover. It is slow, meditative and profound.
Much like Florian Henckel von Donnersmarck did in last year's Never Look Away, only much more adroitly, Heise explores the universality of the human tendency to replicate systems of behavior, time and again. Wilhelm marries Edith, who is Jewish, and then they experience the expected difficulties with the rise of the Nazis. Miraculously, they survive (though Edith's family does not, a fact made brutally clear in a long sequence featuring a list of the exiled and killed), but towards the end of the war their boys are sent to labor camps. Living near Dresden, they end up in East Germany, where a new totalitarianism imprisons them again. At least this one is less genocidal, if in some ways not less restrictive to those who remain. And on the story goes, made deeply personal via the missives left behind for Thomas to discover and read to us.
If Heise's technique diminishes in power, for this viewer, towards the end, perhaps that is merely a reflection of the stagnation of the late communist era, when the traumas of the past became regularized through endless repetition. Or maybe my own "heimat" has a range of only 180 minutes. Irrespective of the why, I regret nothing in my decision to watch the film. It's more than a family narrative: it's the story of a place, more than just Germany; a time, longer than the past; and a people, greater than one nation. Out of great specificity come universal truths, and Heimat Is a Space in Time is as specific as it needs to be to be universally true.
– Christopher Llewellyn Reed (@ChrisReedFilm)
Like what you see here on Hammer to Nail? Why not pay just $1.00 per month via Patreon to help keep us going?