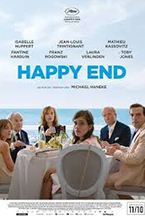 (Provocateur Michael Haneke is back at it with Happy End, in theaters now…) 
Septuagenarian enfant terrible Michael Haneke loves to toy with his audience, leading them to think they are watching one kind of movie only to turn the tables on them and reveal a very different narrative agenda. Increasingly, in his five-decade career, starting in his native Austria and then later mostly in France, he has developed a mise-en-scène in which roiling torment bubbles just beneath the veneer of serene respectability, threatening to burst forth in a destructive wave, often as a way of cleansing past sins. My favorites of his films include Code Unknown, Caché, The White Ribbon and his Oscar-winning Amour. Now he has a new one out, entitled Happy End, starring veteran French actors Jean-Louis Trintignant (The Conformist) and Isabelle Huppert (Elle) as father and daughter (as they were in Amour, as well), along with actor (and occasional director) Mathieu Kassovitz (Amélie) as son to the former and brother to the latter. It's a powerful exploration of privilege, race, class and the thoughtless entitlement they all engender.
Huppert, riveting as always, plays Anne Laurent, CEO of a family construction firm into the management of which she is trying to induct her adult son, Pierre, whose temperament is less steely than hers, causing some concern. The movie begins with neither of them, however, but rather with a vertical cell phone video of a woman, unidentified (though we can later guess who she might be), seen from the end of a hallway, brushing her teeth, with no awareness that she is being filmed, while snarky text annotations pop up, below. Is it a live feed, or something already posted somewhere, for public commentary. Who is the observer and who the observed? As in Caché, in which such mysterious documentary footage forms the center of the mystery, here the video will play an important part in the story, albeit in an indirect way. It's less who, or what, is in the frame that counts, but the act of observation and appraisal. In the age of social media, power comes from passing judgment.
The Laurent family lives in Calais, in the North of France, in a lavish mansion. Papa Laurent – Trintignant – is fading fast, wanting nothing more than a chance to choose his own way to leave this life, a mission in which he is frequently frustrated. Into the mix comes 13-year-old Eve (a terrific Fantine Harduin), whose mother – the ex-wife of Thomas Laurent (Kassovitz) – has just overdosed on sleeping pills. Thomas, remarried, has a new child with new wife Anaïs, which doesn't stop him from seeking extracurricular pleasures elsewhere. Always watchful, Eve notices, and soon she is reading her father's illicit texts and emails, drawing dark conclusions. Meanwhile, Pierre is slowly going off the rails, a process accelerated by the consequences of an accident at the family's construction site that kills one immigrant worker. Soon, he starts to question the source of his privilege, especially as it relates to other immigrants. Maman is not happy.
As a portrait of an eccentric, wealthy clan that struggles to remain on top as their world crumbles, Happy End is another strong entry in the Haneke canon. Trintignant, as the near-senile patriarch, delivers a solid, touching performance to match Huppert's. But the film really belongs to young Harduin (Fanny's Journey), whose actions spur the film's final turning point. She represents the (lack of) innocence of a new generation, already corrupted by the crimes of the old. A happy end? More like a continuing cycle of transgression.