GREGORY CREWDSON: BRIEF ENCOUNTERS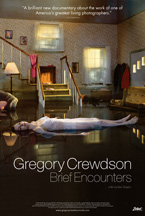 (Gregory Crewdson: Brief Encounters world premiered at the 2012 SXSW Film Festival and was picked up for distribution by Zeitgeist Films. After Hurricane Sandy struck New York City, it finally opened at the Film Forum and screens through Tuesday, November 13, 2012. Go to the film's official website to learn more.)
Gregory Crewdson is a photographer, yet once you've encountered his work, it's hard not to think of him as a film director. That's because each and every one of Crewdson's photographs has the production value and emotional sweep of the highest quality cinema (directors Douglas Sirk and David Lynch most quickly spring to mind). While Ben Shapiro's Gregory Crewdson: Brief Encounters might itself not necessarily qualify as great cinema, it nonetheless opens a revealing window into Crewdson's fascinating process.
If Crewdson's finished pieces feel cinematic, Shapiro's behind-the-scenes footage documenting the making of several of them confirms that suspicion. Though the end result of so much work is one split second of an image frozen in time, the shoots themselves are indistinguishable from a feature film production. Whether he's shooting on location or on a handcrafted set, Crewdson labors and obsesses over every millimeter contained within the frame. This results in work that would be worthy of praise on a purely superficial basis, but in this case, all that stylistic flair is used as a tool to enrich Crewdson's deeper agenda: establishing emotionally complex  environments where one framed image tells a story as thick as a novel. And though these stories are shrouded in mystery and the narratives are left for each viewer to construct on his or her own, they nonetheless convey immeasurable sadness, yearning, and loss.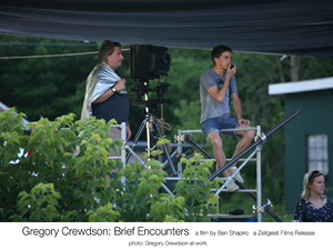 Though Shapiro does his directorial job by providing biographical information—Crewdson was born and raised in Park Slope, Brooklyn, and had a creative awakening when discovering the bracing photographs of Diane Arbus at a rather young age—the real reason for watching this film is to witness the artist in action. From 2000 onward, Crewdson embarked on his highly acclaimed and much admired decade-long "Beneath the Roses" project, and Shapiro was there to document the journey.
Having just written that the best reason to watch this film is to see Crewdson at work, I have to confess that my own viewing experience got rather complicated. In the documentary Great Directors, the aforementioned David Lynch says this:
"As soon as you finish a film, people want you to talk about it. And the film is the talking. The film is the thing. So you go see the film. That's the thing. It's a whole thing, and it's there, and that is it."
As I continued to watch Gregory Crewdson: Brief Encounters, I found myself in a battle between appreciating Shapiro's desire to explain his subject and document his process, and at the same time feeling just about convinced that with such deeply mysterious artwork as this, the richness of that mystery was being tainted somehow. Of course, this isn't a critique of Shapiro; it is, without question, a credit to Crewdson the artist. And this isn't to say that any of you will have a similar paradoxical viewing experience. If you have an even somewhat passing interest in Crewdson and/or visual art in general, Shapiro's film is worth your time.
— Michael Tully