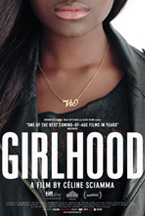 (Girlhood world premiered at the 2014 edition of Director's Fortnight. After screening at the 2015 Sundance Film Festival, it opened theatrically on Friday, January 30, 2015. Visit the film's page at distributor Strand Releasing to learn more.)
While it may be easier for me, a white male who grew up in the American suburbs, to identify with Ellar Coltrane in Boyhood, I also found it surprisingly easy to relate to Karidja Touré, the black French girl and breakout star of Céline Sciamma's Girlhood. That's because the universality of her character Marieme's experiences—the yearning for love and acceptance and respect, and the fluidity of life at that age—is recognizable to just about anyone. Like in Boyhood, our protagonist goes through many physical changes, but more impressively we see her personality evolve over a series of events that illustrate a clear shift in the power dynamic of her gang and her rise to alpha status. It is this transformation from innocent, shy good-girl to assertive, even ferocious, pack leader that Sciamma captures with such deft believability that makes Girlhood a standout in the crowded coming-of-age genre.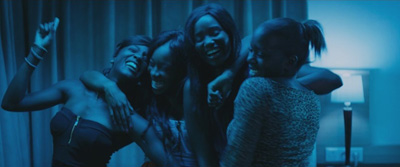 The film opens with a football game—a full contact, helmets-and-pads scrimmage between teenage girls. After the tackling ends and the helmets come off, the opposing teams laugh and hug and high-five, exposing a tight-knit group of friends who enjoy knocking the snot out of each other. This physicality carries over into many other scenes. Marieme meets with a counselor at her school who advises her that she should enroll in a vocational course because her grades are too low to advance to high school. As she storms out of the building, she's approached by Lady, one-third of a girl gang that hangs around the school looking for trouble. At first Marieme rebuffs her offer to join them, but after a group of handsome young men approach, she changes her mind. They give her a new name: 'Vic' short for 'victory', and she's quickly assimilated into their clique and their rebellious lifestyle. The girls drink, shoplift, intimidate strangers and get into yelling matches with other groups. In one memorable scene they get a hotel room and bond over an extended drunken rendition of Rihanna's "Diamonds."
A turning point comes when Lady loses a fight to a rival girl, and then a few scenes later Vic 'wastes' that same rival. With her growing notoriety, Vic becomes the leader of their gang, which grows many times over. In the third act, Vic gets an offer from a drug dealer to come work for him, which she accepts in an effort to continue to move up the social food chain while breaking free from her domineering older brother. Her dramatic evolution over the course of the story is cataloged visually by her changing clothes and hairstyles. I'm glad that I recently watched Chris Rock's documentary Good Hair in advance of seeing this film, which entertainingly details the importance and intricacies of black hair. Marieme starts with her natural hair, then after joining the gang she gets a weave, then when she aligns herself with the drug dealer she changes to short cornrows and starts to wrap her breasts to look masculine in an attempt to look harder. She even puts on a blonde wig when making a high-profile delivery to a fancy party. There are other examples of the significance of hair throughout the film, which becomes a recurring motif. Sciamma, who is white, understands that hair represents identity in black culture, and she uses its styling to her advantage.
Girlhood may not be as disturbing as Larry Clark and Harmony Korine's Kids or as violent as Mathieu Kassovitz's La Haine, but it is as powerful as these urban classics thanks to its engrossing performances. Touré is captivating from her first scene to the last. It's impossible not to root for her, even when she's making questionable and troublesome choices. The fact that this white boy from Virginia can so easily empathize with the characters of Girlhood is a testament to its filmmaking integrity.
— Matt Delman