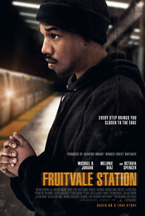 (Fruitvale Station is now available on DVD
, Blu-ray
, Amazon Instant
, iTunes. It world premiered at the 2013 Sundance Film Festival, where it took home the Narrative Grand Jury Prize, as well as the Audience Award, and was picked up for distribution by The Weinstein Company. Its European Premiere was at Cannes' Un Certain Regard. It opens theatrically on Friday, July 12, 2013. Visit the film's official website to learn more.)
Ryan Coogler's emotional splash of a debut feature (and by 'splash' I mean it will almost certainly bring you to tears if you give in to it) is one of those rare movies that transcends the confines of traditional film criticism (for that very reason, expect a backlash of sorts from the stiffer heads out there, but don't begrudge them their insensitivity, just ignore them). The truth is that even though there are components of Coogler's storytelling that are more blunt, more naive, one could justifiably say more 'amateurish' than others, what makes Fruitvale Station so special is that ultimately Coogler's commitment and passion wins out. Minor faults and missteps are washed away as a more overwhelming, piercing wave of feeling crashes through the screen. At that point, all that is left is pure, throbbing emotion. Yes, Fruitvale Station is a scrappy low-budget production, but it also one of the most startlingly vital American releases of 2013.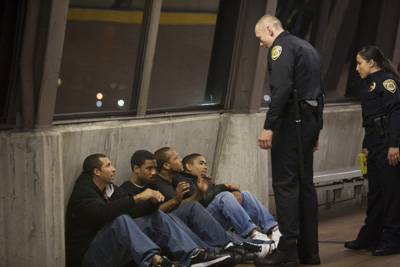 If this were a strictly fictional characterization and story, would it have the same impact? Of course not. Rather than skirt around the potential awkwardness of that situation—will he milk it for maximum impact or won't he?—Coogler goes for the jugular in the film's opening sequence, presenting viewers with an actual blown-up, pixelated cell phone video taken in the wee hours of 2009. After several BART police officers were called onto a stopped train in order to break up a fight, they dragged 22-year-old Oscar Grant III and his friends onto the platform. Two of the officers restrained Grant, his chest pressed to the ground, before one of them removed a weapon from his belt and pulled the trigger, shooting Grant in the back. It wasn't a taser. It was an actual gun. The following morning, at Highland Hospital in Oakland, to everyone's dismay, Oscar Grant III was pronounced dead. Coogler cuts out of this BART platform footage before the deed has been done, but even for viewers who haven't seen this footage or are unfamiliar with this tragic incident, there can be no mistaking that it is real. Who needs a "based on a true story" card when you can show viewers how true it actually was.
From that arresting opening, Coogler pulls back to the day before, when we meet and get to watch Oscar (Michael B. Jordan) unknowingly live out his last day on Earth. He has a devoted girlfriend, Sophina (Melonie Diaz), a doting daughter, Tatiana (Ariana Neal), and a loving mother, Wanda (Octavia Spencer), all of whom he clearly wants to honor by putting his criminal past and current drug-dealing ways behind him. But this isn't so easy. Today isn't just New Year's Eve, it's his mom's birthday, so Oscar finds himself scrambling around town to handle various tasks while preparing for the night's festivities. All throughout the day, as Oscar experiences moments painful (confirmation that tardiness has cost him his grocery store job), endearing (helping a nice white gal out with some cooking instructions by putting her on the phone with his grandma), unexpectedly heavy (holding a dying dog in his arms after it was a victim of a hit-and-run), complicated (tossing out his stash of drugs in order to leave that life behind), and ordinary (picking his daughter up from school), that cell phone footage echoes in our minds like a ticking time bomb. By the time Oscar says goodbye to his mom and daughter, and he, Sophina, and his friends head to the BART station, our heartbeats become that ticking time bomb.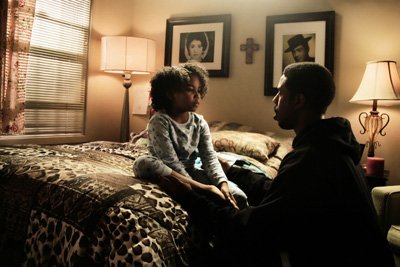 The last time I watched a film at Sundance and was convinced I had just witnessed a performance that was a lock for an Academy Award was when I saw Precious (back then it was called Push: Based On A Novel By Sapphire). I would have bet all the money in my bank account that Mo'Nique was going to win Best Supporting Actress (reminder: she did). This past January, when the credits had finished rolling at the press and industry screening of the then-also-differently-named Fruitvale, I didn't guarantee that Michael B. Jordan would win Best Actor, but I did guarantee a nomination. Hours later, when I learned that The Weinstein Company had picked up the film, this only further cemented my conviction. Of course, we'll have to wait and see what happens (not to mention who gives a flying fugg about awards), but I find it unfathomable that this won't indeed be the case.
As for Jordan, it certainly doesn't hurt that his early portrayal of Wallace on The Wire still tragically lingers, but that's neither here nor there. As Oscar Grant III, he has brought to the screen something that has been tragically lacking in cinema: a three-dimensionally human African-American individual, a man who was neither all-good nor all-bad. As symbolic as Coogler's film can get, Jordan's performance prevents it from becoming overly precious or melodramatic or falsely heroic. Jordan himself, combined with Coogler's passion for honoring this real-life story, are the core reasons this film packs such a bracing impact. On paper, Fruitvale Station is a movie of the week. On screen, it's heartbreakingly real life.
About an hour into Coogler's film, something physical happened to me. My body turned. At that point, I started crying. As Coogler (and, it should be acknowledged, his assured cinematographer Rachel Morrison's handheld Super-16mm camera) carried me up those stairs and onto that BART train, I started crying harder. I was too caught up in the moment at the time to consider it, but in hindsight, I think those tears were being fueled by another realization as well. Yes, Fruitvale Station is emotional and political, infuriating and inspiring, personal and universal, shaggy and ambitious. But in a filmmaking sense, it's a reminder that certain movies are simply blessed with the gift of alchemical magic. This is one of those chosen few.
— Michael Tully