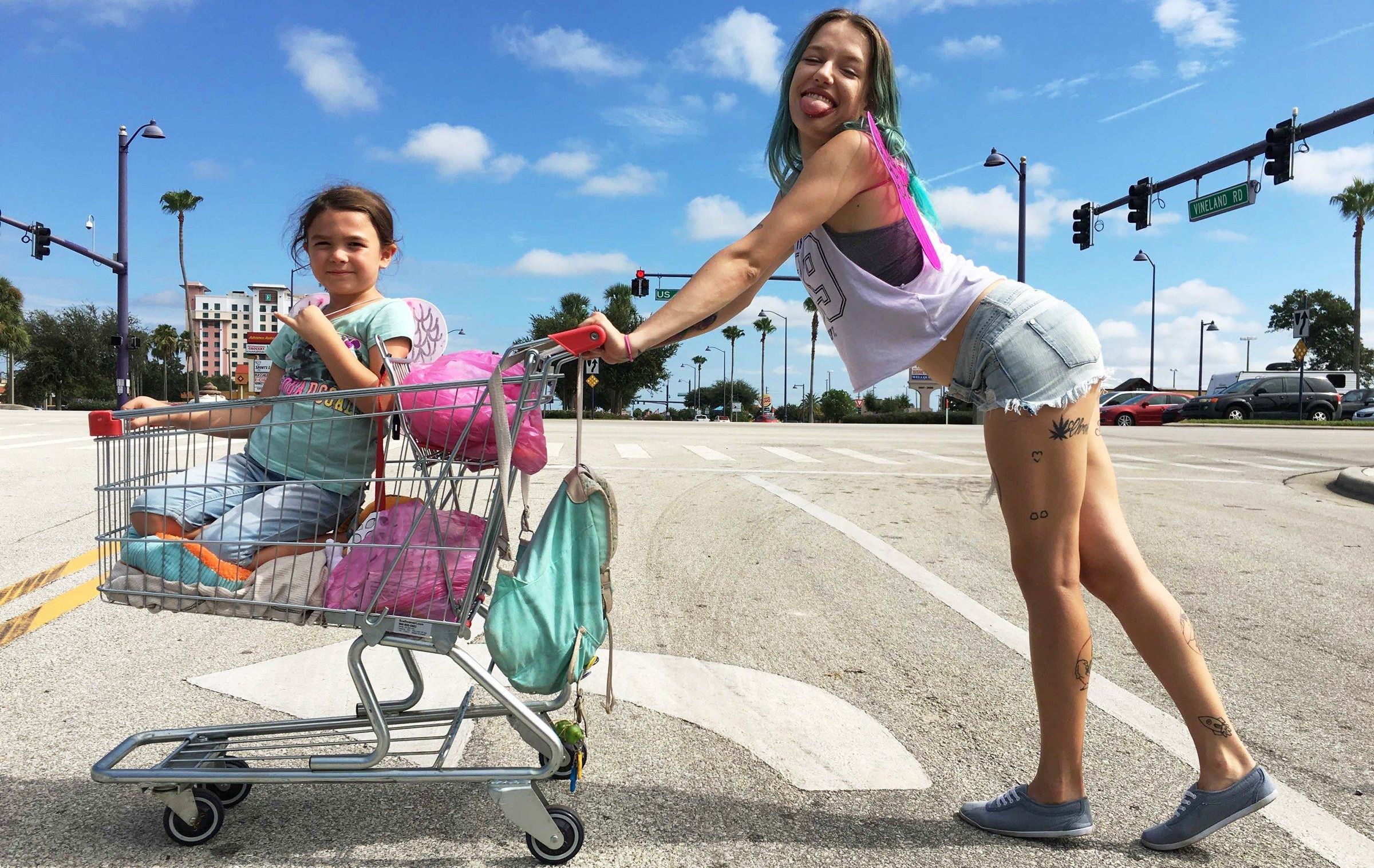 (Sean Baker's The Florida Project continues its multi-city rollout amongst ever growing buzz and a head-on collision with awards season.)
Director Sean Baker's follow-up to the critically acclaimed 2015 Tangerine (notable for being shot on an iPhone) departs from his earlier technological gimmickry (which worked fine for that other film) while training his lens (attached to both digital and film formats) once more on a neglected community. This time, we find ourselves in Florida, among a branch of the economic underclass that lives in Orlando-area motels, paying for their rooms, week to week, without need of a lease (but without its attendant protection, as well). Doing their best to ignore the tenuous nature of their situations, living in the shadow of Disney's "Magic Kingdom," our protagonists get along as they can, even raising families amongst the squalor.
The children are, in fact, the central figures of this funny-sad dramedy. The very first sound we hear is of a kid yelling, running from one motel ("Futureland") to another ("The Magic Castle"), breathlessly announcing to two friends the arrival of a new tenant at the former. Soon all three children, with tiny girl Moonee very much the boss of her male sidekicks, are back at Futureland, spitting on a station wagon and hurling curses at its objecting owner, a grandmother with her daughter's daughters in tow. Back at Magic Castle, with the help of Bobby, the manager – played by an excellent Willem Dafoe (The Fault in Our Stars) – she tracks down Moonee's mother, Halley (Bria Vinaite), and soon the offenders are cleaning the car, an activity they turn into a game. Given the adult neglect of their lives, everything is entertainment.
About that neglect: Halley – who looks barely over 20 – spends most of her time at the motel or (illegally) selling jewelry at local resorts, with Moonee by her side. She has other sources of income, but they don't become clear until the end. Her best friend at Magic Castle, Ashley (Mela Murder, a dancer with the electronic music trio Major Lazer), a single mom like her, works at a local diner, and so keeps Halley well stocked in breakfast foods. Ashley's son Scooty is Moonee's own bestie, and together they run wild in surrounding areas, making mischief wherever they go. Though Bobby can keep things in line at Magic Castle, they run amok in the streets outside, somehow surviving. And though they flirt with disaster almost constantly, it's ultimately the irresponsibility of an adult – born out of desperation – that causes the film's major crisis.
The cast of virtual unknowns, Dafoe notwithstanding, is remarkable. As he demonstrated in Tangerine, Baker has a fine way with actors. Here, he is especially good with children. Brooklynn Prince, as the six-year-old Moonee, is astonishing: both innocent and precocious. Her companions are no less extraordinary, though it took some time for me to adapt to the chaos they spew in their wake. Vinaite and Murder also shine as inept parents who still love their kids deeply. Dafoe, though, is the major revelation, more relaxed on screen than I've seen him in years, all naturalistic behavior without mannerisms, and very charming with the child actors.
Both the cinematography, by Alexis Zabe (Post Tenebras Lux) and the production design, by Stephonik Youth (Prince of Broadway), deserve special mention, as well. Together with Baker, Zabe and Youth capture the prurient decadence of Floridian architecture, particularly post-2008 housing crash. In subtle ways, they emphasize how so much of what we see is just rotting imitation of the ersatz opulence of nearby Walt Disney World, itself a copy of far-away glory. In garish pinks and purples, the motel structures reflect the unrealized aspirations of their ever-hopeful inhabitants. When, at the end, we finally enter the real (such as it is) Magic Kingdom, Baker shoots that footage once more on an iPhone, degrading the images so they look even less fanciful than the motels left behind. In this world, there is no wishing upon a star for a happy end. Kids, you're on your own. Fortunately, they're more than up to the task.
– Christopher Llewellyn Reed (@ChrisReedFilm)